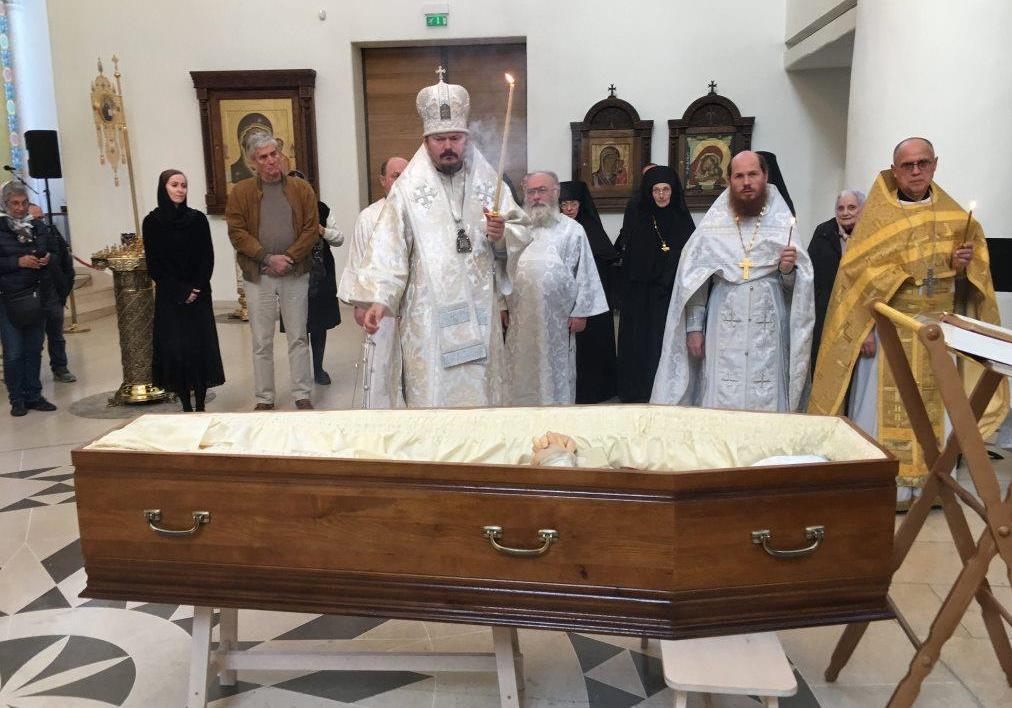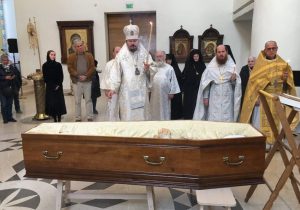 Archimandrite Barsanuphe (Ferrier – Barsanuphius in English) passed away on October 20 in his 84th year. He was first laid to rest in the Saint-Esprit skete church (Yvelines), where he had lived since he became a monk in 1964. In the same church is located the tomb of the great iconographer Father Gregory (Krug), who died in 1969.
His spiritual children watched him there for three days, then in the Cathedral of the Holy Trinity in Paris on the eve of his funeral, which took place on October 24.
The funeral service was presided by Bishop Nestor and many concelebrants. Were present members of his family, the nuns and faithful of his monasteries  – the Monastery of the icon of the Mother of God of Korssoun (in Grassac, Charente); the Monastery of the icon of the Mother of God of Znamenie (in Marcenat, Cantal); faithful of the skete of the Holy Spirit, of which he was the hegumen; and faithful of the parish of Vanves (Hauts-de-Seine), where he regularly celebrated since his ordination in 1986.
Among the assembly were several people representing other religions, including Deacon Robert McKeon (Saint Louis Roman Catholic Parish in Saint Louis en l'Ile); Myriam Bouregba, the former vice president of the Christian-Islamic Friendship Group (GAIC); Patrice Obert, the president of the "Fontaine aux religions", and Jacques Hubert, the secretary general of the World Conference of Religions for Peace. Father Barsanuphe was its vice president.
At the end of the ceremony, Bishop Nestor paid a personal deeply spiritual tribute to Father Barsanuphe: "He was a true monk… I think it is a great loss for the whole Church of Christ in France and beyond. "
The funeral took place the following day at the monastery of the icon of the Mother of God of Korssoun, in the hamlet of Doumerac (in Grassac, Charente).
The photo album of the funeral and burial is available online here.
Contact :
leskitdusaintesprit@free.fr