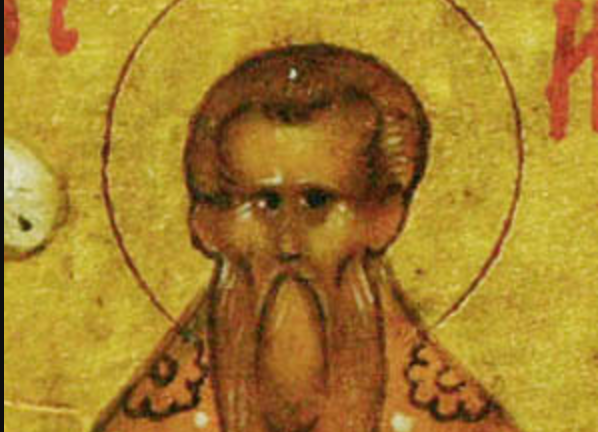 August 17 
Afterfeast of the Dormition.
Martyr Myron, Presbyter, of Cyzicus (254). Ven. Alypius the Iconographer, of the Kiev Caves (Near Caves—1114). Martyrs Paul, his sister Juliana, and the rest, of Syria (ca. 273). Martyrs Thyrsus, Leucius, and Coronatus, with others, at Cæsarea in Bithynia (3rd c.). Martyr Patroclus of Troyes (3rd c.). Martyrs Straton, Philip, Eutychian and Cyprian, of Nicomedia (ca. 303). Bl. Theodoretus, Enlightener of the Lapps (Solovétsky Monastery—1571).
SAINT MYRON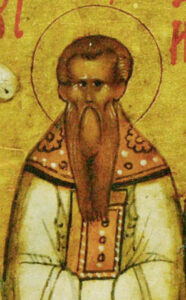 The Holy Martyr Myron was a presbyter in Achaia (Greece), and lived during the third century. He suffered in the year 250 under the emperor Decius (249-251). The presbyter was gentle and kind to people, but he was also courageous in the defense of his spiritual children.
On the Feast of the Nativity of Christ, he was celebrating the Divine Liturgy. The local governor Antipater came into the church with soldiers so as to arrest those praying there and to subject them to torture. Saint Myron began to plead for his flock, accusing the governor of cruelty, and for this the saint was delivered over to be tortured.
They took Saint Myron and struck his body with iron rods. They then threw the presbyter into a red-hot oven, but the Lord preserved the martyr, but about 150 men standing nearby were scorched by the fire. The governor then began to insist that the martyr worship idols. Saint Myron firmly refused to do this, so Antipater ordered the leather thongs to be cut from his skin. Saint Myron took one of the leather thongs and threw it in the face of his tormentor.
Falling into a rage, Antipater gave orders to strike Saint Myron all over his stripped body, and then to give the martyr to wild beasts to be eaten. The beasts would not touch him, however. Seeing himself defeated, Antipater in his blind rage committed suicide. They then took Saint Myron to the city of Cyzicus, where he was beheaded by the sword.
TROPARION AND KONTAKION
 Troparion of the Dormition, tone 1
In giving birth you preserved your virginity, In falling asleep you did not forsake the world, O Theotokos. You were translated to life, O Mother of Life, And by your prayers, you deliver our souls from death.
Troparion of the saint, tone 4
Your holy martyr, Myron, O Lord, through his suffering has received an incorruptible crown from You, our God. For having Your strength, he laid low his adversaries, and shattered the powerless boldness of demons. Through his intercessions, save our souls!
Kontakion of the saint, tone 2
From childhood you longed for Christ, all-glorious one, keeping His divine commandments and running to Him with all your being, all-honored Myron. Now you zealously pray with the angels, asking remission of sins for those who celebrate your memory.
Kontakion of the Dormition, tone 2
Neither the tomb, nor death could hold the Theotokos, Who is constant in prayer and our firm hope in her intercessions. For being the Mother of Life, She was translated to life by the One who dwelt in her virginal womb.
EPISTLE

2 Corinthians 7:10-16
10

For godly sorrow produces repentance leading to salvation, not to be regretted; but the sorrow of the world produces death.

11

For observe this very thing, that you sorrowed in a godly manner: What diligence it produced in you, what clearing of yourselves, what indignation, what fear, what vehement desire, what zeal, what vindication! In all things you proved yourselves to be clear in this matter.

12

Therefore, although I wrote to you, I did not do it for the sake of him who had done the wrong, nor for the sake of him who suffered wrong, but that our care for you in the sight of God might appear to you.

13

Therefore we have been comforted in your comfort. And we rejoiced exceedingly more for the joy of Titus, because his spirit has been refreshed by you all.

14

For if in anything I have boasted to him about you, I am not ashamed. But as we spoke all things to you in truth, even so our boasting to Titus was found true.

15

And his affections are greater for you as he remembers the obedience of you all, how with fear and trembling you received him.

16

Therefore I rejoice that I have confidence in you in everything.
GOSPEL

Mark 2:18-22
18

The disciples of John and of the Pharisees were fasting. Then they came and said to Him, "Why do the disciples of John and of the Pharisees fast, but Your disciples do not fast?"

19

And Jesus said to them, "Can the friends of the bridegroom fast while the bridegroom is with them? As long as they have the bridegroom with them they cannot fast.

20

But the days will come when the bridegroom will be taken away from them, and then they will fast in those days.

21

No one sews a piece of unshrunk cloth on an old garment; or else the new piece pulls away from the old, and the tear is made worse.

22

And no one puts new wine into old wineskins; or else the new wine bursts the wineskins, the wine is spilled, and the wineskins are ruined. But new wine must be put into new wineskins."