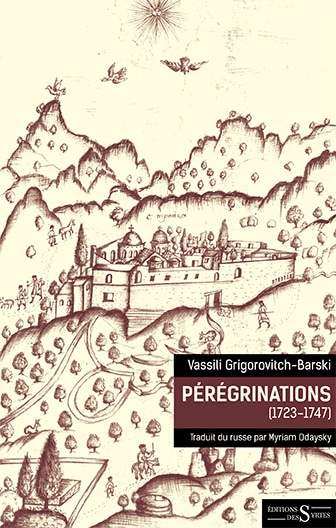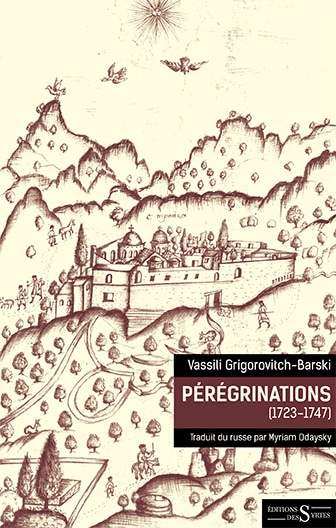 Vassili Grigorovich-Barski, Pérégrinations [Wanderings] (1723-1747). Translated from the Russian by Myriam Odayski, Foreword by Pierre Gonneau, Afterword by Mikhail Yakushev. Published by Les Syrtes, 2019, 550 p.
Born in 1701, from a noble family of Kyiv, Vasiliy Grigoryevich Grigorovich-Barsky was twenty-two when he started his pilgrimage throughout Europe and the Middle East. For nearly a quarter of a century, he toured Italy, visited Mount Athos twice, then went to Syria, Lebanon, Palestine, and Egypt. He also visited the Greek islands, staying for a while in Patmos and Cyprus. He learned the basics of the languages of the countries he went through, ​​and perfected his mastery of Greek.
Every day from 1723 to 1747, Vasiliy Barsky would walk tirelessly, sleep on the ground, not have enough to eat, pray to God in storms, collapse, fall sick, be beaten and dispossessed by robbers, open himself to the world, learn, and get to know himself in the process.
He tirelessly recorded his travel impressions and encounters in notebooks. He described the places with the precision of a geographer or of an amateur architect. He used words borrowed or adapted from the countries he crossed. He illustrated his notes with drawings of cities and monasteries, not hesitating to picture himself sometimes on a path or near a spring.
These wanderings are an inestimable testimony to a particular era, and to a Christian world divided into Latin and Greek Christianity, while subjected to Muslim domination.
Vasiliy Barsky also reflects the Slavic community of his time, in transition to modernity.
After a brief time at the seminary, he joined the Jesuit Academy of Lviv under a false name. He had to leave when the deception is discovered.
During his journey, he was ordained as a subdeacon in Damascus, then became a monk on Mount Athos. He died in Kyiv in 1747. His travel diaries were published for the first time in 1778.
They can be accessed in Russian here.
Source in French