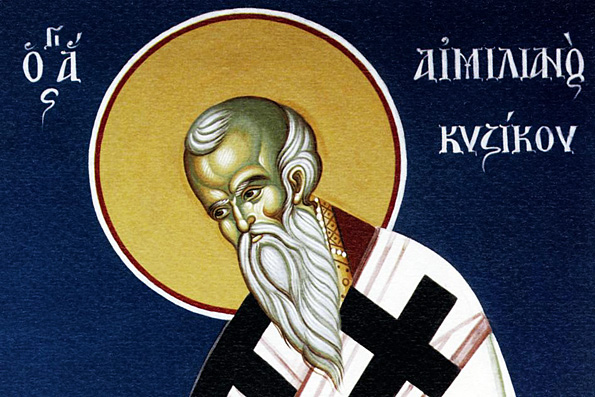 July 18 (old calendar) / July 31 (new)
Fast
Martyr Emilian of Silistria in Bulgaria (363). Martyr Hyacinth of Amastridea (4th c.). Ven. John the Long-suffering of the Kiev Caves (Near Caves—1160). Ven. Pambo, Recluse, of the Kiev Caves (Far Caves—13th c.). Ven. Pambo, Hermit, of Egypt (4th c.). Nun Martyrs Grand Duchess Elizabeth and Barbara (1918—July 5th O.S.). The "TOLGA" Icon of the Most-holy Theotokos (1314).
Saint Emilian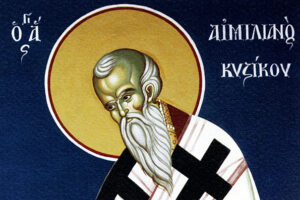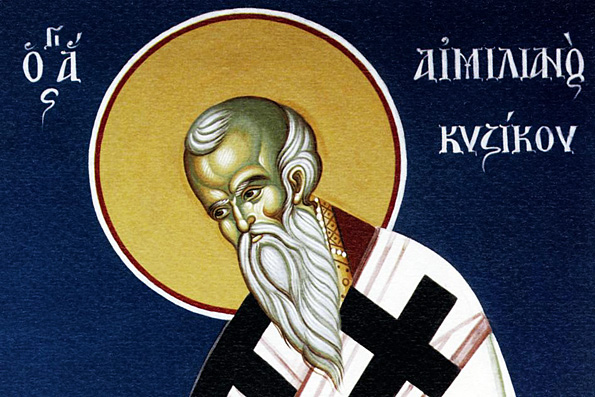 The Holy Martyr Emilian, who was a Slav, suffered for Christ during the reign of Emperor Julian the Apostate (361-363). Julian wanted to restore the cult of the pagan gods throughout the Roman Empire, and he issued an edict, according to which all Christians who failed to honor the pagan gods would be subject to death.
Saint Emilian lived in the Thracian city of Dorostolum on the banks of the River Dunaj (Danube).The imperial edict was read in the city square, but the people of Dorostolum declared that there were no Christians in the city.
Saint Emilian was a slave of a cruel and fanatical idolater, and was a secret Christian. Some sources state that he was the son of a local officer named Sabbatianus. When the father learned that Emilian believed in Christ, he was so enraged that he insulted him with vulgar words and had him whipped. He pointed out that he could expect even worse things to happen to him if he remained a Christian.
Instead of being intimidated by these threats, Saint Emilian's faith in Christ was strengthened. The next day he went into a pagan temple and smashed the statues with a hammer.
An angry crowd started to beat a certain Christian, who was passing by. Saint Emilian then shouted out loudly that they should not harm that innocent man, since he himself was the one who had damaged the pagan temple.
The saint was seized and brought to Capitolinus the governor for judgment. In spite of further threats, Saint Emilian would not deny Christ. "He is my Lord, and I will never deny Him," the martyr exclaimed. The governor ordered that Saint Emilian be beaten mercilessly, and then to be burned alive. He did not perish when he was thrown into the fire, but instead the flames consumed many of the pagans who were standing about. When the fire had gone out, Saint Emilian lay down upon the dying embers, and gave up his soul to the Lord. The wife of the pagan ruler was also a secret Christian, and she gathered up the saint's relics and buried them. Afterward, a church dedicated to the holy Martyr Emilian was built at Constantinople, where his relics were transferred.
Troparion of the saint, tone 4
Holy martyr Emilian, / you defended the Church against the idolatry of the pagans. / Because of your faith in Christ, / you were martyred by fire and through a glorious death received your crown. / Pray to Christ God that He may grant us great mercy.
Kontakion of the saint, tone 3
You did not fear the fire, your fellow-servant, / for you were enflamed with divine zeal. / You willingly entered the flames, unconsumed by the fury, / offering yourself in sacrifice to the Lord. / Glorious martyr Emilian, entreat Christ God to grant us His great mercy.
1 Corinthians 7:12-24 (Epistle)
12

But to the rest I, not the Lord, say: If any brother has a wife who does not believe, and she is willing to live with him, let him not divorce her.

13

And a woman who has a husband who does not believe, if he is willing to live with her, let her not divorce him.

14

For the unbelieving husband is sanctified by the wife, and the unbelieving wife is sanctified by the husband; otherwise your children would be unclean, but now they are holy.

15

But if the unbeliever departs, let him depart; a brother or a sister is not under bondage in such cases. But God has called us to peace.

16

For how do you know, O wife, whether you will save your husband? Or how do you know, O husband, whether you will save your wife?

17

But as God has distributed to each one, as the Lord has called each one, so let him walk. And so I ordain in all the churches.

18

Was anyone called while circumcised? Let him not become uncircumcised. Was anyone called while uncircumcised? Let him not be circumcised.

19

Circumcision is nothing and uncircumcision is nothing, but keeping the commandments of God is what matters.

20

Let each one remain in the same calling in which he was called.

21

Were you called while a slave? Do not be concerned about it; but if you can be made free, rather use it.

22

For he who is called in the Lord while a slave is the Lord's freedman. Likewise he who is called while free is Christ's slave.

23

You were bought at a price; do not become slaves of men.

24

Brethren, let each one remain with God in that state in which he was called.
Matthew 14:35-15:11 (Gospel)
35

And when the men of that place recognized Him, they sent out into all that surrounding region, brought to Him all who were sick,

36

and begged Him that they might only touch the hem of His garment. And as many as touched it were made perfectly well.

1

Then the scribes and Pharisees who were from Jerusalem came to Jesus, saying,

2

"Why do Your disciples transgress the tradition of the elders? For they do not wash their hands when they eat bread."

3

He answered and said to them, "Why do you also transgress the commandment of God because of your tradition?

4

For God commanded, saying, 'Honor your father and your mother'; and, 'He who curses father or mother, let him be put to death.'

5

But you say, 'Whoever says to his father or mother, "Whatever profit you might have received from me is a gift to God" –

6

then he need not honor his father or mother.' Thus you have made the commandment of God of no effect by your tradition.

7

Hypocrites! Well did Isaiah prophesy about you, saying:

8

These people draw near to Me with their mouth, and honor Me with their lips, but their heart is far from Me.

9

And in vain they worship Me, teaching as doctrines the commandments of men."

10

When He had called the multitude to Himself, He said to them, "Hear and understand:

11

Not what goes into the mouth defiles a man; but what comes out of the mouth, this defiles a man."