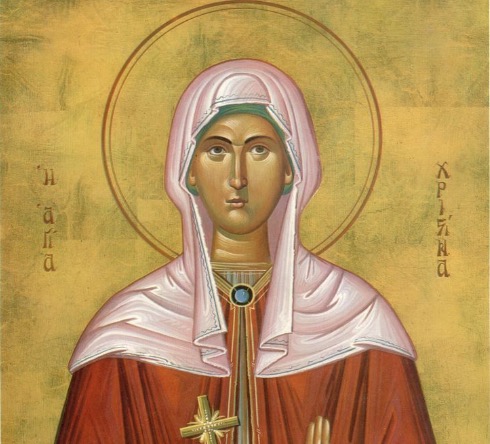 July 24
Fast
Martyr and Passion-Bearer Boris, in Holy Baptism Romanus (1015). . St. Athenagoras of Athens (914). Martyr Christina of Tyre (ca. 300). Ven. Polycarp, Archimandrite of the Kiev Caves (1182).
SAINT CHRISTINA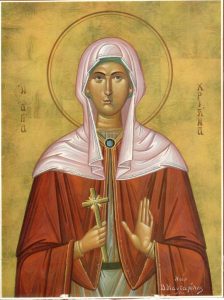 The Martyr Christina lived during the third century. She was born into a rich family, and her father was governor of Tyre. By the age of 11 the girl was exceptionally beautiful, and many wanted to marry her. Christina's father, however, envisioned that his daughter should become a pagan priestess. To this end he placed her in a special dwelling where he had set up many gold and silver idols, and he commanded his daughter to burn incense before them. Two servants attended Christina.
In her solitude, Christina began to wonder who had created this beautiful world. From her room she was delighted by the stars of the heavens and she constantly came back to the thought about the Creator of all the world. She was convinced, that the voiceless and inanimate idols in her room could not create anything, since they themselves were created by human hands. She began to pray to the One God with tears, entreating Him to reveal Himself. Her soul blazed with love for the Unknown God, and she intensified her prayer all the more, and combined it with fasting.
One time Christina was visited by an angel, who instructed her in the true faith in Christ, the Savior of the world. The angel called her a bride of Christ and told her about her future suffering. The holy virgin smashed all the idols standing in her room and threw them out the window. In visiting his daughter Christina's father, Urban, asked her where all the idols had disappeared. Christina was silent. Then, having summoned the servants, Urban learned the truth from them.
In a rage the father began to slap his daughter's face. At first, the holy virgin remained quiet, but then she told her father about her faith in the One True God, and that she had destroyed the idols with her own hands. Urban gave orders to kill all the servants in attendance upon his daughter, and he gave Christina a fierce beating and threw her in prison. Having learned about what had happened, Saint Christina's mother came in tears, imploring her to renounce Christ and to return to her ancestral beliefs. But Christina remained unyielding. On another day, Urban brought his daughter to trial and urged her to offer worship to the gods, and to ask forgiveness for her misdeeds. Instead, he saw her firm and steadfast confession of faith in Christ.
The torturers tied her to an iron wheel, beneath which they lit a fire. The body of the martyr, turning round on the wheel, was scorched on all sides. They then threw her into prison.
An angel of God appeared at night, healing her wounds and strengthening her with food. Her father, seeing her unharmed, gave orders to drown her in the sea. An angel sustained the saint while the stone sank down, and Christina miraculously came out of the water and reappeared before her father. In terror, the torturer imputed this to sorcery and he decided to execute her in the morning. That night he himself suddenly died. Another governor, Dion, was sent in his place. He summoned the holy martyr and also tried to persuade her to renounce Christ, but seeing her unyielding firmness, he again subjected her to cruel tortures. The holy martyr was for a long while in prison. People began to flock to her, and she converted them to the true faith in Christ. Thus about 300 were converted.
In place of Dion, a new governor Julian arrived and resumed the torture of the saint. After various torments, Julian gave orders to throw her into a red-hot furnace and lock her in it. After five days they opened the furnace and found the martyr alive and unharmed. Seeing this miracle take place, many believed in Christ the Savior, and the torturers executed Saint Christina with a sword.
Troparion of the saint, tone 4
Your lamb Christina calls out to You, O Jesus, in a loud voice: / I love You, my Bridegroom, and in seeking You I endure suffering. / In baptism I was crucified so that I might reign in You, / and I died so that I might live with You. / Accept me as a pure sacrifice, / for I have offered myself in love. / Through her prayers save our souls, since You are merciful.
Kontakion of the saint, tone 4
O Venerable Christina, / You appeared as a shining dove, / With a pair of golden wings / Alighting in the Highest Heavens. / Therefore we celebrate your glorious feast / And bow before the place that holds your relics. / Pray that we may receive grace and healing for body and soul.
1 Corinthians 2:9-3:8 (Epistle)
9

But, as it is written: "What no eye has seen, nor ear heard, nor the heart of man conceived, what God has prepared for those who love Him,"

10

But God has revealed them to us through His Spirit. For the Spirit searches all things, yes, the deep things of God.

11

For what man knows the things of a man except the spirit of the man which is in him? Even so no one knows the things of God except the Spirit of God.

12

Now we have received, not the spirit of the world, but the Spirit who is from God, that we might know the things that have been freely given to us by God.

13

These things we also speak, not in words which man's wisdom teaches but which the Holy Spirit teaches, comparing spiritual things with spiritual.

14

But the natural man does not receive the things of the Spirit of God, for they are foolishness to him; nor can he know them, because they are spiritually discerned.

15

But he who is spiritual judges all things, yet he himself is rightly judged by no one.

16

For "who has known the mind of the LORD that he may instruct Him?" But we have the mind of Christ.

1

And I, brethren, could not speak to you as to spiritual people but as to carnal, as to babes in Christ.

2

I fed you with milk and not with solid food; for until now you were not able to receive it, and even now you are still not able;

3

for you are still carnal. For where there are envy, strife, and divisions among you, are you not carnal and behaving like mere men?

4

For when one says, "I am of Paul," and another, "I am of Apollos," are you not carnal?

5

Who then is Paul, and who is Apollos, but ministers through whom you believed, as the Lord gave to each one?

6

I planted, Apollos watered, but God gave the increase.

7

So then neither he who plants is anything, nor he who waters, but God who gives the increase.

8

Now he who plants and he who waters are one, and each one will receive his own reward according to his own labor.
Matthew 13:31-36 (Gospel)
31

Another parable He put forth to them, saying: "The kingdom of heaven is like a mustard seed, which a man took and sowed in his field,

32

which indeed is the least of all the seeds; but when it is grown it is greater than the herbs and becomes a tree, so that the birds of the air come and nest in its branches."

33

Another parable He spoke to them: "The kingdom of heaven is like leaven, which a woman took and hid in three measures of meal till it was all leavened."

34

All these things Jesus spoke to the multitude in parables; and without a parable He did not speak to them,

35

that it might be fulfilled which was spoken by the prophet, saying: "I will open My mouth in parables; I will utter things kept secret from the foundation of the world."

36

Then Jesus sent the multitude away and went into the house. And His disciples came to Him, saying, "Explain to us the parable of the tares of the field."