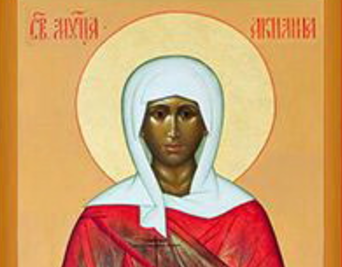 June 13 (old calendar) / June 26 (new)
Apostles' Fast
Martyr Aquilina of Byblos in Syria (293). St. Triphyllius, Bishop of Leucosia (Nicosia) in Cyprus (ca. 370). Ven. Andronicus (1395), disciple of Ven. Sergius of Rádonezh, and Ven. Savva (Sabbas), Abbots, of Moscow (15th c.). Martyr Antonina of Nicæa (3rd-4th c.). St. Anna and her son, St. John, of Constantinople (9th c.).
SAINT AQUILINA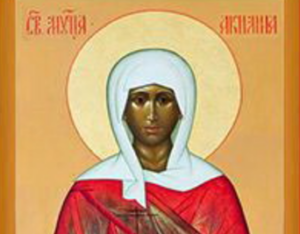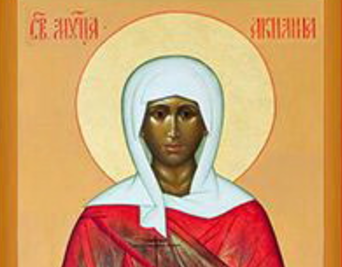 The Holy Martyr Aquilina, a native of the Phoenician city of Byblos, suffered under the emperor Diocletian (284-305). Her parents raised her in Christian piety. When the girl was only twelve years old, she persuaded a pagan friend to convert to Christ. One of the servants of the imperial governor Volusian accused her of teaching others not to follow the religion of their fathers. The girl firmly confessed her faith in Christ before the governor and said that she would not renounce Him. Volusian tried to influence the young confessor through persuasion and by flattery, but seeing her confidence, he ordered her to be tortured.
They struck her upon the face, then they stripped her and beat her with whips. The torturer asked, "Where then is your God? Let Him come and take you out of my hands".
The saint answered, "The Lord is here with me invisibly, and the more I suffer, the more strength and endurance will He give me."
They drilled through the martyr's ears with heated metal rods. The holy virgin fell down as if dead. The torturer thought that the girl had actually died, and he gave orders to throw her body outside the city to be eaten by dogs.
By night a holy angel appeared to Saint Aquilina, roused her and said, "Arise and be healed. Go and denounce Volusian, so that he and his plans may come to nothing."
The martyr went to the court of the governor and stood before Volusian. Seeing Saint Aquilina, he called for his servants and ordered them to keep watch over her until morning.
In the morning he sentenced Saint Aquilina to death, saying that she was a sorceress who did not obey the imperial decrees. When they led the saint to execution, she prayed and gave thanks to God for allowing her to suffer for His Holy Name.
A voice was heard in answer to her prayer, summoning her to the heavenly Kingdom. Before the executioner could carry out the sentence, the martyr gave up her spirit to God (+ 293). The executioner feared to disobey the governor's orders, so he cut off her head although she was already dead.
Christians piously buried the martyr's body. Later, her relics were taken to Constantinople and placed in a church named for her.
Troparion of the saint, tone 4
Your lamb Aquilina, calls out to You, O Jesus, in a loud voice: / "I love You, my Bridegroom, and in seeking You I endure suffering. / In baptism I was crucified so that I might reign in You, / and I died so that I might live with You. / Accept me as a pure sacrifice, / for I have offered myself in love." / Through her prayers save our souls, since You are merciful.
Kontakion of the saint, tone 3
You ascended to the heights through martyrdom, all-honorable Aquilina, / having purified your soul through the virtues of your virginity. / You were wounded with love for Christ your bridegroom, / before whom you stand rejoicing with the angels; / together with them unceasingly pray for us all.
Romans 4:13-25 (Epistle)
13

For the promise that he would be the heir of the world was not to Abraham or to his seed through the law, but through the righteousness of faith.

14

For if those who are of the law are heirs, faith is made void and the promise made of no effect,

15

because the law brings about wrath; for where there is no law there is no transgression.

16

Therefore it is of faith that it might be according to grace, so that the promise might be sure to all the seed, not only to those who are of the law, but also to those who are of the faith of Abraham, who is the father of us all

17

(as it is written, "I have made you a father of many nations" ) in the presence of Him whom he believed – God, who gives life to the dead and calls those things which do not exist as though they did;

18

who, contrary to hope, in hope believed, so that he became the father of many nations, according to what was spoken, "So shall your descendants be."

19

And not being weak in faith, he did not consider his own body, already dead (since he was about a hundred years old), and the deadness of Sarah's womb.

20

He did not waver at the promise of God through unbelief, but was strengthened in faith, giving glory to God,

21

and being fully convinced that what He had promised He was also able to perform.

22

And therefore "it was accounted to him for righteousness."

23

Now it was not written for his sake alone that it was imputed to him,

24

but also for us. It shall be imputed to us who believe in Him who raised up Jesus our Lord from the dead,

25

who was delivered up because of our offenses, and was raised because of our justification.
Matthew 7:21-23 (Gospel)
21

Not everyone who says to Me, 'Lord, Lord,' shall enter the kingdom of heaven, but he who does the will of My Father in heaven.

22

Many will say to Me in that day, 'Lord, Lord, have we not prophesied in Your name, cast out demons in Your name, and done many wonders in Your name?'

23

And then I will declare to them, 'I never knew you; depart from Me, you who practice lawlessness!'