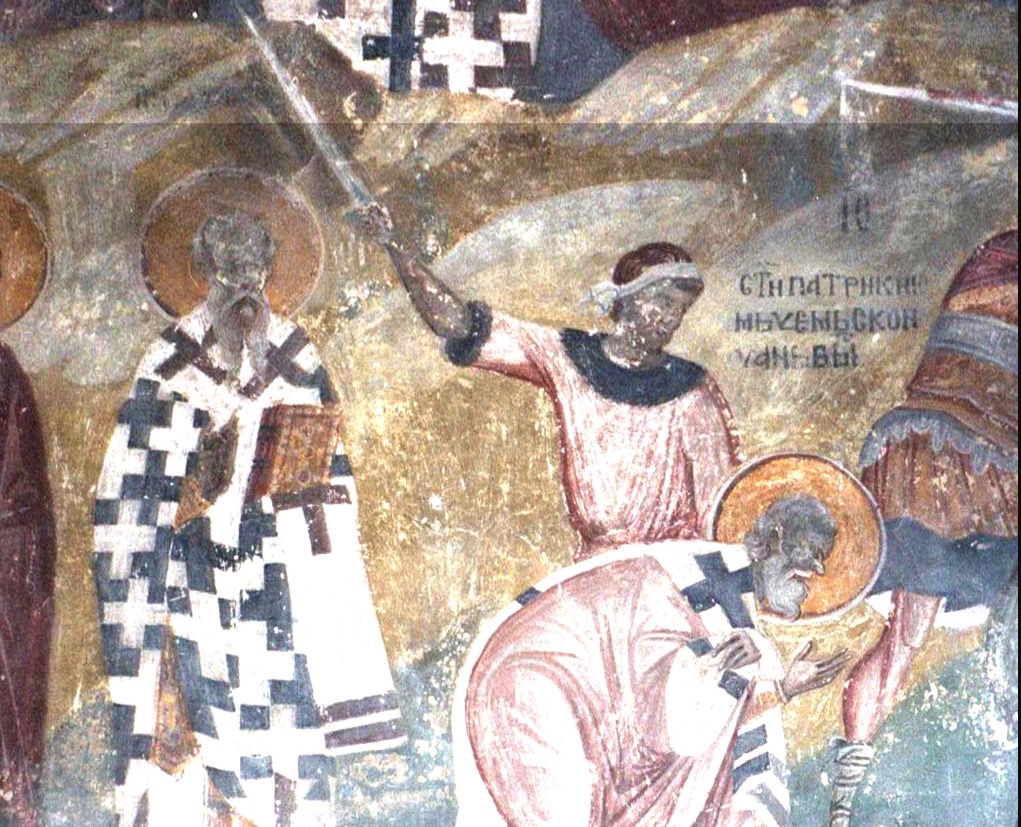 May 19
4th SUNDAY OF PASCHA — Tone 3. The Paralytic.
Hieromartyr Patrick, Bishop of Prusa, and his companions: Presbyters Acacius, Menander, and Polyenus (2nd-3rd c.). Ven. Cornelius, Abbot of Komel' (Vologdá—1537). Ven. Cornelius, Abbot of Paleostrov (15th c.). Rt. Blv. John, Prince of Uglich, tonsured as Ignatius (Vologdá—1523). Ven. Sergius of Shukhtomsk (1609). St. John Bishop of the Goths in the Crimea (8th c.). Rt. Blv. Dimitry Donskoy, Grand Prince of Moscow (1389).
SAINT PATRICK OF PRUSA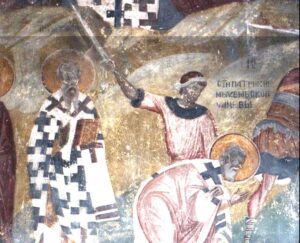 Saint Patrick lived during the first century and was bishop of the city of Prusa in Bythnia (Asia Minor). He openly and boldly preached Christ the Savior, and denounced the error of the pagans. Therefore, he and the priests, Acacius, Menander and Polyainus were arrested, and brought to Julius, the prefect of the city for interrogation.
Julius was going to the hot springs for treatment, and he ordered that the Christian bishop and the priests be brought along after him, bound in iron chains. After he washed in the hot springs, Julius offered sacrifice to his gods. He had Saint Patrick and the other prisoners brought before him, ordering them to offer sacrifice to the pagan gods, threatening punishment if they refused.
Saint Patrick replied, "I am a Christian and I worship the one true God, Jesus Christ, Who has created the heavens and the earth, and these warm springs for the benefit of all mankind."
Julius had the saint thrown into the hot spring, and with firm faith the martyr prayed, "Lord, Jesus Christ, help Your servant," and he remained unharmed.
In an impotent rage, Julius ordered Saint Patrick and his three presbyters beheaded. They received their crowns of unfading glory from Christ around the year 100.
Troparion of Pascha, tone 5
Christ is risen from the dead, trampling on death by death, and on those in the tombs bestowing life.
Troparion of the Sunday, Tone 3
Let the heavens rejoice, / let the earth be glad! / For the Lord has shown might with His arm,/ He has trampled down death by death. / He has become the first-born of the dead. / He has delivered us from the depths of hell, / and has granted the world great mercy!
Kontakion of the Sunday, Tone 3
On this day Thou didst rise from the tomb, O Merciful One, / leading us from the gates of death. / On this day Adam exults as Eve rejoices; / with the prophets and patriarchs they unceasingly praise / the divine majesty of Thy power!
Kontakion of the paralytic, Tone 3
By Thy divine presence, O Lord, raise my soul which is terribly paralyzed by all kinds of sins and misguided actions, as of old Thou didst raise the paralytic, that saved I may cry to Thee: O compassionate Christ, glory to Thy power.
Acts 9:32-42 (Epistle)
32

Now it came to pass, as Peter went through all parts of the country, that he also came down to the saints who dwelt in Lydda.

33

There he found a certain man named Aeneas, who had been bedridden eight years and was paralyzed.

34

And Peter said to him, "Aeneas, Jesus the Christ heals you. Arise and make your bed." Then he arose immediately.

35

So all who dwelt at Lydda and Sharon saw him and turned to the Lord.

36

At Joppa there was a certain disciple named Tabitha, which is translated Dorcas. This woman was full of good works and charitable deeds which she did.

37

But it happened in those days that she became sick and died. When they had washed her, they laid her in an upper room.

38

And since Lydda was near Joppa, and the disciples had heard that Peter was there, they sent two men to him, imploring him not to delay in coming to them.

39

Then Peter arose and went with them. When he had come, they brought him to the upper room. And all the widows stood by him weeping, showing the tunics and garments which Dorcas had made while she was with them.

40

But Peter put them all out, and knelt down and prayed. And turning to the body he said, "Tabitha, arise." And she opened her eyes, and when she saw Peter she sat up.

41

Then he gave her his hand and lifted her up; and when he had called the saints and widows, he presented her alive.

42

And it became known throughout all Joppa, and many believed on the Lord.