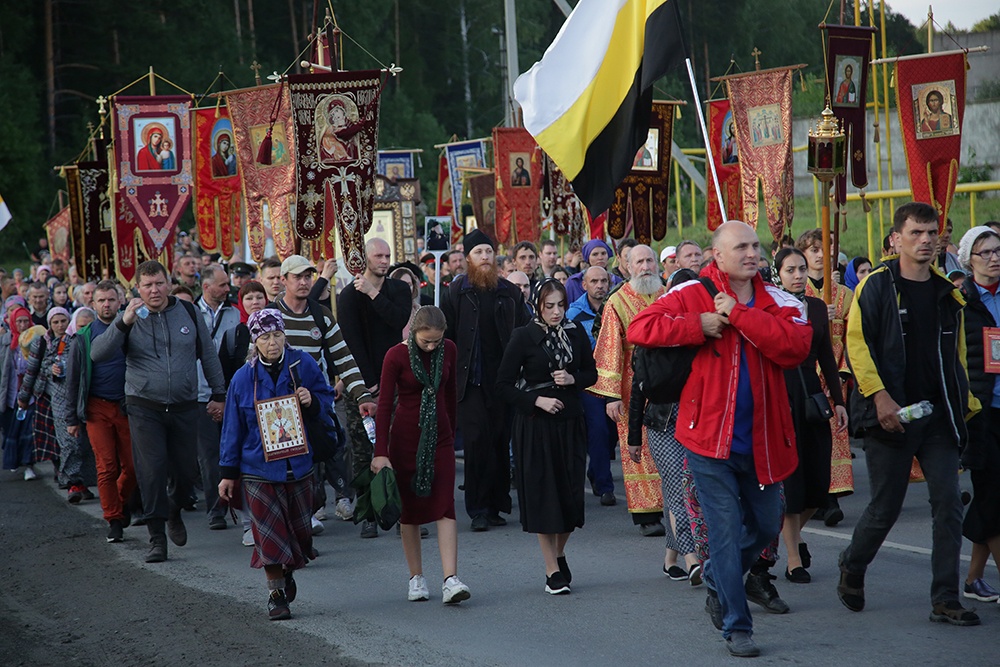 This year, 60,000 faithful gathered for the Night Divine Liturgy in Yekaterinburg Church on Blood, built on the site where the Imperial Family was murdered on July 17, 1918. The Liturgy was followed by a procession to Holy Imperial Passion-Bearers Monastery in  Ganina Yama, 10 miles away.
This year, the Divine Liturgy was concelebrated by Metropolitan Kirill of Yekaterinburg and Verkhoturye, Metropolitan Vincent of Tashkent and Uzbekistan, Metropolitan Gregory of Chelyabinsk and Miass, and seven other bishops.
The procession was accompanied by fifteen mobile groups to assist the pilgrim. The charity fund "Nika" distributed water and medical first aid.
Around 6 am, the procession arrived at Ganina Yama, led by the clergy. They served a moleben the Imperial Martyrs.
At the end of the service, Metropolitan Kirill gave a short homily: "I wish you all a happy feast, which is a feast to support Orthodoxy and holy Russia. May the spirit of love, gentleness, patience, and mercy, the spirit of all those Christian feelings which were those of the holy imperial martyrs, enter today into our souls, purified if only a little, by this procession".
You can watch the Divine Liturgy and the beginning of the procession here below.
Source in Russian