Father Zhivko Panev:
Your Eminencies, your Excellencies, dear Fathers, Brothers and Sisters, Ladies and Gentlemen!
We would like to use this time to briefly showcase our vision and our case study, entitled "Growth Hacking the Orthodox Web – A Modern Methodology for an Ancient Approach". The context is, of course, the French Internet however, we believe that the methodology can be applied to the Orthodox Internet in general.
Before we dive deeper into the topic, I'd like to say a few words about the Orthodoxy in France itself. Presence of the Orthodox in France is mostly due to several waves of emigration from traditionally Orthodox countries like Russia, Greece, Serbia, Romania, Bulgaria and the Middle East. Today, there is an estimated number of 500 000 to 700 000 baptized Orthodox Christians organized in the following way:
273 parishes,
27 monasteries,
3 schools of theology,
Along with the various media organizations:
7 magazines,
6 publishers,
2 television programmes – France 2 and KTO,
8 bi-weekly and monthly radio shows co-produced with the State, Catholic or Protestant radios
7 info and news websites
23 movements and charitable organizations.
Parishes are grouped into 9 jurisdictions:
Patriarchates of Constantinople, Antioch, Georgia, Bulgaria, Serbia, Moscow, Romania,
as well as the Russian Exarchate of the Patriarchate of Constantinople,
and The Russian Orthodox Church Outside
Furthermore, those bishops have self-organized in a civil organization called the Assembly of French Orthodox Bishops (A.E.O.F), created in 1967 in order to coordinate and adopt common actions, and pose as a representative body in font of civil French authorities.
The clergy has about 330 priests and deacons out of which most are married and most have a separate professional career.
We can say that, generally speaking, Orthodox parishes are trying to keep the traditions of their original countries, but also to offer a place for the faithful converts.
Within those national diaspora jurisdictions, French parishes have also been created, but are currently subsisting due to very limited resources and exclusively thanks to the donations of the faithful. However, French language is increasingly used in liturgical celebrations of those traditional parishes. Furthermore, no Orthodox parishes benefit from any subsidies from the State or territorial collectivities thanks to the very strict separation of the State and the Churches by the law from 1905.
State of affairs on the French Orthodox Internet
To properly illustrate the state of the affairs of the Orthodox Internet in France, we used the database of the Church Yearbook created and updated for 2017 by the Monastery of Cantauque. An interactive version with the map is available on our website Orthodoxie.com.
The first thing that we are seeing is the poor Internet presence. Here are the percentages of the ones who own a website:
Only 38% of parishes (103 out of 273)
Only 40% of monasteries (11 out of 27)
Only 28% of magazines (2 out of 7)
67% of publishers (4 out of 6)
61% of movements and charitable organizations (14 out of 23).
The websites themselves are mostly created by volunteering parishioners, built on free or shared platforms and are consisting largely from obsolete and old technologies and content including static pages without multimedia or interactive content, no audio or video podcasts, no social media accounts, all packed on web pages that are not mobile responsive. The content is mostly restricted to general information like the address, opening hours and similar. Usually they do not have any editorial policy and their updates are infrequent and seldom. We can freely say that the orthodox websites in France are still stuck in the 20th century!
In order for the situation to improve, we must not only raise awareness in circles of the responsible bishops and parish rectors, but also receive their willingness to actually invest resources (human and financial) for the realization of the Orthodox Internet of the 21st century. Unfortunately, we're still not seeing any strong signals in that direction.
However, we now have an actionable plan for growth that will help us reach the point at which we'll be able to meet our vision for the Orthodox Internet in general.
The vision we are steering towards is to implement an early-Christian methodology that is based on three levels of inclusion:
To attract and inform, which corresponds to the early-Christian concept of kerygma (κήρυγμα).
To educate and train, which corresponds to the early-Christian didache or didascalia (Διδαχή των Αποστόλων), and
To create community through further engagement, which corresponds to ecclesiation and building of the real-world community in the Church.
Now, I will give the word to Nemanja Puhalo, who will talk about our action plan to get there.
Nemanja Puhalo: 
When I first heard the vision Father Zivko Panev has for the Orthodox Internet, I couldn't help but notice a very distinct similarity to the methodology we use today in digital marketing, and it is called the Conversion Funnel, or simply – the Funnel. It's a metaphor used to describe the steps of involvement users take towards purchasing a product.  In a traditional sense, this is how the funnel looks like: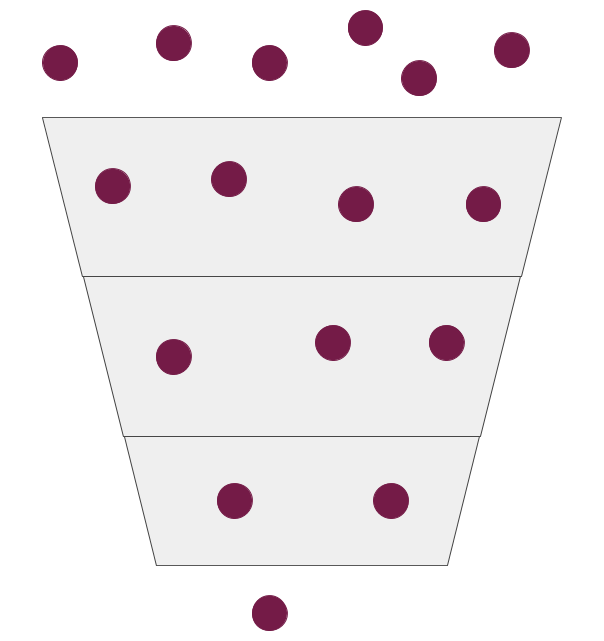 You'll see that it tries to describe the fact that many people might see our product, but very few would actually end up buying it. The process of optimizing these steps for yielding a higher number at the bottom here, is called Conversion Optimization.
However, here's is an even better representation of this process, called the Inverted Funnel. It sheds light to some of the, usually hidden, aspects and forces. Take a look: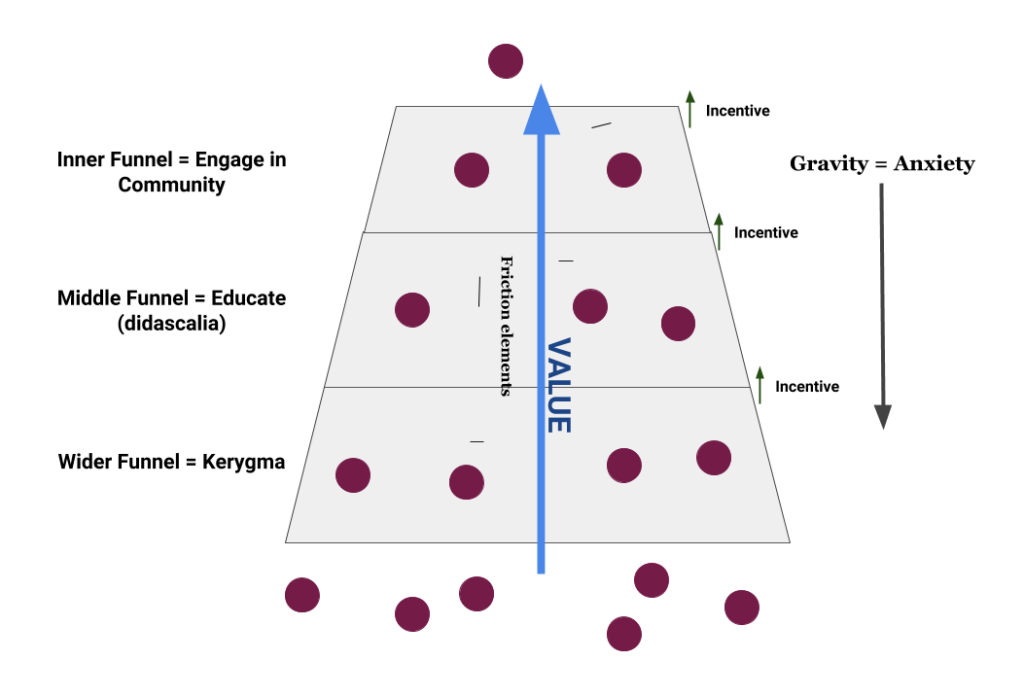 You'll see how in this representation gravity actually works against us, posing as a force opposite to climbing up our funnel. This actually corresponds to the phenomenon known as anxiety towards making a decision, or buyer's remorse. It's like when you see something that looks interesting, but you just don't feel like spending more time on it right now. It's almost as if you're lazy to do it at that moment. Because this so-called force is almost constant, this representation shows us another important aspect that we need to look at: friction in the process. Because users are not "falling" into your funnel, but rather "climbing" it, we as marketers need to help them by removing all elements that will make their "climb" harder. Good example of this is mobile responsiveness of our website – if I'm looking at an unresponsive website from my phone, this is going to be a big friction element that might easily stop me from proceeding.
Lastly, this representation uncovers just how important the value is. The value that our users perceive our product will give them is like a rocket engine that pushes them up our funnel. The stronger the value, the higher the chances of our users actually climbing to the top.
While there are many theoretical and practical takes on the Funnel, there exists a prevailing idea of 3 types of communication that each correspond to the level of engagement a particular user has with our product.
Wider funnel is the stage in which a user is simply informed of our product's existence. During it, he or she chooses whether our product is something they would like to give any more of their additional time or not. Therefore, kerygma cannot be simply cold information, it has to be attractive as well. Back in the day of the early-Christianity, people's lives were mostly slow and unchanging. In that environment, the good news that the Apostles were spreading were coming across as sensational. In today's world, and especially on the Internet, the average user's attention is being stretched and tossed between tens, if not hundreds of different topics throughout just one day. One could even say that today this job is somewhat harder.
Middle funnel is the stage our users end up in once they choose our product is of interest to them. Here they'll be looking to find out more, educate themselves about the different aspects of our product and see if it's a good fit for them. Depending on the complexity of the product, this stage could be shorter or longer.
Inner funnel is the so-called decision stage. In it users are put in front of the decision whether to engage fully with our product, or simply stay aside. If they choose to proceed, this stage is also where is community is built and, here's another digital marketing expression, "evangelists" are created. They go out and tell other people just how excited they are about our product, and we need to support them in that.
In all of these stages the "gravity" works as force pushing down, while the value is a force pushing users up. There is also the incentive, which you can see here. It is an important aspect that we as marketers need to provide to the users, so that they would want to keep moving up our funnel. Sometimes, each stage of the funnel needs to have some additional value added to it, as well as the incentive to keep users going. 
Where is Orthodoxie.com in this process?
Father Zivko started 15 years ago with just a small website. Now he and Father Christophe Levalois operate one of the biggest Orthodox news portals in France. However, because of the "funnel" reasons we just saw, the number of people that can climb up the funnel is far from enough to exceed even a small parish. Additional difficulty is the fact that we're a small organization with very limited resources, and the growth needs to be established by some other, not so traditional means.
With this in mind, we were looking at various different approaches for the first stage of the funnel, and we've come up with something that we believe can create a so-called "buzz", raise awareness and attract new people into our funnel. We were looking at the intersection of authentic, non-digital, popular and easygoing in order to reach the biggest possible audience. We wanted to create an effect where even the non-believers would say something along the lines of:
Wow, what on Earth is that? I'm curious to find out more…
Proudly presenting – the Orthodoxie Shop – Orthodox-inspired Apparel and Accessories: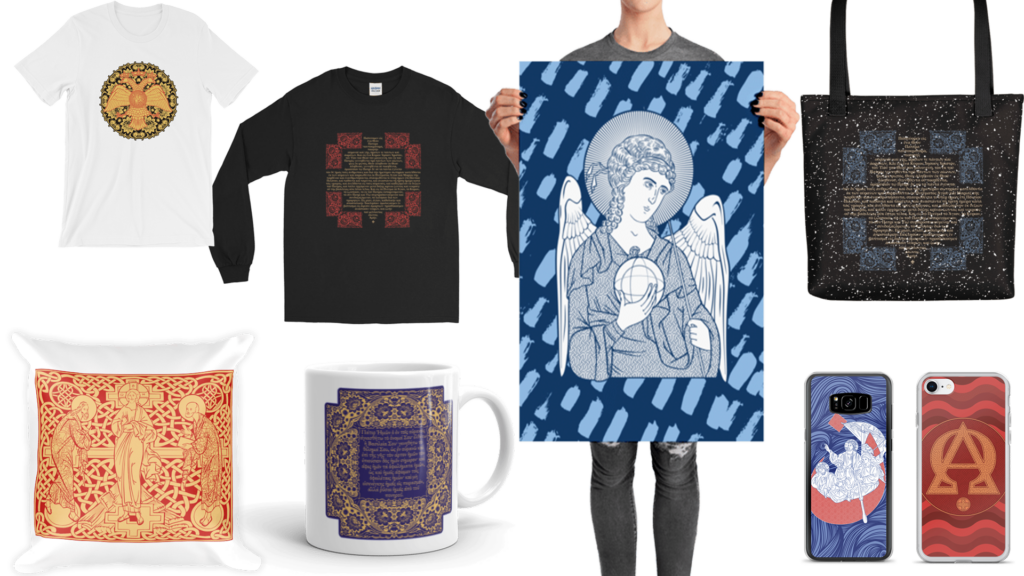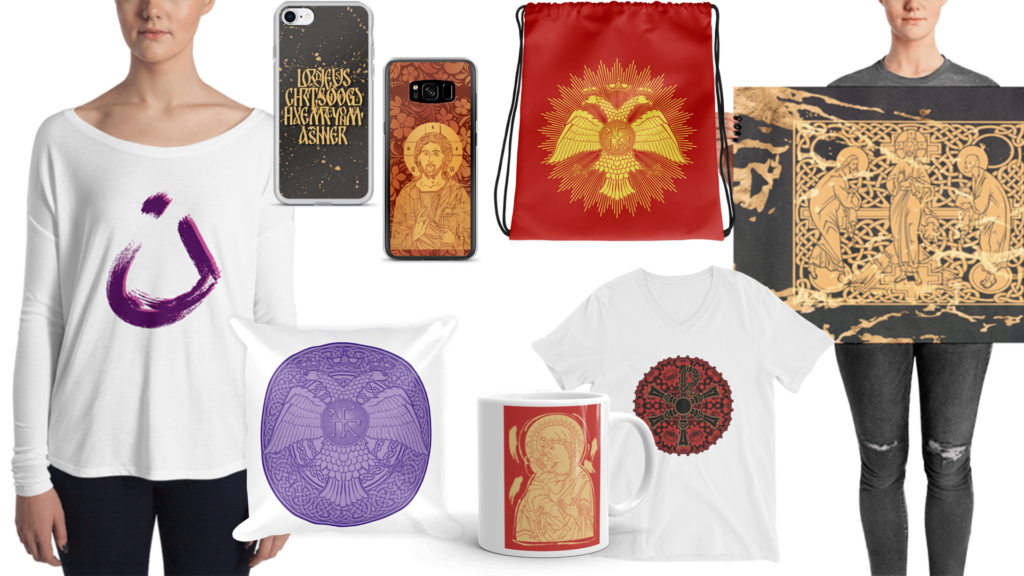 The products are top-quality with world-class designs that will delight and attract the believes, as well as people from various different religious and cultural backgrounds.
So far, we've had tremendous success with the early adopters and the comments have been very positive. From here, our task is to move to the second stage.
The Second Stage for Orthodoxie.com will be E-Learning.
We are already in negotiations with the Saint Serge Institute for Orthodox Theology in Paris on building a distance learning platform, which would enable a very large number of students to attend without the burden of having to live in Paris.
Furthermore, we're planning a non-academic Orthodox Masterclass that will be provided by our website, Orthodoxie.com.
However, in order to do all this, we'll need resources. This is how we're planning to acquire them. 
The Growth Hacking Part:
So, this is what we think needs to happen:
Because of the fundamental psychological forces that act on each person, people are
reluctant to act and there's a certain anxiety towards choice. This is even more true in
todays hyperconnected world due to the many-choice-paralysis effect. Because of this,
it's not simply enough to target the Orthodox, the Christians or even the believers of the
world. We think that each of us needs to cast their nets much wider in order to get as
many people in the Wider Funnel.
This is our plan: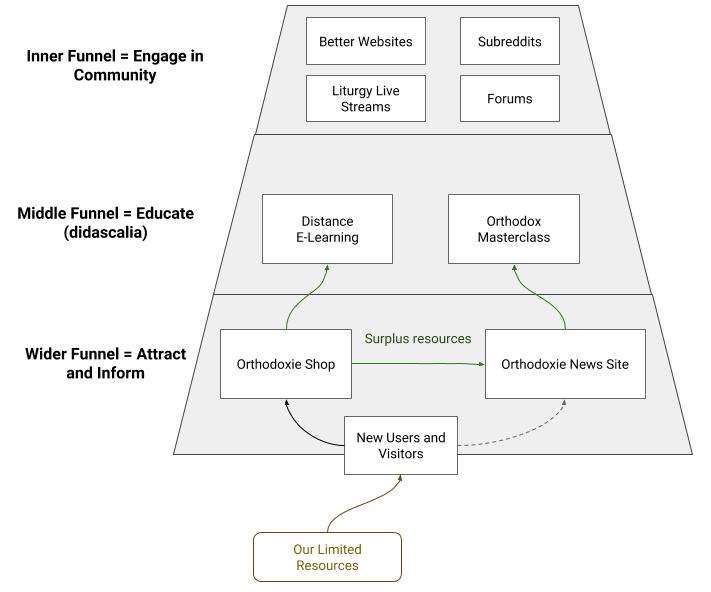 We will invest the most of our limited resources into the Shop. We will then spill over the earnings from the Shop to translate Orthodoxie.com into English (which we have already started) and keep growing our first stage of the funnel. Growth in the first stage will enable more people in the second stage, which we'll use to further educate people and better introduce them to Orthodoxy.
From there, we'll use our newly grown numbers as an inspiration to compel the responsible hierarchs in the Orthodox world to invest resources and move their websites from the 20th to the 21st century and spur the online community creation process.
Thank you all!
This post is also available in: Français (French)
Notre lettre d'informations hebdomadaire gratuite
Chers lecteurs,
Vous êtes de plus en plus nombreux à lire Orthodoxie.com, et nous nous en réjouissons. Nous souhaitons qu'une grande partie des articles de notre site soit accessible à tous, gratuitement, mais l'information de qualité a un coût. Et pour cette raison, votre soutien nous est plus que nécessaire. Nous vous invitons à vous y abonner, ou bien à faire un don de soutien !