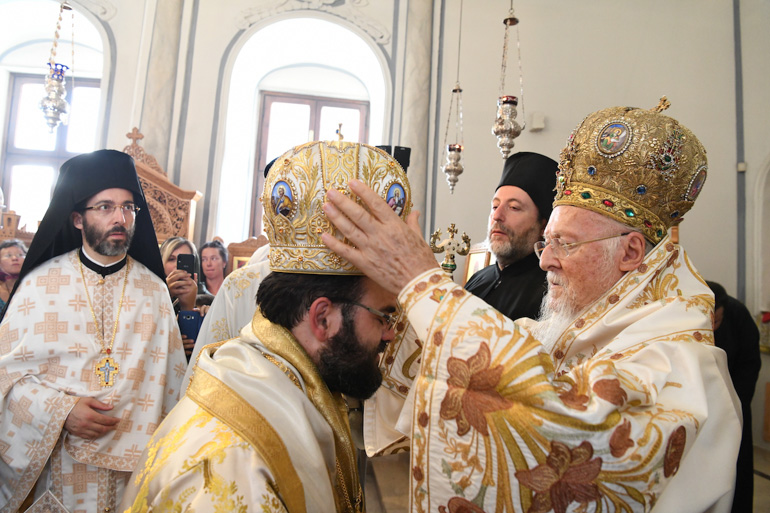 On Sunday, July 21, took place the episcopal consecration Bishop Ambrosios of Evdokia in Saint Alypius church, in Antalya, where the Slavic-speaking community of the region meets. 
Bishop Ambrosios will assist Metropolitan Sotirios of Pisidia, the head of the local diocese. 
The ceremony was presided by Ecumenical Patriarch Bartholomew, assisted by Metropolitans Sotirios of Pisidia, Stefanos of Kallioupolis and Madytos, Athenagoras of Kydonia, and Maximos of Selyvria. 
In his homily, the patriarch recalled the theological formation of the new bishop, who studied in Thessaloniki, Boston, and St. Petersburg. He also emphasized his exemplary ministry in the Constantinople Patriarchate, where he was a protosyncellus, as well as his pastoral concern for the Slavic-speaking Orthodox living in Turkey, especially those living within the boundaries of the Metropolitan Diocese of Pisidia. 
At the end of the Divine Liturgy, Patriarch Bartholomew addressed the faithful, consisting mainly of Russians, Ukrainians, and other Slavic-speaking people, with these words: 
"This is a historic day for the community of Antalya and for the whole region. My visit today and our common prayer occurs when the situation of Orthodoxy is unpleasant in general, and in particular with regard to the relations of the Mother Church of Constantinople and the Daughter Church of Russia. Unfortunately, the sister Church wanted to stop communion with us, the Ecumenical Patriarchate, to show its dissatisfaction about the Ukrainian Church. We have not followed her desire, we still love her, whatever happens, and today, you have heard in the diptychs that I commemorated His Beatitude the Patriarch Kirill. It is a trial for all of us and a difficulty that will be overcome through the prayer of all. 
But, unfortunately, the Russian Church is not helping. On the contrary, they create additional problems by anti-canonically sending priests who celebrate in different places of Turkey. They do the same thing here in your area. A priest comes to celebrate in Belek, whereas as you know, Turkey is the canonical territory of the Ecumenical Patriarchate and his only," said the Patriarch, who added, "I urge you, my brothers and sisters, to remain all united around your metropolitan, Brother Sotiros, and the new bishop Ambrosios, and to listen to their advice. We hope that peace and love will soon return in our mutual relationships. 
As your patriarch, I ask you to observe unity and discipline towards your bishop, who has been struggling spiritually for eleven years, despite his advanced age, and who serves your religious needs in all languages. We thank Father Lambros and Father Vladimir for permanently serving your needs. 
Our Ecumenical Patriarchate in Constantinople is always ready to face and meet all the needs of the Holy Metropolis of Pisidia, and especially of your community here in Antalya. 
I am delighted to see also Father Konstantinos of Alanya today, with his faithful. I bless and embrace them all as well, in this community which is ours. We rejoice because, far from your homeland, you who have come here for better living conditions, you do not deprive yourself of the goods of our Church, of Hitsis blessings, and all your interest is directed to your spiritual progress in Christ. I bless you all with all my heart, from the Mother Church of Constantinople, and I especially bless your lovely children. May you have all God's blessings. I embrace you paternally".
Source in Greek (with picture)