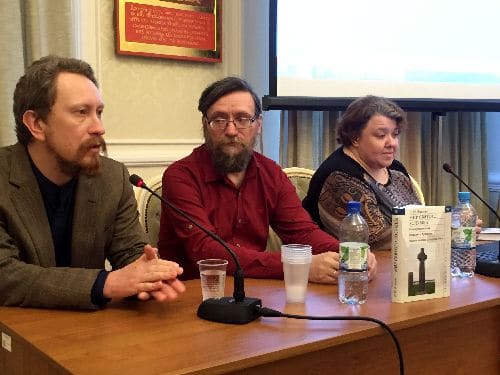 The presentation of Nina Zhivlova's monograph, ""The World of Saint Columba, Ireland, and Great Britain, from the beginning of the Middle Ages through the eyes of the monks of the island of Iona"  (Moscow 2019) took place on April 9 at St. Tykhon University in Moscow.
This book contains the very first Russian translation of the "Life of Saint Columba". The translation was based on Adomnán (+704)'s text in Latin, as well as on "the Annals of Ulster (563-713)", compiled in ancient Irish chronicles.
Among all the books published in Russia on this theme, Nina Zhivlova's monograph holds the first place, according to Egor Agafonov, St. Tykhon University Press chief editor. He believes the book can play a role in the process of introducing Western saints (who lived before the 1054 schism) into the Menologion of the Russian Orthodox Church.
During the presentation, Grigory Bondarenko, YASK Press chief editor and a specialist in Irish culture, spoke of Saint Columba's significance for Ireland and Scotland. According to him, Saint Columba is "current for today's Ireland and for the so-called post-Christian Europe".
The author of the monograph specified that the Life of Saint Columba (521-597) was written at the end of the 7th century by Adomnán, who may be a distant relative of the saint, but in any case his successor as the abbot of the monastery the saint had founded on the island of Iona in 563.
Source in Russian