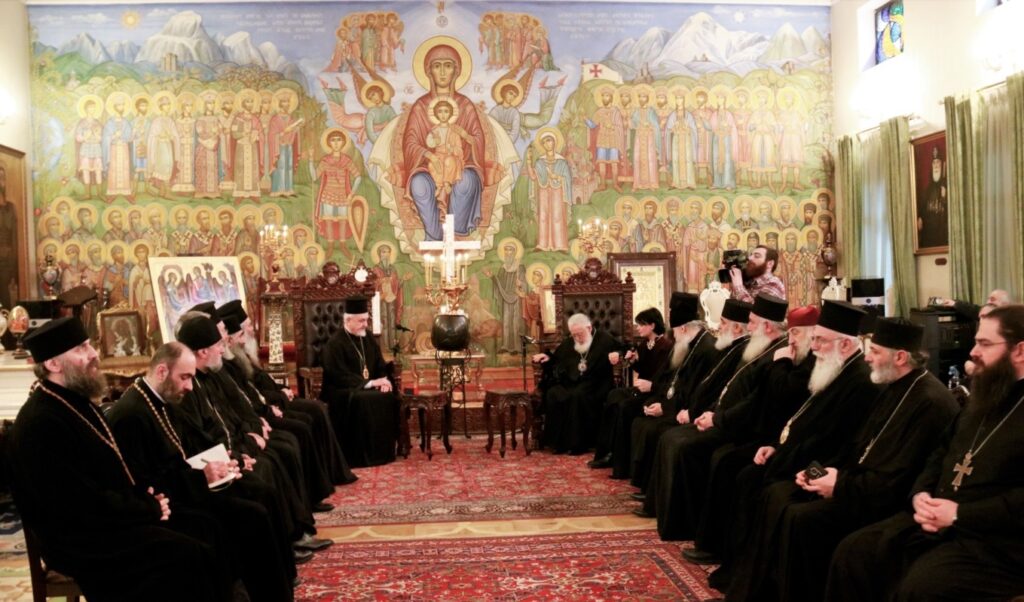 "The Patriarch of Georgia has the wisdom to make a decision regarding the autocephaly of the Ukrainian Church," said Metropolitan Emmanuel of France (Patriarchate of Constantinople) immediately after meeting with the Catholicos-Patriarch Ilia II of Georgia.
The Metropolitan, addressing the media, added: "It is with great joy that we are here today in the hospitable country of Georgia, and especially in the precincts of the Most Holy Church of Georgia".
According to Metropolitan Emmanuel, the head of the Patriarchate of Constantinople delegation visiting Tbilisi, the nature of the visit was "a friendly meeting between the two friend churches". "The purpose of my visit here today was a fraternal cooperation with His Beatitude the Patriarch and the members of the Georgian Church hierarchy. We also exchanged views on issues of broader interest for Orthodoxy,  so we naturally discussed the granting of the autocephalous tomos by the Mother Church of Constantinople to the Church of Ukraine", added Metropolitan Emmanuel.
Regarding the autocephaly of the Ukrainian Church, he stated, "We did not come to impose anything on the Church of Georgia! His Holiness the Patriarch of Georgia has the wisdom and common sense to do what the Church of Georgia has to do, and we have excellent cooperation between the Ecumenical Patriarchate and the Patriarchate of Georgia".
To conclude, the Metropolitan added that "the discussion focused on all the current challenges for Orthodoxy. We must maintain the unity of the Orthodox Church, and we totally agreed on this".