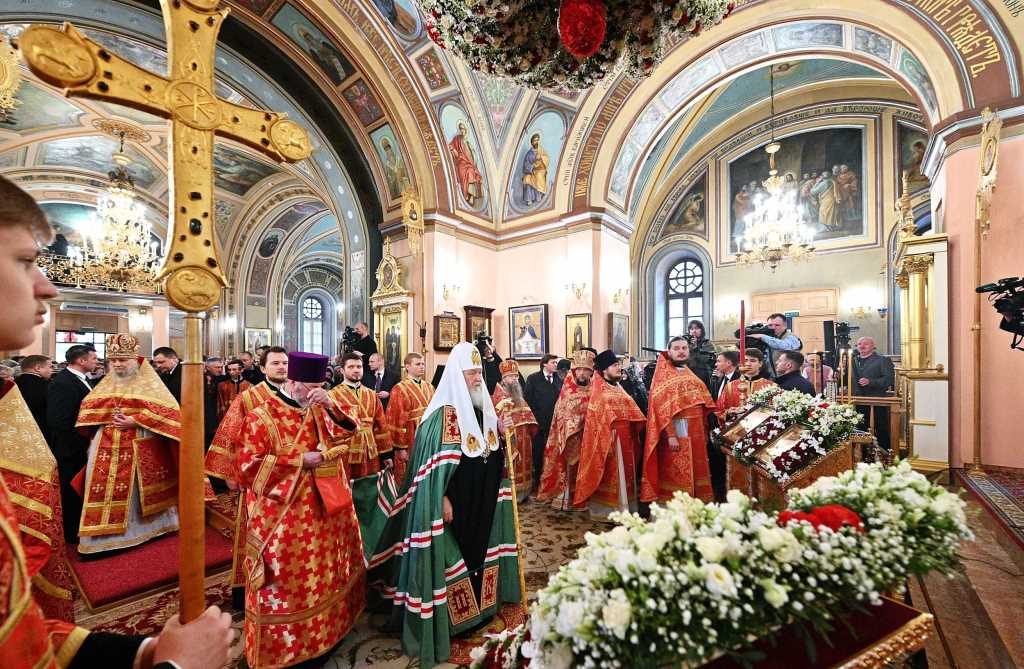 Upon his arrival at the monastery, Patriarch Kirill venerated the saint's relics, which are in the church of the Protection of the Mother of God, and read a prayer in front of them. Then, the primate celebrated the Divine Liturgy, assisted by two other hierarchs and several priests. As the church cannot contain a large number of faithful, they were able to participate in the service in front of large screens set up on the grounds of the monastery. At the end of the liturgy, Patriarch Kirill presided over the procession around the monastery.
"By God's Providence, Blessed Matrona of Moscow was canonized precisely during these days of the Pascha season, when heaven and earth are celebrating, and when we are all joyfully glorifying the Risen Christ," said Mother Theophania, the hegumena of the monastery. "During these years, by the prayers of the saint, the former monastery of the Protection of the Mother of God has been completely rebuilt from its ruins, with the three dependencies of the monastery now back in their former magnificence, and a new shrine for relics. We opened an orphanage for children who live and go to school at the monastery. More than 90 churches have been built in honor of St. Matrona of Moscow, not only in Russia, but also in other countries, such as Belarus, Moldova, Ukraine, USA, Bulgaria, and Serbia".
Patriarch Kirill said, "I would like to thank you warmly, Mother Hegumena Theophania, for the work you are doing with the sisters in this holy monastery. It is always with special feeling that I celebrate here the Divine Liturgy, and I rejoice when I see new novices. May God make monastic life stronger, may pilgrimages to this great holy place in our Church never cease, in honor of the holy and just Matrona of Moscow. And through her prayers and intercession before the face of God, may the Lord keep us all. Amen."
To commemorate this 20th anniversary, icons of the saint blessed by the primate were distributed to the faithful.
Saint Matrona (+1952) was born without eyes and she lost the use of her legs at the age of seventeen. Through her ascetic life and incessant prayer, God gave her the gift of prophecy and of miracles. She was canonized by the Russian Orthodox Church in 1999.
You can read here the complete life of the saint, with the troparion and kontakion of her feast day.
Source in Russian (with picture)