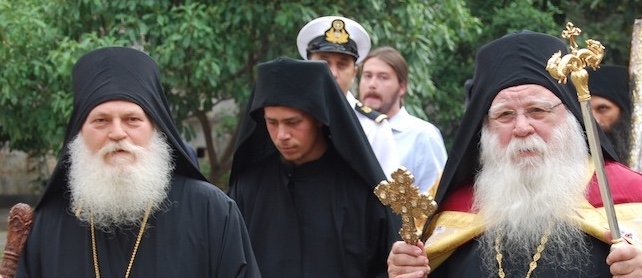 Two abbots of Mount Athos monasteries will accompany Ecumenical Patriarchate delegation to the enthronement of Metropolitan Epifaniy's (Dumenko), the head of the new ecclesial structure set up by Constantinople in Ukraine. The ceremony will take place on February 3 in Kyiv. Patriarch Bartholomew will not be in Kyiv, but he plans to visit later.
On January 31, the Greek site Romfea specified that these two abbots will be Hegumen Ephrem of Vatopedi and Hegumen Alexis of Xenophontos. According to information received from Constantinople, Patriarch Bartholomew asked them to join his delegation in Kyiv, to mitigate the impression created by the Holy Mountain decision as a whole not to send a delegation.
At an extraordinary meeting held on January 28, the Holy Community of Mount Athos, composed of a representative of each of the 20 monasteries, voted against sending a delegation, although 5 monasteries – Iveron, Stavronikita, Xenophontos, Koutloumousiou, and Pantocrator – voted in favor. Meanwhile, other monasteries, including Philotheou and Karakallou, declared that if Metropolitan Epiphaniy comes to Mount Athos, they will close their door to him.
A hieromonk and calligrapher of Xenophontos Monastery designed the tomos of autocephaly that Patriarch Bartholomew granted to the new ecclesial structure, with the blessing of his hegumen, Archimandrite Alexis.
It is interesting to note that Vatopedi was not among the monasteries that voted in favor of sending a delegation, but now its abbot will participate in the enthronement as a member of the Patriarchate of Constantinople delegation.
Besides, Father Ephrem spoke out strongly against Ukrainian schismatics in the past, and implored Ukrainians to remain faithful to the canonical Church. In March 2015, when Metropolitan Onufriy of Kyiv and all Ukraine, the primate of the Ukrainian Canonical Church, visited Mount Athos, Father Ephrem said, "My heart is heavy when I see the present situation in Ukraine. I ask the Ukrainian people to remain faithful to the canonical Church, to the canonical primate, and to the canonical synod. We want Ukrainian residents to support the canonical Church. It is important for one's salvation to obey the canonical Church".
And in a speech given to Ukrainians in 2017, Archimandrite Ephrem pointed out that this issue also affects Mount Athos. He said that the Holy Mountain was very distressed by the schism of the Orthodox Church in Ukraine. According to him, the schism cuts like scissors, and the one who entered the schism must understand that he is outside the bosom of the Church. "If anyone is outside the Church… he cannot attain holiness," he said.