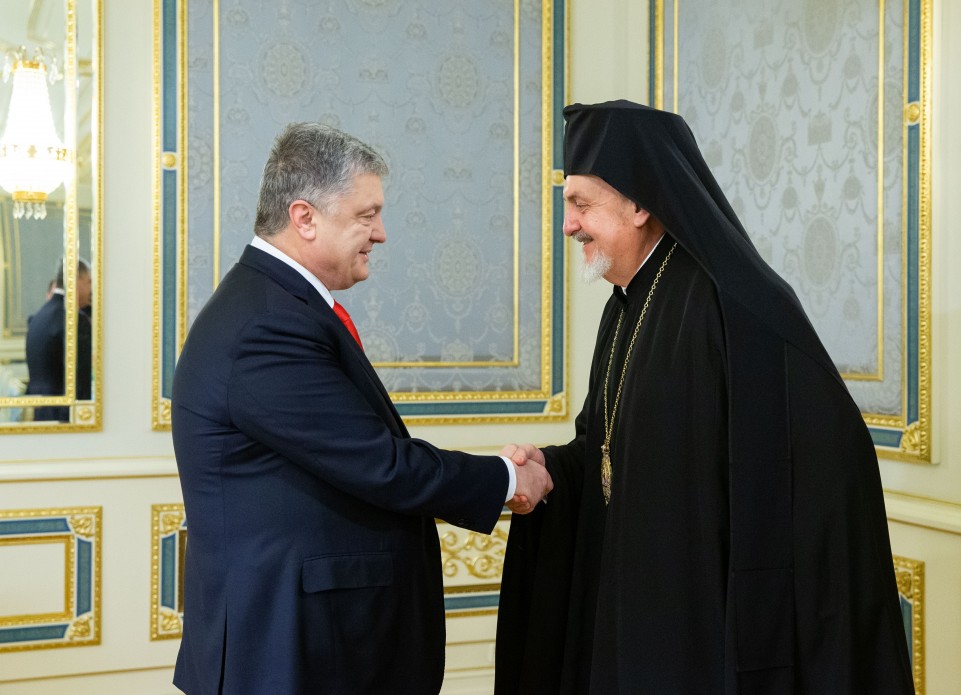 The official delegation of the Constantinople Patriarchate who went to Kyiv for Metropolitan Epifaniy's enthronement met with Ukrainian President Poroshenko on February 4, 2019.
The president welcomed his guests and warmly thanked the Constantinople Patriarchate delegation for taking part in this historical event, both for ecclesiastical life and for the Ukrainian people as a whole.
"Please convey my warm greetings and thanks to the Ecumenical Patriarch Bartholomew for this event. This was made possible thanks to his great love for Ukraine and the Ukrainians," said President Poroshenko. He also mentioned the granting of the Tomos, which became possible thanks to the efforts of the Constantinople Patriarchate exarchs during all this time.
For his part, Metropolitan Emmanuel of France assured the Ukrainian President Patriarch Bartholomew's constant for the new Church. "His All-Holiness went ahead and granted autocephaly, because the people of Ukraine were asking for it. You are the first Ukrainian citizen to have undertaken, this difficult task, I would say, but also a great opportunity," added the Metropolitan of France. He also mentioned that the delegation also included Father Alexis, the hegumen of Xenophontos monastery, highlighting "that the historical document of the Tomos of autocephaly was produced in this monastery".
The Ukrainian president thanked Archimandrite Alexis, and expressed the hope that in the near future, he would visit Mount Athos and Xenophontos monastery.
Source in Greek