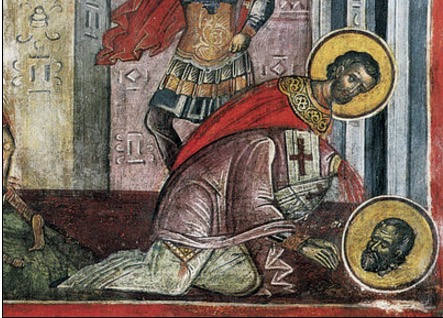 April 17 
Great Lent
Hieromartyr Simeon, Bishop in Persia, and those with him: Martyrs Abdechalas and Ananias—Presbyters, Usthazanes, Fusicus (Pusicius), Ascitrea, Azades the Eunuch, and many others (344). St. Acacius, Bishop of Melitene (ca. 433). Ven. Zosíma, Abbot of Solovétsky Monastery (1478). Uncovering of the Relics of Ven. Alexander, Abbot of Svir (1641). Martyr Adrian of Corinth (251). St. Agapitus, Pope of Rome (536). Repose of Ven. Makarios of Corinth (1805).
Saint Simeon of Persia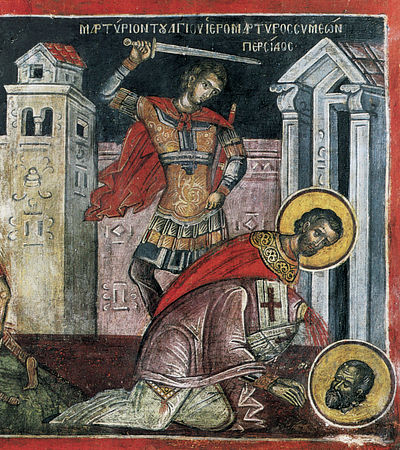 The Hieromartyr Simeon, Bishop of Persia, suffered during a persecution against Christians under the Persian emperor Sapor II (310-381). They accused the saint of collaborating with the Roman Empire and of subversive activities against the Persian emperor.
In the year 344, the emperor issued an edict which imposed a heavy tax upon Christians. When some of them refused to pay it, this was regarded as an act of rebellion, so the emperor began a fierce persecution against Christians.
Saint Simeon was brought to trial in iron fetters as a supposed enemy of the Persian realm, together with the two hieromartyrs Habdelai and Ananias. The holy bishop would not even bow to the emperor, who asked why he would not show him the proper respect. The saint answered, "Formerly, I bowed because of your rank, but now, when you ask me to renounce my God and abandon my faith, it is not proper for me to bow to you."
The emperor urged him to worship the sun, and he threatened to eradicate Christianity in his land if he refused. But neither urgings nor threats could shake the steadfast saint, and they led him off to prison. Along the way the eunuch Usphazanes, a counsellor of the emperor, saw the saint. He stood up and bowed to the bishop, but the saint turned away from him because he, a former Christian, out of fear of the emperor, now worshipped the sun.
The eunuch repented with all his heart, he exchanged his fine attire for coarse garb, and sitting at the doors of the court, he cried out bitterly, "Woe to me, when I stand before my God, from Whom I am cut off. Here was Simeon, and he has turned his back on me!"
The emperor Sapor learned about the grief of his beloved tutor and asked him what had happened. He told the emperor that he bitterly regretted his apostasy and would no more worship the sun, but only the one true God. The emperor was surprised at the old man's sudden decision, and he urged him not to abjure the gods whom their fathers had reverenced. But Usphazanes was unyielding, and they condemned him to death. Saint Usphazanes asked that the city heralds report that he died not for crimes against the emperor, but for being a Christian. The emperor granted his request.
Saint Simeon also learned about the death of Usphazanes, and he gave thanks to the Lord. When they brought him before the emperor a second time, Saint Simeon again refused to worship the pagan gods and confessed his faith in Christ. The enraged emperor gave orders to behead all the Christians in the prison before the saint's eyes.
Without fear the Christians went to execution, blessed by the holy hierarch, and they bent their heads beneath the sword. Saint Simeon's companion, the Priest Habdelai, was also beheaded. When they came to the Priest Ananias, he suddenly trembled. Then one of the dignitaries, Saint Phusicus (Pusicius), a secret Christian, was afraid that Ananias would renounce Christ, and he cried out, "Do not fear the sword, Elder, and you will see the divine light of our Lord Jesus Christ."
Saint Phusicus betrayed himself by this outburst. The emperor gave orders to pluck out his tongue and to flay the skin off him. Along with Saint Phusicus, his daughter Askitrea was also martyred. Saint Simeon was the last to go before the executioner, and he placed his head on the chopping-block (April 13, 344). Executions continued all during Bright Week until April 23.
Saint Azates the Eunuch, a close official to the emperor, also received the crown of martyrdom, along with Saints Abdechalas, Usthazanes, and Azades. The sources indicate that 1,150 Martyrs perished because they refused to accept the Persian religion.
Troparion of the saint, tone 4
As an instructor of divinely inspired doctrines / you trained martyrs for contest by your words and deeds. / You suffered with them, holy hierarch Simeon, / crying out to Christ while hastening to Him: / "We are counted as sheep for the slaughter out of love for You, O Savior."
Kontakion of the saint, tone 4
With your holy band of martyrs / you shone forth from Persia like radiant stars. / With them we praise you, O Simeon.
Isaiah 58:1-11 (6th Hour)
1

"Cry aloud, spare not; lift up your voice like a trumpet; tell My people their transgression, and the house of Jacob their sins.

2

Yet they seek Me daily, and delight to know My ways, as a nation that did righteousness, and did not forsake the ordinance of their God. They ask of Me the ordinances of justice; they take delight in approaching God.

3

'Why have we fasted,' they say, 'and you have not seen? Why have we afflicted our souls, and you take no notice?' "In fact, in the day of your fast you find pleasure, and exploit all your laborers.

4

Indeed you fast for strife and debate, and to strike with the fist of wickedness. You will not fast as you do this day, to make your voice heard on high.

5

Is it a fast that I have chosen, a day for a man to afflict his soul? Is it to bow down his head like a bulrush, and to spread out sackcloth and ashes? Would you call this a fast, and an acceptable day to the Lord?

6

"Is this not the fast that I have chosen: to loose the bonds of wickedness, to undo the heavy burdens, to let the oppressed go free, and that you break every yoke?

7

Is it not to share your bread with the hungry, and that you bring to your house the poor who are cast out; when you see the naked, that you cover him, and not hide yourself from your own flesh?

8

Then your light shall break forth like the morning, your healing shall spring forth speedily, and your righteousness shall go before you; the glory of the Lord shall be your rear guard.

9

Then you shall call, and the Lord will answer; you shall cry, and He will say, 'Here I am.' "If you take away the yoke from your midst, the pointing of the finger, and speaking wickedness,

10

If you extend your soul to the hungry and satisfy the afflicted soul, then your light shall dawn in the darkness, and your darkness shall be as the noonday.

11

The Lord will guide you continually, and satisfy your soul in drought, and strengthen your bones; you shall be like a watered garden, and like a spring of water, whose waters do not fail.
Genesis 43:26-31, 45:1-16 (Vespers, 1st reading)
26

And when Joseph came home, they brought him the present which was in their hand into the house, and bowed down before him to the earth.

27

Then he asked them about their well-being, and said, "Is your father well, the old man of whom you spoke? Is he still alive?"

28

And they answered, "Your servant our father is in good health; he is still alive." And they bowed their heads down and prostrated themselves.

29

Then he lifted his eyes and saw his brother Benjamin, his mother's son, and said, "Is this your younger brother of whom you spoke to me?" And he said, "God be gracious to you, my son."

30

Now his heart yearned for his brother; so Joseph made haste and sought somewhere to weep. And he went into his chamber and wept there.

31

Then he washed his face and came out; and he restrained himself, and said, "Serve the bread."

1

Then Joseph could not restrain himself before all those who stood by him, and he cried out, "Make everyone go out from me!" So no one stood with him while Joseph made himself known to his brothers.

2

And he wept aloud, and the Egyptians and the house of Pharaoh heard it.

3

Then Joseph said to his brothers, "I am Joseph; does my father still live?" But his brothers could not answer him, for they were dismayed in his presence.

4

And Joseph said to his brothers, "Please come near to me." So they came near. Then he said: "I am Joseph your brother, whom you sold into Egypt.

5

"But now, do not therefore be grieved or angry with yourselves because you sold me here; for God sent me before you to preserve life.

6

"For these two years the famine has been in the land, and there are still five years in which there will be neither plowing nor harvesting.

7

"And God sent me before you to preserve a posterity for you in the earth, and to save your lives by a great deliverance.

8

"So now it was not you who sent me here, but God; and He has made me a father to Pharaoh, and lord of all his house, and a ruler throughout all the land of Egypt.

9

"Hurry and go up to my father, and say to him, 'Thus says your son Joseph: "God has made me lord of all Egypt; come down to me, do not tarry.

10

"You shall dwell in the land of Goshen, and you shall be near to me, you and your children, your children's children, your flocks and your herds, and all that you have.

11

"There I will provide for you, lest you and your household, and all that you have, come to poverty; for there are still five years of famine."'

12

"And behold, your eyes and the eyes of my brother Benjamin see that it is my mouth that speaks to you.

13

"So you shall tell my father of all my glory in Egypt, and of all that you have seen; and you shall hurry and bring my father down here."

14

Then he fell on his brother Benjamin's neck and wept, and Benjamin wept on his neck.

15

Moreover he kissed all his brothers and wept over them, and after that his brothers talked with him.

16

Now the report of it was heard in Pharaoh's house, saying, "Joseph's brothers have come." So it pleased Pharaoh and his servants well.