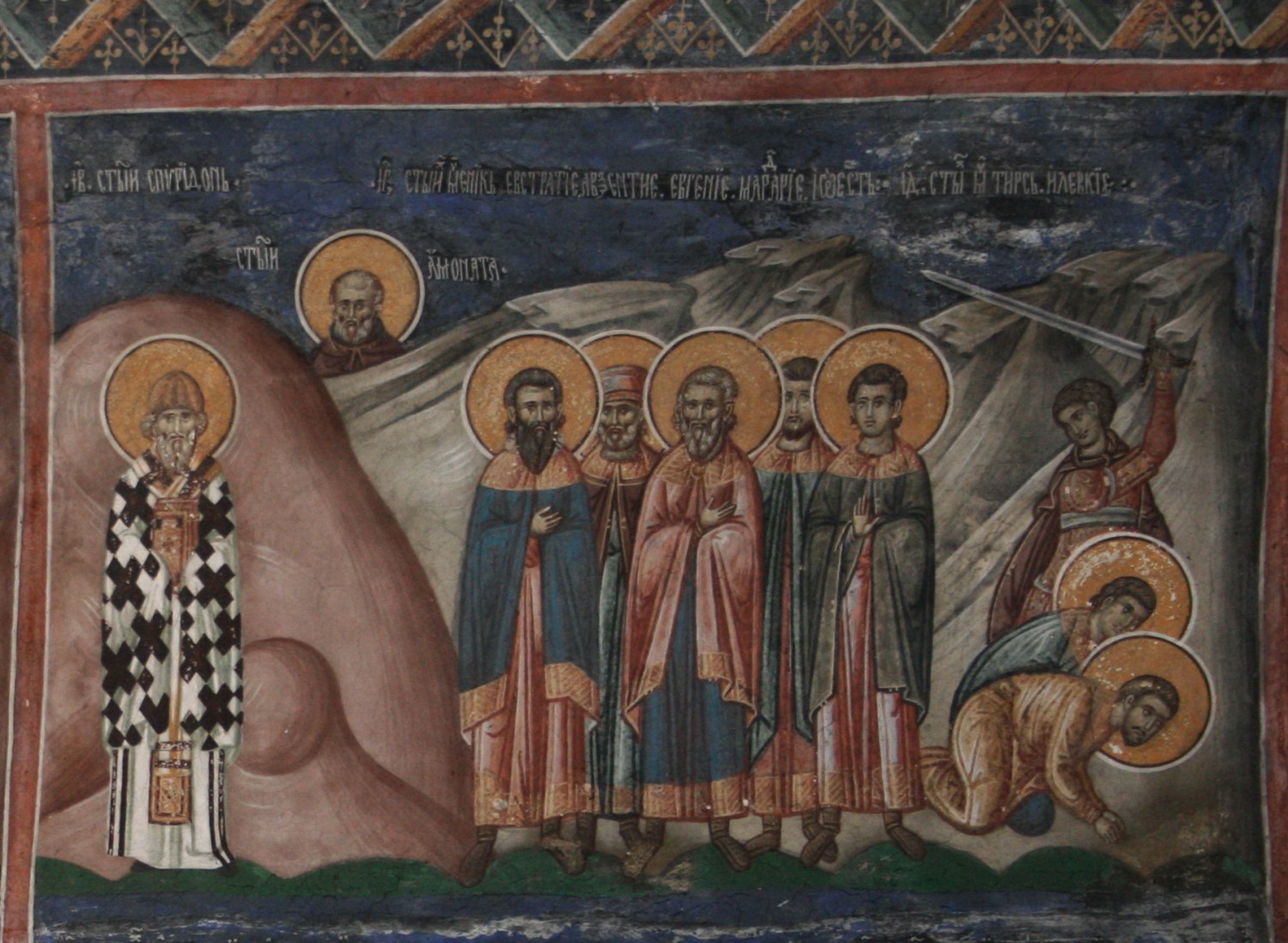 December 14 
Nativity Fast
Martyrs Thyrsus, Leucis, and Callinicus of Apollonia (249-51). Martyrs Apolonius, Philemon, Arianus and Theoctychus, of Alexandria (286-287).
SAINTS THYRSUS, LEUCIS, AND CALLINICUS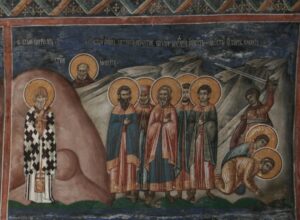 The Holy Martyrs Thyrsus, Leucius and Callinicus suffered for Christ under the emperor Decius (249-251) at Caesarea in Bithynia. Saint Leucius, having reproached the prefect Cumbricius for his unjust persecution of Christians, was executed after being tortured.
Saint Thyrsus, who was still a catechumen, was nonetheless eager for martyrdom. He was sentenced to cruel tortures and torments after refusing to offer sacrifice to the idols. Citing the words of the Prophet Jeremiah (Jer. 2:27), he ridiculed those who worshiped wood and stone.
The saint's arms and legs were pulled out of their sockets, his eyes were plucked out, and his teeth were shattered with a hammer. He was taken to a heathen temple, where, by his prayers, he toppled a statue of Apollo. Cumbricius was enraged by this, and he ordered that greater torments be devised for the athlete of Christ. He endured them all and died peacefully after making the Sign of the Cross. The pagan priest Callinicus, seeing the bravery and the miracle involving Saint Thyrsus, believed in Christ and boldly confessed the true Faith, for which he was beheaded.
Troparion of the saints, tone 3
With garlands and songs let us adorn the seven martyrs, Thyrsus, Philemon, and steadfast Apolonius, Arianus, Callinicus, Apollonia and glorious Leucius, For they destroyed the enemy and are pillars of godliness. Together they shine on all the world with rays of heavenly grace!
Kontakion of the saints, tone 4
Let us gather today, And praise the Church's luminaries, Acclaiming them as fitting trophy-bearers of Christ our God!
Hebrews 7:18-25 (Epistle)
18

For on the one hand there is an annulling of the former commandment because of its weakness and unprofitableness,

19

for the law made nothing perfect; on the other hand, there is the bringing in of a better hope, through which we draw near to God.

20

And inasmuch as He was not made priest without an oath

21

(for they have become priests without an oath, but He with an oath by Him who said to Him: "The LORD has sworn and will not relent, 'You are a priest forever according to the order of Melchizedek'"),

22

by so much more Jesus has become a surety of a better covenant.

23

Also there were many priests, because they were prevented by death from continuing.

24

But He, because He continues forever, has an unchangeable priesthood.

25

Therefore He is also able to save to the uttermost those who come to God through Him, since He always lives to make intercession for them.
Mark 9:33-41 (Gospel)
33

Then He came to Capernaum. And when He was in the house He asked them, "What was it you disputed among yourselves on the road?"

34

But they kept silent, for on the road they had disputed among themselves who would be the greatest.

35

And He sat down, called the twelve, and said to them, "If anyone desires to be first, he shall be last of all and servant of all."

36

Then He took a little child and set him in the midst of them. And when He had taken him in His arms, He said to them,

37

"Whoever receives one of these little children in My name receives Me; and whoever receives Me, receives not Me but Him who sent Me."

38

Now John answered Him, saying, "Teacher, we saw someone who does not follow us casting out demons in Your name, and we forbade him because he does not follow us."

39

But Jesus said, "Do not forbid him, for no one who works a miracle in My name can soon afterward speak evil of Me.

40

For he who is not against us is on our side.

41

For whoever gives you a cup of water to drink in My name, because you belong to Christ, assuredly, I say to you, he will by no means lose his reward.