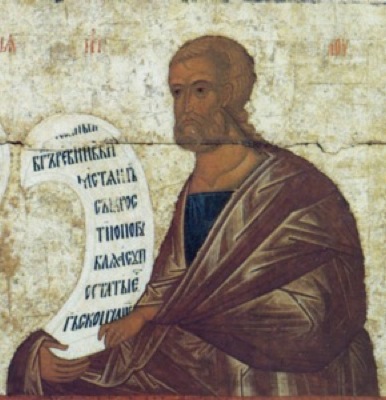 December 1st (old calendar) / December 14 (new)
Nativity Fast
Prophet Nahum (7th c. B.C.). Righteous Philaret the Merciful of Amnia in Asia Minor (792). Martyr Ananias of Persia.
PROPHET NAHUM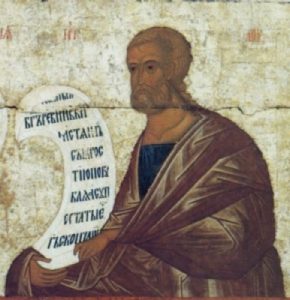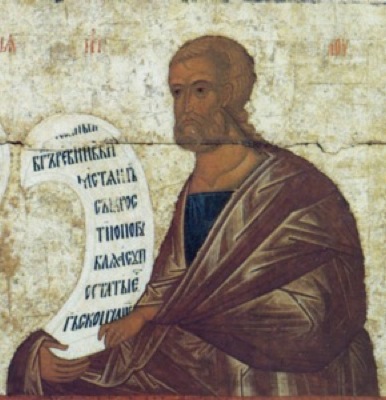 The Holy Prophet Nahum, whose name means "God consoles," was from the village of Elkosh (Galilee). He lived during the seventh century B.C. The Prophet Naum prophesies the ruin of the Assyrian city of Nineveh because of its iniquity, the destruction of the Israelite kingdom, and the blasphemy of King Sennacherib against God. The Assyrian king Ashurbanipal died in 632 B.C., and over the next two decades, his empire began to crumble. Nineveh fell in 612 B.C.
Nahum differs from most of the prophets in as much as he does not issue any call to repentance, nor does he denounce Israel for infidelity to God.
Details of the prophet's life are unknown. He died at the age of forty-five, and was buried in his native region. He is the seventh of the Twelve Minor Prophets
The Prophet Nahum and Saint Nahum of Ochrid (December 23) are invoked for people with mental disorders.
Troparion of the saint, tone 4
We celebrate the memory of Your prophet Nahum, O Lord; through him we beseech You: Save our souls.
Kontakion of the saint, tone 2
Illumined by the Spirit, your heart was a vessel of illustrious prophecy, seeing far-off things as though they were present.
Hebrews 7:18-25 (Epistle)
18

For on the one hand there is an annulling of the former commandment because of its weakness and unprofitableness,

19

for the law made nothing perfect; on the other hand, there is the bringing in of a better hope, through which we draw near to God.

20

And inasmuch as He was not made priest without an oath

21

(for they have become priests without an oath, but He with an oath by Him who said to Him: "The LORD has sworn and will not relent, 'You are a priest forever according to the order of Melchizedek'"),

22

by so much more Jesus has become a surety of a better covenant.

23

Also there were many priests, because they were prevented by death from continuing.

24

But He, because He continues forever, has an unchangeable priesthood.

25

Therefore He is also able to save to the uttermost those who come to God through Him, since He always lives to make intercession for them.
Mark 9:33-41 (Gospel)
33

Then He came to Capernaum. And when He was in the house He asked them, "What was it you disputed among yourselves on the road?"

34

But they kept silent, for on the road they had disputed among themselves who would be the greatest.

35

And He sat down, called the twelve, and said to them, "If anyone desires to be first, he shall be last of all and servant of all."

36

Then He took a little child and set him in the midst of them. And when He had taken him in His arms, He said to them,

37

"Whoever receives one of these little children in My name receives Me; and whoever receives Me, receives not Me but Him who sent Me."

38

Now John answered Him, saying, "Teacher, we saw someone who does not follow us casting out demons in Your name, and we forbade him because he does not follow us."

39

But Jesus said, "Do not forbid him, for no one who works a miracle in My name can soon afterward speak evil of Me.

40

For he who is not against us is on our side.

41

For whoever gives you a cup of water to drink in My name, because you belong to Christ, assuredly, I say to you, he will by no means lose his reward.