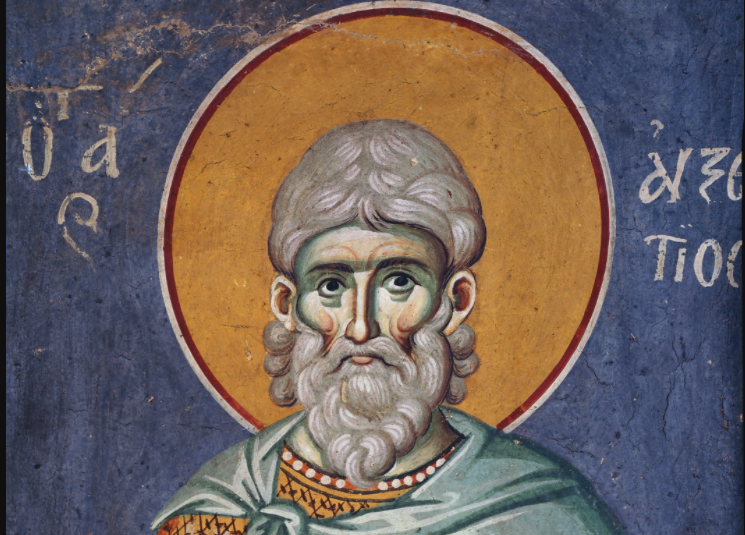 February 14 
Ven. Auxentius of Bithynia (ca. 470). Repose of St. Cyril, Equal-to-the-Apostles and Teacher of the Slavs (869). Ven. Isaac, Recluse, of the Kiev Caves (Near Caves—ca. 1190). The Twelve Greeks who built the Dormition Cathedral in the Lavra of the Kiev Caves (11th c.). Translation of the Relics of Martyrs Michael and his councilor, Theodore, of Chernígov (1578). Ven. Maron, Hermit, of Syria (4th c.). St. Abraham, Bishop of Charres in Mesopotamia (5th c.).
SAINT AUXENTIUS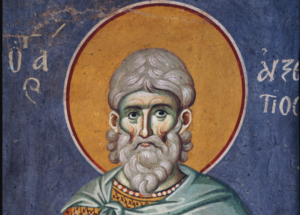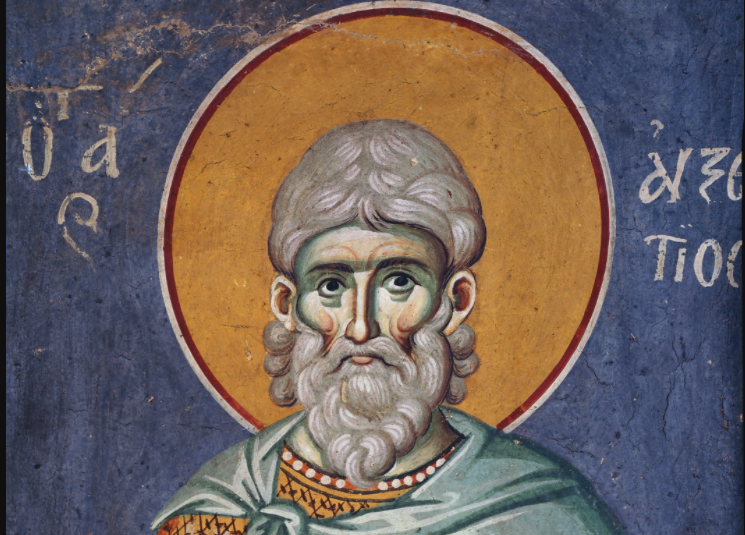 Saint Auxentius, by origin a Syrian, served at the court of the emperor Theodosius the Younger (418-450). He was known as a virtuous, learned and wise man, and he was, moreover, a friend of many of the pious men of his era.
Distressed by worldly vanity, Saint Auxentius was ordained to the holy priesthood, and then received monastic tonsure. After this he went to Bithynia and found a solitary place on Mount Oxia, not far from Chalcedon, and there he began the life of a hermit (This mountain was afterwards called Mt. Auxentius). The place of the saint's efforts was discovered by shepherds seeking their lost sheep. They told others about him, and people began to come to him for healing. Saint Auxentius healed many of the sick and the infirm in the name of the Lord.
In the year 451 Saint Auxentius was invited to the Fourth Ecumenical Council at Chalcedon, where he denounced the Eutychian and Nestorian heresies. Familiar with Holy Scripture and learned in theology, Saint Auxentius easily bested those opponents who disputed with him. After the end of the Council, Saint Auxentius returned to his solitary cell on the mountain. With his spiritual sight he saw the repose of Saint Simeon the Stylite (459) from a great distance.
Saint Auxentius died about the year 470, leaving behind him disciples and many monasteries in the region of Bithynia. He was buried in the Monastery of Saint Hypatius at Rufiananas, Syria.
Troparion of the saint, tone 1
Dweller of the desert and angel in the body, / you were shown to be a wonder-worker, our God-bearing Father Auxentius. / You received heavenly gifts through fasting, vigil, and prayer: / healing the sick and the souls of those drawn to you by faith. / Glory to Him who gave you strength! / Glory to Him who granted you a crown! / Glory to Him who through you grants healing to all!
Kontakion of the saint, tone 2
You delighted in abstinence, / restraining the desires of the flesh. / Divinely wise and holy Father Auxentius, / you were revealed to be shining with faith, / blossoming like a plant in the midst of paradise.
1 Peter 4:12-5:5 (Epistle)
12

Beloved, do not think it strange concerning the fiery trial which is to try you, as though some strange thing happened to you;

13

but rejoice to the extent that you partake of Christ's sufferings, that when His glory is revealed, you may also be glad with exceeding joy.

14

If you are reproached for the name of Christ, blessed are you, for the Spirit of glory and of God rests upon you. On their part He is blasphemed, but on your part He is glorified.

15

But let none of you suffer as a murderer, a thief, an evildoer, or as a busybody in other people's matters.

16

Yet if anyone suffers as a Christian, let him not be ashamed, but let him glorify God in this matter.

17

For the time has come for judgment to begin at the house of God; and if it begins with us first, what will be the end of those who do not obey the gospel of God?

18

Now "If the righteous one is scarcely saved, where will the ungodly and the sinner appear?"

19

Therefore let those who suffer according to the will of God commit their souls to Him in doing good, as to a faithful Creator.

1

The elders who are among you I exhort, I who am a fellow elder and a witness of the sufferings of Christ, and also a partaker of the glory that will be revealed:

2

Shepherd the flock of God which is among you, serving as overseers, not by compulsion but willingly, not for dishonest gain but eagerly;

3

nor as being lords over those entrusted to you, but being examples to the flock;

4

and when the Chief Shepherd appears, you will receive the crown of glory that does not fade away.

5

Likewise you younger people, submit yourselves to your elders. Yes, all of you be submissive to one another, and be clothed with humility, for "God resists the proud, but gives grace to the humble."
Mark 12:38-44 (Gospel)
38

Then He said to them in His teaching, "Beware of the scribes, who desire to go around in long robes, love greetings in the marketplaces,

39

the best seats in the synagogues, and the best places at feasts,

40

who devour widows' houses, and for a pretense make long prayers. These will receive greater condemnation."

41

Now Jesus sat opposite the treasury and saw how the people put money into the treasury. And many who were rich put in much.

42

Then one poor widow came and threw in two mites, which make a quadrans.

43

So He called His disciples to Himself and said to them, "Assuredly, I say to you that this poor widow has put in more than all those who have given to the treasury;

44

for they all put in out of their abundance, but she out of her poverty put in all that she had, her whole livelihood."