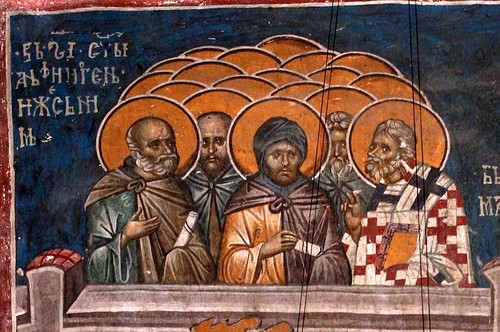 July 16 (old calendar) / July 29 (new)
Hieromartyr Athenogenes, Bishop of Heracleopolis, and his ten disciples (ca. 311). Martyrs Paul and two sisters, Chionia (Thea) and Alevtina (Valentina), at Cæsarea in Palestine (308). Martyr Antiochus, Physician, of Sebaste (4th c.). Virgin Martyr Julia of Carthage (ca. 440 or 613).
Saint Athenogenes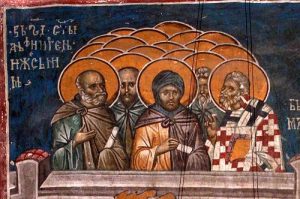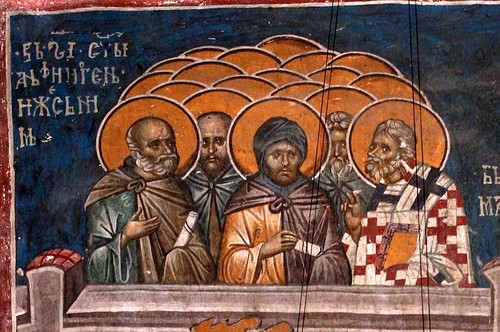 Hieromartyr Athenogenes and his Ten Disciples suffered for Christ during the persecution of Christians in the city of Sebastea in Cappadocia. The governor Philomachos arranged a large festival in honor of the pagan gods and called upon the citizens of Sebastea to offer sacrifice to the idols. Most of the inhabitants of Sebastea were Christians, and refused to participate in the impious celebration. Soldiers were ordered to kill those who resisted, and so many Christians received a martyr's crown.
It came to the governor's attention that Christianity was spreading because of the grace-filled preaching of Bishop Athenogenes. Soldiers were ordered to find the Elder and arrest him. Bishop Athenogenes and ten of his disciples lived in a small monastery not far from the city. The soldiers did not find the bishop there, so they arrested his disciples. The governor ordered that they be bound with chains and thrown into prison.
Saint Athenogenes was arrested when he came to Sebastea to inform the judge that those who had been jailed were innocent. While in prison, Saint Athenogenes encouraged his spiritual children for their impending struggle. Led forth to trial, all the holy martyrs confessed themselves Christians and refused to offer sacrifice to idols.
After undergoing fierce tortures, the disciples of the holy bishop were beheaded. After the execution of the disciples, the executioners were ordered to torture the bishop. Strengthened by the Lord, Saint Athenogenes underwent the tortures with dignity. His only request was that he be executed in the monastery.
Taken to his own monastery, the saint gave thanks to God, and he rejoiced in the sufferings that he had undergone for Him. Saint Athenogenes asked that the Lord would forgive the sins of all those who would remember both him and his disciples.
The Lord granted the saint to hear His Voice before death, announcing the promise given to the penitent thief: "Today you shall be with Me in Paradise." The hieromartyr willingly bent his neck beneath the sword.
Troparion of the saint, tone 2
Most blessed and wise Bishop and Martyr Athenogenes, / You grew as a palm tree in the Monastic life; / Towering as a cedar in your struggles, / Through your teachings you brought a number of martyrs to Christ. / We honor them together with you.
Kontakion of the saint, tone 4
Following the Master's teachings, / as a shepherd you laid down your life for the flock of Christ. / Therefore, we praise you and your ten disciples, who under your guidance and in the fear of God suffered with you. / With His life-creating right hand / the Lord has granted you a crown. / Pray to Him for us all, Hieromartyr Athenogenes.
1 Corinthians 5:9-6:11 (Epistle)
9

I wrote to you in my epistle not to keep company with sexually immoral people.

10

Yet I certainly did not mean with the sexually immoral people of this world, or with the covetous, or extortioners, or idolaters, since then you would need to go out of the world.

11

But now I have written to you not to keep company with anyone named a brother, who is sexually immoral, or covetous, or an idolater, or a reviler, or a drunkard, or an extortioner – not even to eat with such a person.

12

For what have I to do with judging those also who are outside? Do you not judge those who are inside?

13

But those who are outside God judges. Therefore "put away from yourselves the evil person."

1

Dare any of you, having a matter against another, go to law before the unrighteous, and not before the saints?

2

Do you not know that the saints will judge the world? And if the world will be judged by you, are you unworthy to judge the smallest matters?

3

Do you not know that we shall judge angels? How much more, things that pertain to this life?

4

If then you have judgments concerning things pertaining to this life, do you appoint those who are least esteemed by the church to judge?

5

I say this to your shame. Is it so, that there is not a wise man among you, not even one, who will be able to judge between his brethren?

6

But brother goes to law against brother, and that before unbelievers!

7

Now therefore, it is already an utter failure for you that you go to law against one another. Why do you not rather accept wrong? Why do you not rather let yourselves be cheated?

8

No, you yourselves do wrong and cheat, and you do these things to your brethren!

9

Do you not know that the unrighteous will not inherit the kingdom of God? Do not be deceived. Neither fornicators, nor idolaters, nor adulterers, nor homosexuals, nor sodomites,

10

nor thieves, nor covetous, nor drunkards, nor revilers, nor extortioners will inherit the kingdom of God.

11

And such were some of you. But you were washed, but you were sanctified, but you were justified in the name of the Lord Jesus and by the Spirit of our God.
Matthew 13:54-58 (Gospel)
54

When He had come to His own country, He taught them in their synagogue, so that they were astonished and said, "Where did this Man get this wisdom and these mighty works?

55

Is this not the carpenter's son? Is not His mother called Mary? And His brothers James, Joses, Simon, and Judas?

56

And His sisters, are they not all with us? Where then did this Man get all these things?"

57

So they were offended at Him. But Jesus said to them, "A prophet is not without honor except in his own country and in his own house."

58

Now He did not do many mighty works there because of their unbelief.