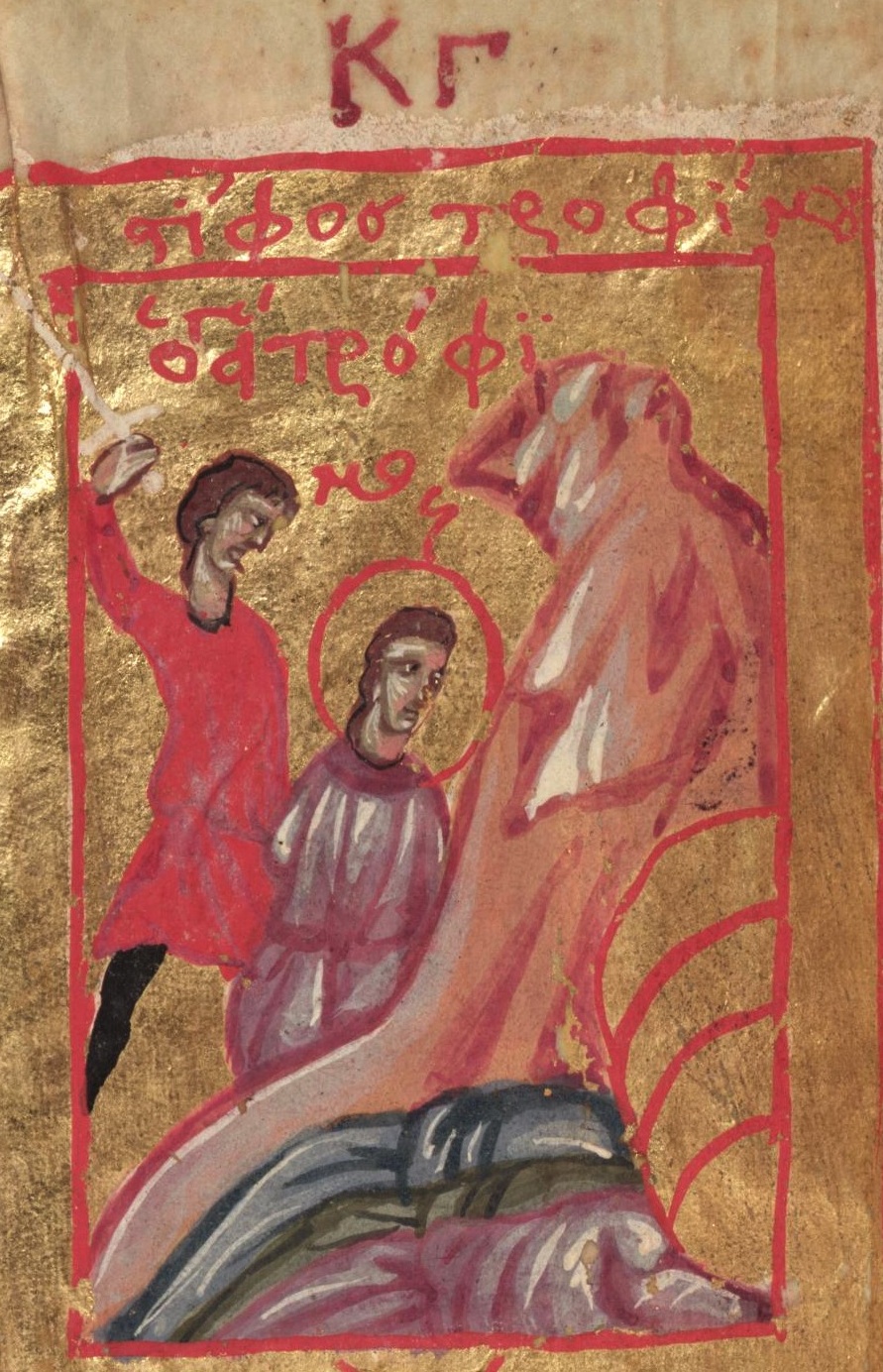 July 23
Martyrs Trophimus, Theophilus, and 13 others in Lycia (4th c.). Hieromartyr Apollinaris, Bishop of Ravenna (ca. 75). Commemoration of the Miraculous Appearance of the POCHAEV Icon of the Mother of God, which saved the Monastery from the assault of the Tatars and Turks (1675). Icon of the Most-holy Theotokos, "THE JOY OF ALL WHO SORROW" (with coins) in St. Petersburg (1888).
Saint Trophimus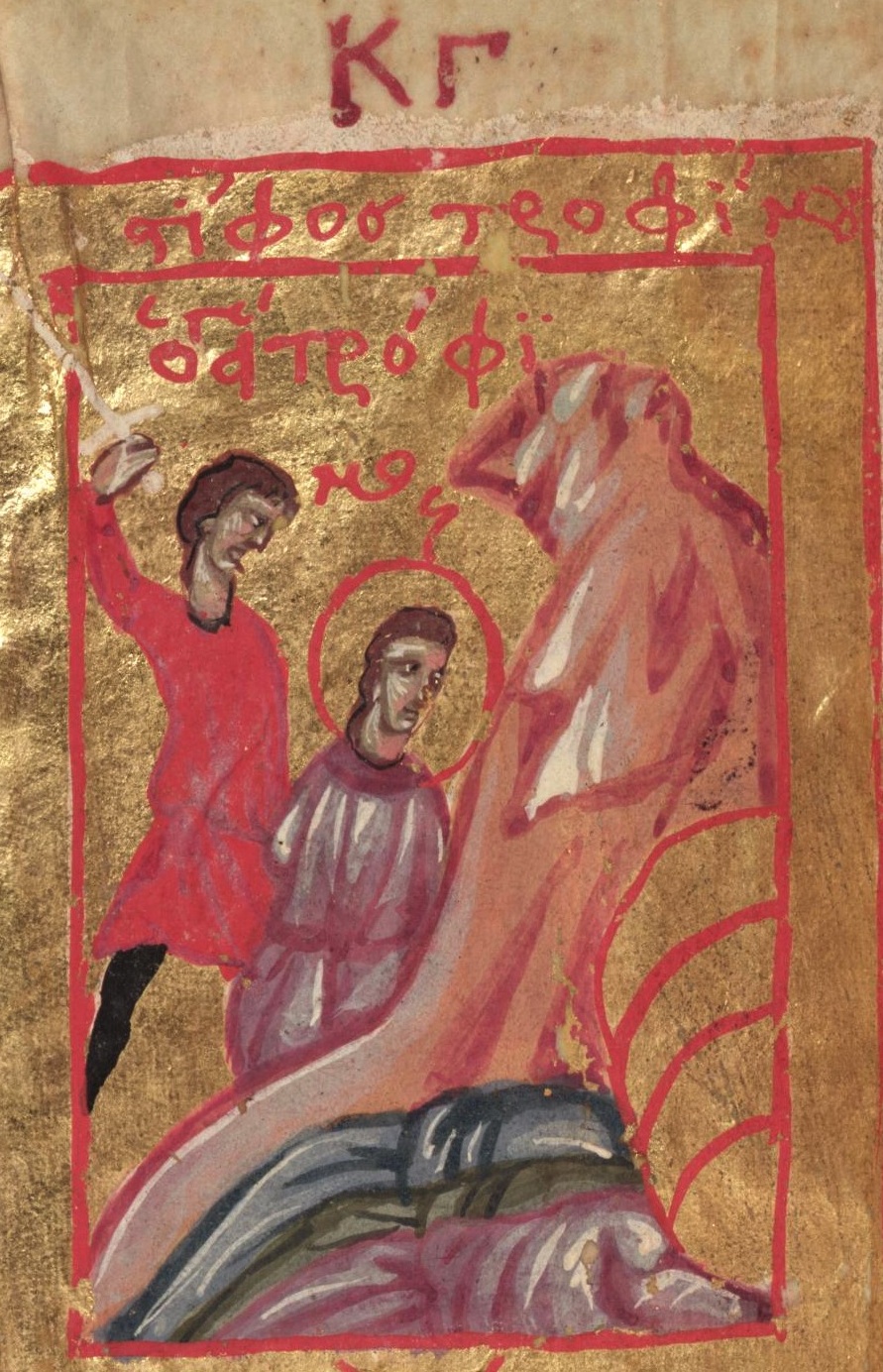 The Holy Martyrs Trophimus, Theophilus, and thirteen martyrs with them, suffered during the persecution against Christians under the emperor Diocletian (284-305). Brought to trial, they bravely confessed themselves Christians and refused to offer sacrifice to idols. After fierce tortures, they broke the legs of the holy martyrs and threw them into a fire. Strengthened by the Lord, they came out of the fire completely unharmed, and they glorified Christ all the more. Unable to break the will of the holy confessors, the torturers beheaded them.
Troparion of the saint, tone 4
Your holy martyr Trophimus and his companions, O Lord, / through their sufferings have received incorruptible crowns from You, our God. / For having Your strength, they laid low their adversaries, / and shattered the powerless boldness of demons. / Through their intercessions, save our souls!
Kontakion of the icon The Joy of All Who Sorrow, tone 6
We have no other help, we have no other hope, but you, O Lady. / Help us, for in you we hope, / and of you we boast, for we are your servants. / Let us not be put to shame.
1 Corinthians 1:1-9 (Epistle)
1

Paul, called to be an apostle of Jesus Christ through the will of God, and Sosthenes our brother,

2

to the church of God which is at Corinth, to those who are sanctified in Christ Jesus, called to be saints, with all who in every place call on the name of Jesus Christ our Lord, both theirs and ours:

3

Grace to you and peace from God our Father and the Lord Jesus Christ.

4

I thank my God always concerning you for the grace of God which was given to you by Christ Jesus,

5

that you were enriched in everything by Him in all utterance and all knowledge,

6

even as the testimony of Christ was confirmed in you,

7

so that you come short in no gift, eagerly waiting for the revelation of our Lord Jesus Christ,

8

who will also confirm you to the end, that you may be blameless in the day of our Lord Jesus Christ.

9

God is faithful, by whom you were called into the fellowship of His Son, Jesus Christ our Lord.
Matthew 13:24-30 (Gospel)
24

Another parable He put forth to them, saying: "The kingdom of heaven is like a man who sowed good seed in his field;

25

but while men slept, his enemy came and sowed tares among the wheat and went his way.

26

But when the grain had sprouted and produced a crop, then the tares also appeared.

27

So the servants of the owner came and said to him, 'Sir, did you not sow good seed in your field? How then does it have tares?'

28

He said to them, 'An enemy has done this.' The servants said to him, 'Do you want us then to go and gather them up?'

29

But he said, 'No, lest while you gather up the tares you also uproot the wheat with them.

30

Let both grow together until the harvest, and at the time of harvest I will say to the reapers, "First gather together the tares and bind them in bundles to burn them, but gather the wheat into my barn."'"