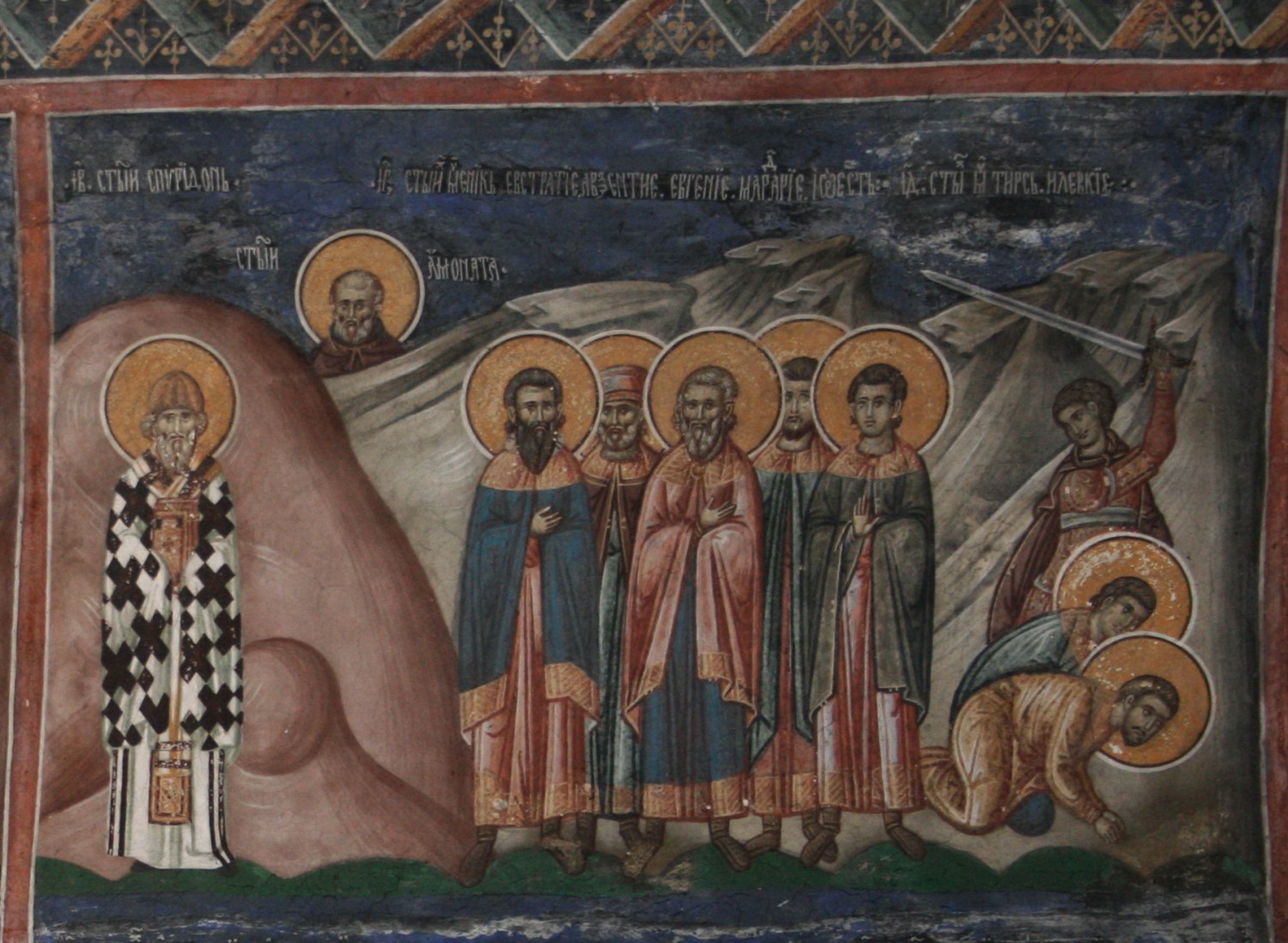 July 29
Nativity of St. Nicholas the Wonderworker (ca. 345). Martyr Callinicus of Gangra in Asia Minor (3rd-4th c.). Ven. Constantine and Cosmas, Abbots of Kosinsk (Pskov—13th c.). Virgin Martyr Seraphima (Serapia) of Antioch (2nd c.). Martyr Theodota and her three sons in Bithynia (ca. 304). Martyr Michael (9th c.). Martyr Eustace of Mtskhet in Georgia (589).
Saint Callinicus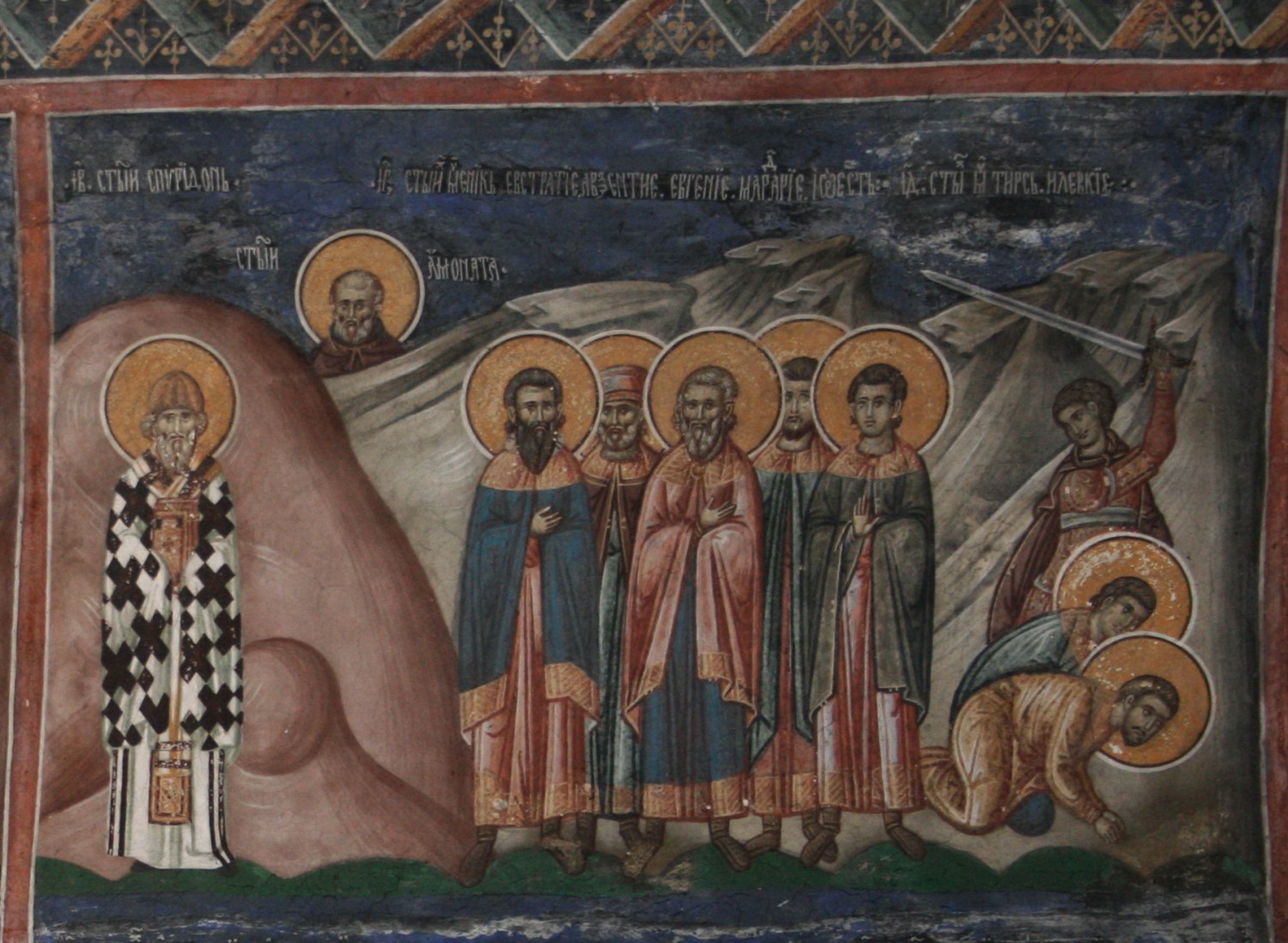 The Holy Martyr Callinicus, a native of Cilicia, was raised from childhood in the Christian Faith. Grieving that many misguided people would perish for eternity because they worshiped idols, he went through the cities and villages to proclaim Jesus Christ and His teachings to the pagans, and with the Word of God he converted many to Christianity.
In the Galatian city of Ancyra the holy confessor was arrested and brought to trial before a governor named Sacerdonus, a fierce persecutor of Christians. The governor, threatening tortures and death, ordered the saint to offer sacrifice to the idols. The saint fearlessly declared that he was not afraid of martyrdom, since every believer in Christ receives from Him strength in ordeals, and through death inherits an eternal blessed life.
They cruelly beat the saint with ox thongs and tore at his body with iron hooks, but he endured everything with patience and calm. This aroused still greater fury in Sacerdonus, and he ordered that sandals with sharp nails be placed on the saint's feet, and that they should drive the martyr with whips to the city of Gangra to be burned.
The pathway was arduous, and the soldiers who accompanied the condemned man were weak from thirst. In despair they began to implore the saint to pray the Lord for water. The saint, taking pity on his tormentors, with the help of God caused a miraculous spring of water to gush forth from a stone. The astonished soldiers were filled with sympathy for their rescuer, and they wanted even to set him free. Fear of execution, however, compelled them to bring the martyr farther. In Gangra, Saint Callinicus joyfully offered thanks to the Lord, Who had vouchsafed him the crown of martyrdom. He went into the blazing fire and gave up his soul to God. His body, remaining unharmed, was reverently buried by believers.
Troparion of the saints, tone 4
Your holy martyr Callinicus, O Lord, / through his suffering has received an incorruptible crown from You, our God. / For having Your strength, he laid low his adversaries, / and shattered the powerless boldness of demons. / Through his intercessions save our souls.
Kontakion of the saints, tone 2
You worthily inherited joy on high, Callinicus, / for aflame with love for Christ you bravely endured the fire. / As you stand before Him, / never cease to intercede for us all.
1 Corinthians 5:9-6:11 (Epistle)
9

I wrote to you in my epistle not to keep company with sexually immoral people.

10

Yet I certainly did not mean with the sexually immoral people of this world, or with the covetous, or extortioners, or idolaters, since then you would need to go out of the world.

11

But now I have written to you not to keep company with anyone named a brother, who is sexually immoral, or covetous, or an idolater, or a reviler, or a drunkard, or an extortioner – not even to eat with such a person.

12

For what have I to do with judging those also who are outside? Do you not judge those who are inside?

13

But those who are outside God judges. Therefore "put away from yourselves the evil person."

1

Dare any of you, having a matter against another, go to law before the unrighteous, and not before the saints?

2

Do you not know that the saints will judge the world? And if the world will be judged by you, are you unworthy to judge the smallest matters?

3

Do you not know that we shall judge angels? How much more, things that pertain to this life?

4

If then you have judgments concerning things pertaining to this life, do you appoint those who are least esteemed by the church to judge?

5

I say this to your shame. Is it so, that there is not a wise man among you, not even one, who will be able to judge between his brethren?

6

But brother goes to law against brother, and that before unbelievers!

7

Now therefore, it is already an utter failure for you that you go to law against one another. Why do you not rather accept wrong? Why do you not rather let yourselves be cheated?

8

No, you yourselves do wrong and cheat, and you do these things to your brethren!

9

Do you not know that the unrighteous will not inherit the kingdom of God? Do not be deceived. Neither fornicators, nor idolaters, nor adulterers, nor homosexuals, nor sodomites,

10

nor thieves, nor covetous, nor drunkards, nor revilers, nor extortioners will inherit the kingdom of God.

11

And such were some of you. But you were washed, but you were sanctified, but you were justified in the name of the Lord Jesus and by the Spirit of our God.
Matthew 13:54-58 (Gospel)
54

When He had come to His own country, He taught them in their synagogue, so that they were astonished and said, "Where did this Man get this wisdom and these mighty works?

55

Is this not the carpenter's son? Is not His mother called Mary? And His brothers James, Joses, Simon, and Judas?

56

And His sisters, are they not all with us? Where then did this Man get all these things?"

57

So they were offended at Him. But Jesus said to them, "A prophet is not without honor except in his own country and in his own house."

58

Now He did not do many mighty works there because of their unbelief.