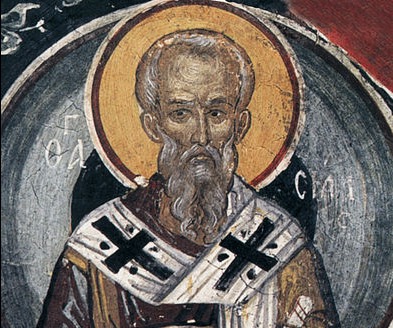 July 30
Apostles Silas and Silvanus of the Seventy, and those with them: Crescens, Epenetus, and Andronicus (1st c.). Martyr John the soldier at Constantinople. Uncovering of the Relics of Ven. Herman of Solovétsky Monastery (1484). Hieromartyr Polychronius, Bishop of Babylon, and Martyrs Parmenius, Helimenas, and Chrysotelus—Presbyters, Luke and Moscius—Deacons, and Abdon, Sennen, Maximus and Olympius (ca. 251). Hieromartyr Valentine, Bishop of Interamna (Terni) in Italy, and Martyrs Proculus, Ephebus, Apollonius and Abundius, youths (ca. 273).
Saints Silas and Silvanus of the Seventy, and those with them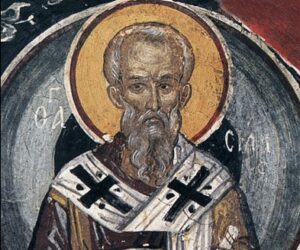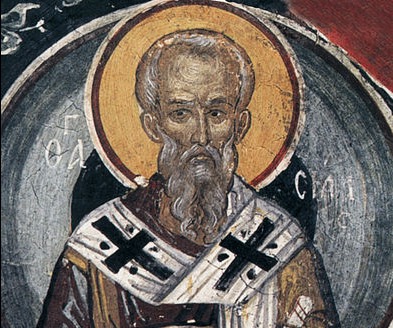 The Holy Apostle of the Seventy Silas was a disciple of the Savior.
Saint Silas was a respected figure in the original Church at Jerusalem, one of the "chief men among the brethren" (Acts 15:22). The Council of the Apostles was convened at Jerusalem in the year 51 to deal with the question of whether Gentile Christian converts should be required to observe the Mosaic Law. The Apostles sent a message with Paul and Barnabas to the Christians of Antioch, giving the decision of the Council that Christians of Gentile origin did not have to observe the prescriptions of the Mosaic Law. Nonetheless, they were told that they must refrain from partaking of foods offered to idols, from things strangled and from blood, to refrain from fornication (Acts 15:20-29). Together with Saints Paul and Barnabas, the Council of the Apostles sent Saints Silas and Jude to explain the message in greater detail, since they both were filled with the grace of the Holy Spirit. Saint Jude was later sent back to Jerusalem, but Saint Silas remained at Antioch and zealously assisted Saint Paul, the Apostle to the Gentiles, on his missionary journeys preaching the Gospel. They visited Syria, Cilicia, and Macedonia.
In the city of Philippi they were accused of inciting unrest among the people, and for this they were arrested, beaten with rods, and then thrown into prison. At midnight, when the saints were at prayer, suddenly there was a strong earthquake, their chains fell off from them and the doors of the prison opened. The prison guard, supposing that the prisoners had fled, wanted to kill himself, but was stopped by the Apostle Paul. Then, he fell down trembling at the feet of the saints, and with faith accepted their preaching about Christ. He then led them out of the prison and took them to his own home, where he washed their wounds, and was baptized together with all his household.
From Philippi Saints Paul and Silas proceeded on to the cities of Amphipolis, Apollonia and Thessalonica. In each city they made new converts to Christ and built up the Church.
At Corinth the holy Apostle Silas was consecrated as bishop, and worked many miracles and signs, and there he finished his life.
Troparion of the saints, tone 3
Holy Apostles Silas and Silvanus, / entreat the merciful God / to grant our souls forgiveness of transgressions.
Kontakion of the saints, tone 4
You were revealed to be branches of the vine of Christ, O wise ones, / bearing clusters of virtues that pour out on us the wine of salvation. / Receiving it, we are filled with gladness, / and we celebrate your most honored memory, apostles of the Lord, Silas and Silvanus. / Therefore, intercede that great mercy and remission of sins may be granted to us.
1 Corinthians 6:20-7:12 (Epistle)
20

For you were bought at a price; therefore glorify God in your body and in your spirit, which are God's.

1

Now concerning the things of which you wrote to me: It is good for a man not to touch a woman.

2

Nevertheless, because of sexual immorality, let each man have his own wife, and let each woman have her own husband.

3

Let the husband render to his wife the affection due her, and likewise also the wife to her husband.

4

The wife does not have authority over her own body, but the husband does. And likewise the husband does not have authority over his own body, but the wife does.

5

Do not deprive one another except with consent for a time, that you may give yourselves to fasting and prayer; and come together again so that Satan does not tempt you because of your lack of self-control.

6

But I say this as a concession, not as a commandment.

7

For I wish that all men were even as I myself. But each one has his own gift from God, one in this manner and another in that.

8

But I say to the unmarried and to the widows: It is good for them if they remain even as I am;

9

but if they cannot exercise self-control, let them marry. For it is better to marry than to burn with passion.

10

Now to the married I command, yet not I but the Lord: A wife is not to depart from her husband.

11

But even if she does depart, let her remain unmarried or be reconciled to her husband. And a husband is not to divorce his wife.

12

But to the rest I, not the Lord, say: If any brother has a wife who does not believe, and she is willing to live with him, let him not divorce her.
Matthew 14:1-13 (Gospel)
1

At that time Herod the tetrarch heard the report about Jesus

2

and said to his servants, "This is John the Baptist; he is risen from the dead, and therefore these powers are at work in him."

3

For Herod had laid hold of John and bound him, and put him in prison for the sake of Herodias, his brother Philip's wife.

4

Because John had said to him, "It is not lawful for you to have her."

5

And although he wanted to put him to death, he feared the multitude, because they counted him as a prophet.

6

But when Herod's birthday was celebrated, the daughter of Herodias danced before them and pleased Herod.

7

Therefore he promised with an oath to give her whatever she might ask.

8

So she, having been prompted by her mother, said, "Give me John the Baptist's head here on a platter."

9

And the king was sorry; nevertheless, because of the oaths and because of those who sat with him, he commanded it to be given to her.

10

So he sent and had John beheaded in prison.

11

And his head was brought on a platter and given to the girl, and she brought it to her mother.

12

Then his disciples came and took away the body and buried it, and went and told Jesus.

13

When Jesus heard it, He departed from there by boat to a deserted place by Himself. But when the multitudes heard it, they followed Him on foot from the cities.