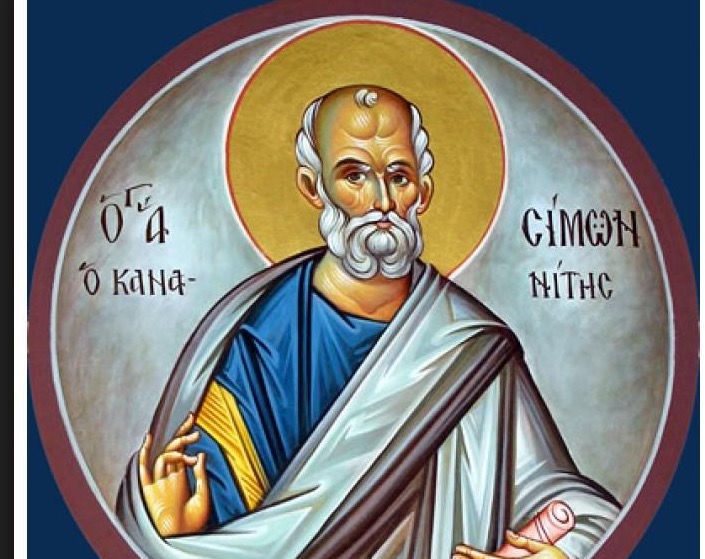 May 10 (old calendar) / May 23 (new)
Apostle Simeon the Zealot (1st c.). . St. Simeon, Bishop of Vladimir and Suzdal' (Kiev Caves-Near Caves—1226). Martyrs Philadelphus, Cyprian, Alphius, Onesimus, Erasmus, and 14 others, in Sicily (3rd c.). Martyr Hesychius of Antioch (4th c.). Bl. Isidora the Fool, of Tabenna in Egypt (4th c.). Bl. Thais (Taisia) of Egypt (5th c.).
Saint Simeon the Zealot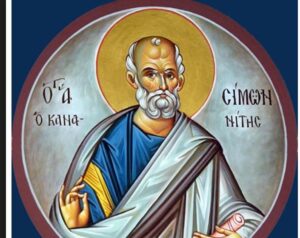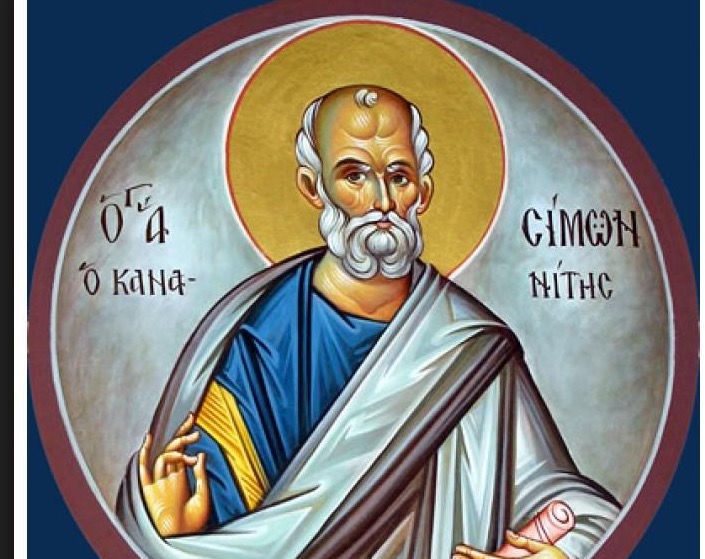 Saint Simon was from Cana in Galilee, and was known to the Lord and His Mother. Tradition says that he was the bridegroom at the wedding where the Savior performed His first miracle. After witnessing the miracle of the water which had been turned into wine, he became a zealous follower of Christ. For this reason, he is known as Saint Simon the Zealot.
Saint Simon was one of the twelve Apostles, and received the Holy Spirit with the others on Pentecost. He traveled to many places from Britain to the Black Sea, proclaiming the Gospel of Christ. After winning many pagans to the Lord, Saint Simon suffered martyrdom by crucifixion.
Saint Demetrius of Rostov says that this Saint Simon is to be distinguished from the Apostle Simon Peter, and from the Lord's relative Simon (Mt.13:55), who was the second Bishop of Jerusalem.
Saint Simon is also commemorated on June 30 with the other Apostles.
Troparion for Midfeast of Pentecost, tone 8
In the middle of the Feast, O Savior, / Fill my thirsting soul with the waters of godliness, as You did cry to all: / If anyone thirst let him come to me and drink! / O Christ God, Fountain of our life, glory to You!
Troparion of the saint, tone 3
Holy Apostle Simon / entreat the merciful God / to grant our souls forgiveness of transgressions.
Kоntakion of the saint, tone 2
With praise let us all bless Simon, the herald of God, / who established the doctrines of wisdom securely in the souls of the pious. / Now he stands before the throne of glory, / and rejoicing with the angels, he unceasingly prays for us all.
Kontakion for Midfeast of Pentecost, tone 4
Christ God, the Creator and Master of all / Cried to all in the midst of the Feast of the law: / Come and draw the water of immortality! / We fall before You and faithfully cry: / Grant us Your bounties, for You are the Fountain of our life!
Acts 10:34-43 (Epistle)
34

Then Peter opened his mouth and said: "In truth I perceive that God shows no partiality.

35

But in every nation whoever fears Him and works righteousness is accepted by Him.

36

The word which God sent to the children of Israel, preaching peace through Jesus Christ – He is Lord of all –

37

that word you know, which was proclaimed throughout all Judea, and began from Galilee after the baptism which John preached:

38

how God anointed Jesus of Nazareth with the Holy Spirit and with power, who went about doing good and healing all who were oppressed by the devil, for God was with Him.

39

And we are witnesses of all things which He did both in the land of the Jews and in Jerusalem, whom they killed by hanging on a tree.

40

Him God raised up on the third day, and showed Him openly,

41

not to all the people, but to witnesses chosen before by God, even to us who ate and drank with Him after He arose from the dead.

42

And He commanded us to preach to the people, and to testify that it is He who was ordained by God to be Judge of the living and the dead.

43

To Him all the prophets witness that, through His name, whoever believes in Him will receive remission of sins."
John 8:12-20 (Gospel)
12

Then Jesus spoke to them again, saying, "I am the light of the world. He who follows Me shall not walk in darkness, but have the light of life."

13

The Pharisees therefore said to Him, "You bear witness of Yourself; Your witness is not true."

14

Jesus answered and said to them, "Even if I bear witness of Myself, My witness is true, for I know where I came from and where I am going; but you do not know where I come from and where I am going.

15

You judge according to the flesh; I judge no one.

16

And yet if I do judge, My judgment is true; for I am not alone, but I am with the Father who sent Me.

17

It is also written in your law that the testimony of two men is true.

18

I am One who bears witness of Myself, and the Father who sent Me bears witness of Me."

19

Then they said to Him, "Where is Your Father?" Jesus answered, "You know neither Me nor My Father. If you had known Me, you would have known My Father also."

20

These words Jesus spoke in the treasury, as He taught in the temple; and no one laid hands on Him, for His hour had not yet come.