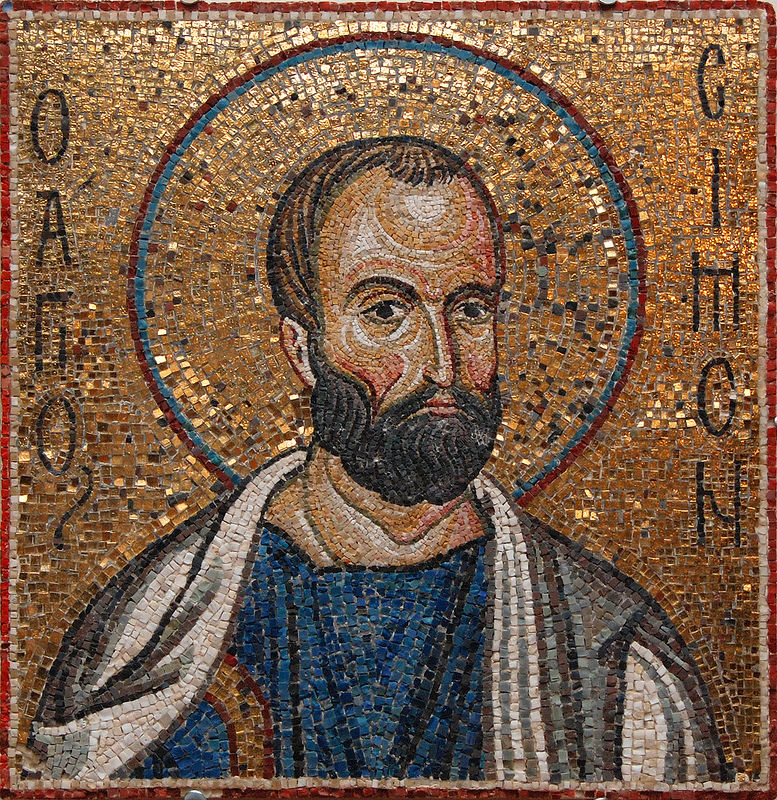 May 10
Fast
Apostle Simeon the Zealot (1st c.). . St. Simeon, Bishop of Vladimir and Suzdal' (Kiev Caves-Near Caves—1226). Martyrs Philadelphus, Cyprian, Alphius, Onesimus, Erasmus, and 14 others, in Sicily (3rd c.). Martyr Hesychius of Antioch (4th c.). Bl. Isidora the Fool, of Tabenna in Egypt (4th c.). Bl. Thais (Taisia) of Egypt (5th c.).
Saint Simeon the Zealot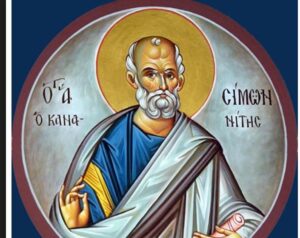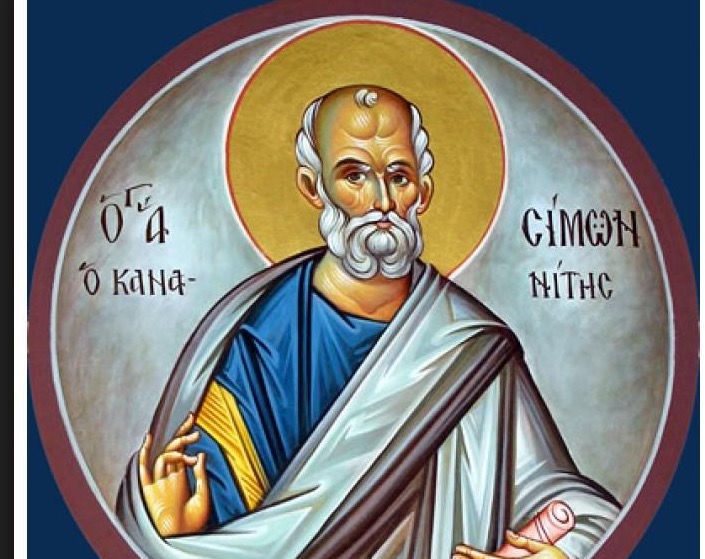 Saint Simon was from Cana in Galilee, and was known to the Lord and His Mother. Tradition says that he was the bridegroom at the wedding where the Savior performed His first miracle. After witnessing the miracle of the water which had been turned into wine, he became a zealous follower of Christ. For this reason, he is known as Saint Simon the Zealot.
Saint Simon was one of the twelve Apostles, and received the Holy Spirit with the others on Pentecost. He traveled to many places from Britain to the Black Sea, proclaiming the Gospel of Christ. After winning many pagans to the Lord, Saint Simon suffered martyrdom by crucifixion.
Saint Demetrius of Rostov says that this Saint Simon is to be distinguished from the Apostle Simon Peter, and from the Lord's relative Simon (Mt.13:55), who was the second Bishop of Jerusalem.
Saint Simon is also commemorated on June 30 with the other Apostles.
Troparion of the saint, tone 3
Holy Apostle Simon / entreat the merciful God / to grant our souls forgiveness of transgressions.
Kоntakion of the saint, tone 2
With praise let us all bless Simon, the herald of God, / who established the doctrines of wisdom securely in the souls of the pious. / Now he stands before the throne of glory, / and rejoicing with the angels, he unceasingly prays for us all.
Acts 5:1-11 (Epistle)
1

But a certain man named Ananias, with Sapphira his wife, sold a possession.

2

And he kept back part of the proceeds, his wife also being aware of it, and brought a certain part and laid it at the apostles' feet.

3

But Peter said, "Ananias, why has Satan filled your heart to lie to the Holy Spirit and keep back part of the price of the land for yourself?

4

While it remained, was it not your own? And after it was sold, was it not in your own control? Why have you conceived this thing in your heart? You have not lied to men but to God."

5

Then Ananias, hearing these words, fell down and breathed his last. So great fear came upon all those who heard these things.

6

And the young men arose and wrapped him up, carried him out, and buried him.

7

Now it was about three hours later when his wife came in, not knowing what had happened.

8

And Peter answered her, "Tell me whether you sold the land for so much?" She said, "Yes, for so much."

9

Then Peter said to her, "How is it that you have agreed together to test the Spirit of the Lord? Look, the feet of those who have buried your husband are at the door, and they will carry you out."

10

Then immediately she fell down at his feet and breathed her last. And the young men came in and found her dead, and carrying her out, buried her by her husband.

11

So great fear came upon all the church and upon all who heard these things.
John 5:30-6:2 (Gospel)
30

I can of Myself do nothing. As I hear, I judge; and My judgment is righteous, because I do not seek My own will but the will of the Father who sent Me.

31

If I bear witness of Myself, My witness is not true.

32

There is another who bears witness of Me, and I know that the witness which He witnesses of Me is true.

33

You have sent to John, and he has borne witness to the truth.

34

Yet I do not receive testimony from man, but I say these things that you may be saved.

35

He was the burning and shining lamp, and you were willing for a time to rejoice in his light.

36

But I have a greater witness than John's; for the works which the Father has given Me to finish – the very works that I do – bear witness of Me, that the Father has sent Me.

37

And the Father Himself, who sent Me, has testified of Me. You have neither heard His voice at any time, nor seen His form.

38

But you do not have His word abiding in you, because whom He sent, Him you do not believe.

39

You search the Scriptures, for in them you think you have eternal life; and these are they which testify of Me.

40

But you are not willing to come to Me that you may have life.

41

I do not receive honor from men.

42

But I know you, that you do not have the love of God in you.

43

I have come in My Father's name, and you do not receive Me; if another comes in his own name, him you will receive.

44

How can you believe, who receive honor from one another, and do not seek the honor that comes from the only God?

45

Do not think that I shall accuse you to the Father; there is one who accuses you – Moses, in whom you trust.

46

For if you believed Moses, you would believe Me; for he wrote about Me.

47

But if you do not believe his writings, how will you believe My words?"

1

After these things Jesus went over the Sea of Galilee, which is the Sea of Tiberias.

2

Then a great multitude followed Him, because they saw His signs which He performed on those who were diseased.