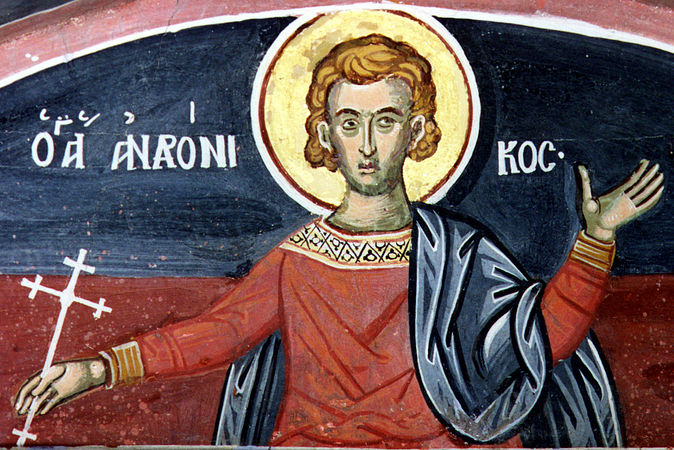 May 17
Fast
Apostle Andronicus of the Seventy and his fellow-laborer, Junia (1st c.). St. Euphrosyne (Princess Eudocia) of Moscow (1407). Martyrs Solochon, Pamphamer, and Pamphalon, at Chalcedon (284-305). St. Stephen, Archbishop of Constantinople (893).
Saints Andronicus and Junia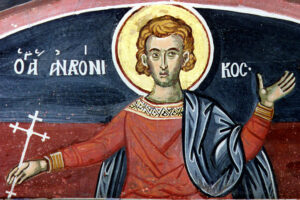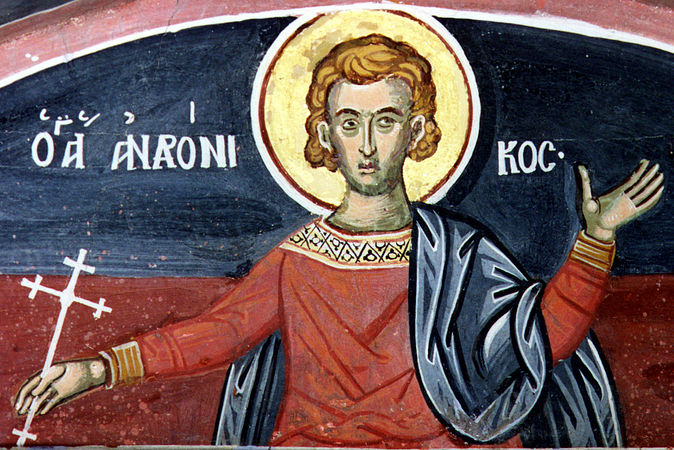 Saint Andronicus Apostle of the Seventy and Saint Junia were relatives of the holy Apostle Paul. They labored much, preaching the Gospel to pagans. Saint Paul mentions them in his Epistle to the Romans: "Salute Andronicus and Junia, my kinsmen and fellow prisoners, who are of note among the Apostles, who also were in Christ, before me" (Romans 16:7).
Saint Andronicus was made Bishop of Pannonia, but his preaching also took him and Saint Junia to other lands, far from the boundaries of his diocese. Through the efforts of Saints Andronicus and Junia the Church of Christ was strengthened, pagans were converted to the knowledge of God, many pagan temples closed, and in their place Christian churches were built. The service in honor of these saints states that they suffered martyrdom for Christ.
In the fifth century, during the reign of the emperors Arcadius and Honorius, their holy relics were uncovered on the outskirts of Constantinople together with the relics of other martyrs at the gate of Eugenius (February 22).
It was revealed to the pious cleric Nicholas Kalligraphos that among the relics of these seventeen martyrs were the relics of the holy Apostle Andronicus. Afterwards, a magnificent church was built on this spot.
Troparion of the saints, tone 3
Holy Apostle Andronicus / entreat the merciful God / to grant our souls forgiveness of transgressions.
Kontakion of the saints, tone 2
Let us praise the apostle of Christ, Andronicus, / the all-radiant star who illumined the nations with the light of the knowledge of God. / Together with him we praise all-wise Junia, / who shone with righteousness. / To them let us cry out: / "Unceasingly pray to Christ God for us all."
Acts 8:40-9:19 (Epistle)
40

But Philip was found at Azotus. And passing through, he preached in all the cities till he came to Caesarea.

1

Then Saul, still breathing threats and murder against the disciples of the Lord, went to the high priest

2

and asked letters from him to the synagogues of Damascus, so that if he found any who were of the Way, whether men or women, he might bring them bound to Jerusalem.

3

As he journeyed he came near Damascus, and suddenly a light shone around him from heaven.

4

Then he fell to the ground, and heard a voice saying to him, "Saul, Saul, why are you persecuting Me?"

5

And he said, "Who are You, Lord?" Then the Lord said, "I am Jesus, whom you are persecuting. It is hard for you to kick against the goads."

6

So he, trembling and astonished, said, "Lord, what do You want me to do?" Then the Lord said to him, "Arise and go into the city, and you will be told what you must do."

7

And the men who journeyed with him stood speechless, hearing a voice but seeing no one.

8

Then Saul arose from the ground, and when his eyes were opened he saw no one. But they led him by the hand and brought him into Damascus.

9

And he was three days without sight, and neither ate nor drank.

10

Now there was a certain disciple at Damascus named Ananias; and to him the Lord said in a vision, "Ananias." And he said, "Here I am, Lord."

11

So the Lord said to him, "Arise and go to the street called Straight, and inquire at the house of Judas for one called Saul of Tarsus, for behold, he is praying.

12

And in a vision he has seen a man named Ananias coming in and putting his hand on him, so that he might receive his sight."

13

Then Ananias answered, "Lord, I have heard from many about this man, how much harm he has done to Your saints in Jerusalem.

14

And here he has authority from the chief priests to bind all who call on Your name."

15

But the Lord said to him, "Go, for he is a chosen vessel of Mine to bear My name before Gentiles, kings, and the children of Israel.

16

For I will show him how many things he must suffer for My name's sake."

17

And Ananias went his way and entered the house; and laying his hands on him he said, "Brother Saul, the Lord Jesus, who appeared to you on the road as you came, has sent me that you may receive your sight and be filled with the Holy Spirit."

18

Immediately there fell from his eyes something like scales, and he received his sight at once; and he arose and was baptized.

19

So when he had received food, he was strengthened. Then Saul spent some days with the disciples at Damascus.
John 6:48-54 (Gospel)
48

I am the bread of life.

49

Your fathers ate the manna in the wilderness, and are dead.

50

This is the bread which comes down from heaven, that one may eat of it and not die.

51

I am the living bread which came down from heaven. If anyone eats of this bread, he will live forever; and the bread that I shall give is My flesh, which I shall give for the life of the world."

52

The Jews therefore quarreled among themselves, saying, "How can this Man give us His flesh to eat?"

53

Then Jesus said to them, "Most assuredly, I say to you, unless you eat the flesh of the Son of Man and drink His blood, you have no life in you.

54

Whoever eats My flesh and drinks My blood has eternal life, and I will raise him up at the last day.