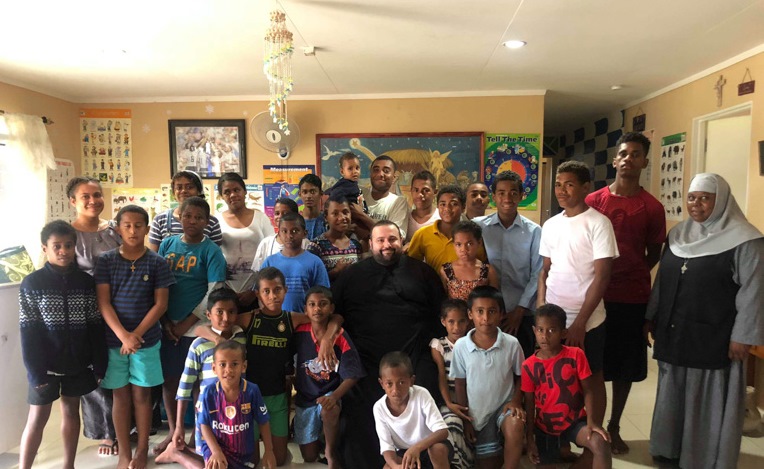 Father Michel Psaromatis, accompanied by his collaborators, recently visited the mission in the Republic of Fiji, in the New Zealand metropolis under Metropolitan Miron (Ecumenical Patriarchate). 
In the courtyard of Holy Trinity Church in Saweni, which houses the St. Tabitha orphanage, the Fijian priest Georges Pillay, Mother Melania, also a Fijian, the Hegumen of the Monastery of the Mother of God and the head of the orphanage, along with the collaborators and the children of the establishment, warmly welcomed Father Michel and the visitors. 
During his four-day stay, Fr. Michel celebrated and preached in Saweni Church. At the same time, he taught catechism and Byzantine music to the orphans and those who were interested. 
Father Michel had discussions with the mission's collaborators and his director, Archimandrite Meletios Pantic, in order to improve collaboration between the mission and its South Australian collaborators. During their stay, volunteers Marie Glezou and Paige Mewett from Adelaide helped the children of the orphanage in their lessons, and the general operation of the establishment. 
Three young Fijians will study theology in Greece, to return to Fiji to continue the missionary work of the New Zealand Metropolis.
Source in Greek (with pictures)