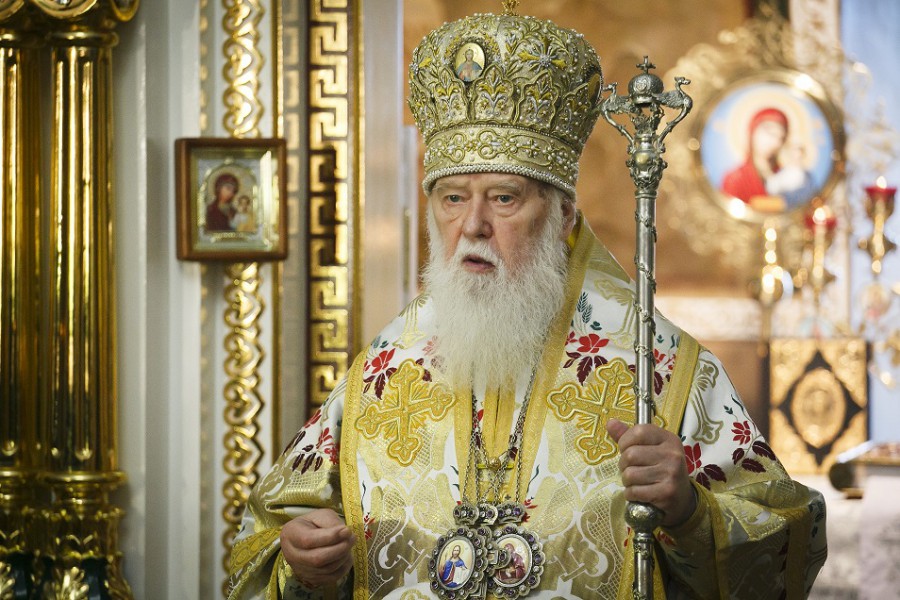 In an interview, "patriarch" Filaret (photo above) stated that the "Kyiv Patriarchate continues to exist". To this end, he invited all the bishops of the new autocephalous Church, with the exception of Metropolitan Epifaniy, to a meeting intended to re-establish the "Kyiv Patriarchate".
On this occasion, Adrian Kulik-Bogdan, the vicar bishop of the new Church, said,
"The honorary patriarch Filaret is convening at his home the hierarchs of the Ukrainian Orthodox Church – Patriarchate of Kyiv",  on May 13- 14, under the pretext of honoring the memory of the holy metropolitan Makary, whose relics are found in St. Vladimir's Cathedral. All the hierarchs understand that Patriarch Filaret wants to restore the Ukrainian Orthodox Church – Patriarchate of Kyiv, which was liquidated. They also understand that reestablishing it would create a schism in the Orthodox Church of Ukraine (led by Metropolitan Epifaniy, TN). So those who accept the invitation of the honorary patriarch Filaret will be "separatists", aware of what they do. I hope there will not be many".
For his part, on May 9, in a TV program on channel TSN entitled "Scandal in the Church", "patriarch" Filaret said "the patriarchate of Kyiv has not been liquidated… Only the one who created it can to liquidate it… The faithful of the Kyiv Patriarchate gave only their agreement for the Phanar metropolis to begin a period of transition on the path to a patriarchate".
During the same program, Metropolitan Epifaniy said, "To speak now of any return to the former patriarchate is untimely… If we return to the past, this way will automatically lead nowhere, it is the way towards the isolation, it would mean going back to the situation we were in until October 11".
For his part, "patriarch" Filaret sent the following letter, dated May 10:
"To the primate of the Ukrainian Orthodox Church,
His Beatitude Metropolitan Epifaniy of Kyiv and All Ukraine,
Your Beatitude,
The information came to me through the media that you expressed your dissatisfaction, because I did not invite you to the celebration in honor of the hieromartyr Makary, Metropolitan of Kyiv. The reason is that since your election as the Primate of the Ukrainian Orthodox Church five months ago, you have not celebrated the Divine Liturgy with me once. The thought has come to me, I may be wrong, that you consider it a humiliation to celebrate with patriarch Filaret.
Besides, as I know, you are trying to celebrate the Liturgy in the city of Dnipro (called Dnipropetrovsk until May 2016, TN) or in Mariupol, and to gather there hierarchs of our Church to offset the celebration of the protector of our Orthodox Ukrainian Church, the hieromartyr Makary, Metropolitan of Kyiv. It is therefore with joy that I invite Your Beatitude to the feast of St. Makary in the Patriarchal Cathedral on May 14, 2019, where every year, we gather our entire episcopate to strengthen our unity and our Church. With love in Christ, Filaret, Patriarch of Kyiv and All Kievan Rus'.

Sources in Ukrainian: Facebook, Cerkva.info, YouTube