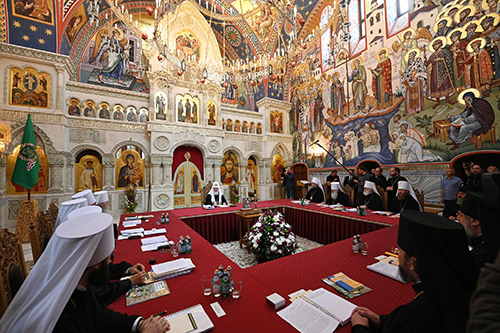 On July 9, in St. Vladimir Church at St. Vladimir's Skete of Valaam Monastery, Patriarch Kirill of Moscow and All Russia chaired a regular meeting of the Holy Synod of the Russian Orthodox Church.
The Primate of the Russian Orthodox Church opened the session addressing the members of the Holy Synod with the following words:
"Eminences and Excellencies, dear brothers!
I am pleased to welcome you in Valaam Monastery of the Transfiguration of the Savior. Valaam is a holy place, where generations of monks became famous. It is our Russian Athos. However, unlike Athos with its hot weather, this monastery is located by the icy waters of Lake Ladoga. This creates special conditions peculiar to ascetic life. On coming to Valaam, we can see how the strength of the human spirit, deprived of all physical, political, and economic power, was able to accomplish a true miracle. A few ascetics founded this holy monastery, whose history has been difficult. Thanks to the efforts of these men, driven by their deep faith and faithfulness to the Lord, majestic churches have been built, and Valaam may rightly, be called the Northern Athos.
I am sure that pilgrims will always be more numerous in this holy place, because we cannot remain indifferent to what we see, hear, and feel here, to the strength of asceticism as it has been practiced here for centuries. I think it is quite right that the highest functioning organ of the Church, the Holy Synod, has come for its session here. Welcome to all."
The permanent members of the Holy Synod are Metropolitan Onufriy of Kyiv and all Ukraine; Metropolitan Juvenal of Krutitsy and Kolomna; Metropolitan Vladimir of Chișinău and All Moldova; Metropolitan Alexander of Astana and Kazakhstan, the head of the metropolitan region in the Republic of Kazakhstan; Metropolitan Vincent of Tashkent and Uzbekistan, the head of the metropolitan region of Central Asia; Metropolitan Varsonofy  of St. Petersburg and Ladoga; Metropolitan Pavel of Minsk and Zaslavl, the patriarchal exarch of all Belorussia; Metropolitan Hilarion of Volokolamsk, the chairman of the Moscow Patriarchate's Department for External Church Relations (DECR); and Metropolitan Sabbas Metropolitan of Tver and Kashin, Chancellor of the Moscow Patriarchate.
In addition, participants in the summer session (March-August)are Metropolitan Antony of Chersonesus and Western Europe; Archbishop Seraphim of Kaliningrad and the Baltic; Archbishop Roman of Yakutia and Lensk; Bishop Leonid of Turov and Mazyr; Bishop German of Sochi and Tuapse.
Source