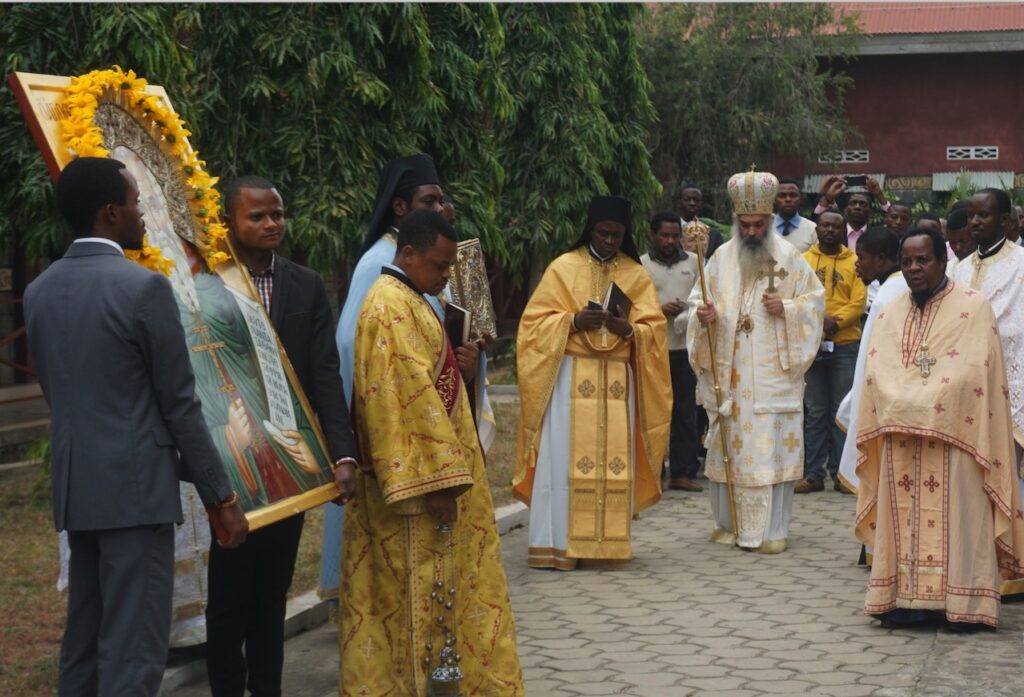 Students and graduates of the faculty sang Vespers on the eve of the feast, and Matins and the Divine Liturgy on the following day. The Divine Liturgy was followed by a procession around the church, followed by the artoclasia. Then all gathered in the hall of the faculty, where the students presented a festive program in honor of St. Athanasius the Athonite. 
After songs performed by students and graduates, the life of the saint was mentioned. The students then expressed their gratitude to the founder of the Orthodox University of Congo, Metropolitan Ignatius of Pentapolis, of blessed memory. They also thanked Metropolitan Nicephorus of Kinshasa, the teachers and donors who contribute to the smooth running of the establishment. 
Then Theodore Foumouzanza, the vice-rector, and Metropolitan Nicephorus of Kinshasa, the rector, gave speeches. The Metropolitan spoke about the help and protection of Saint Athanasius the Athonite, about the contribution of the Great Lavra of Mount Athos to the construction of the magnificent church, as well as those of the late Archbishop Stylianos of Australia and other donors, known and unknown. He also mentioned the memory of his predecessors, urging all to follow their example, to fight to put into practice in their lives what they had learned at the faculty, and to work to spreadOorthodox teaching throughout Congo. 
Then they sang "Many Years" to the Patriarch Theodore II of Alexandria, and held the festive banquet. 
You can see here pictures of the feast and of the church.
Source in Greek