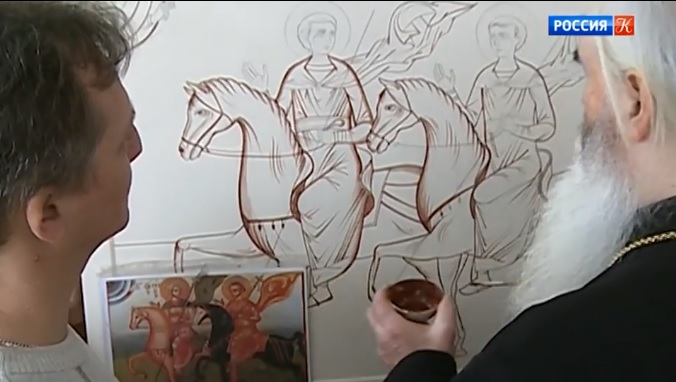 Russian iconographers from Kursk have been recreating a 13th century icon of the holy martyrs Sergius and Bacchus. These Roman soldiers, Christians in secret, suffered martyrdom at the time of the persecutions.
Ancient Syria was a land of apostles, prophets, and holy sites, such as Saints Sergius and Bacchus church, in Maaloula, one of the most ancient Orthodox monasteries in Syria. The icon had been kept there for more than eight centuries.
But in 2013, Al-Nusra Front militants started destroying churches and monasteries, including this one. It contained many holy items that were desecrated by the rebels.
"This icon was irrevocably lost, and we are trying to recreate it", said Archpriest  Alexander Filin, the head of the Kursk Theological Seminary iconography department. The St. Andrei Rublev iconography workshop at Holy Trinity Church in Kursk has started the work.
The main work is being done by Stanislav Proskurin, who has been painting icons for seventeen years. For him, returning a holy icon to the people is a team work that requires a special mindset.
"It is a work of prayer and spirituality. It carries a lot of responsibility. You can't just approach it as any artist, whenever you feel in the mood for it. You need a spiritual mood. We study the lives of the saints, because that's what we have to convey, you have to be able to feel it through the image," Proskurin explained.
The Kursk workshop is restoring the work of great iconographers from pictures before the icon was destroyed, and they follow Russian and Byzantine iconographic traditions, using natural colors.
"The preparation of the boards themselves must be done while praying. Whether it is the board, the color or the levkas (a mixture similar to gesso), everything must be done in prayer", added the iconographer Ekaterina Volobuyeva.
Sts. Sergius and Bacchus church should be restored by April. After that, the saints Serge and Bacchus will return to it, where their spiritual support is needed.
Source in Russian