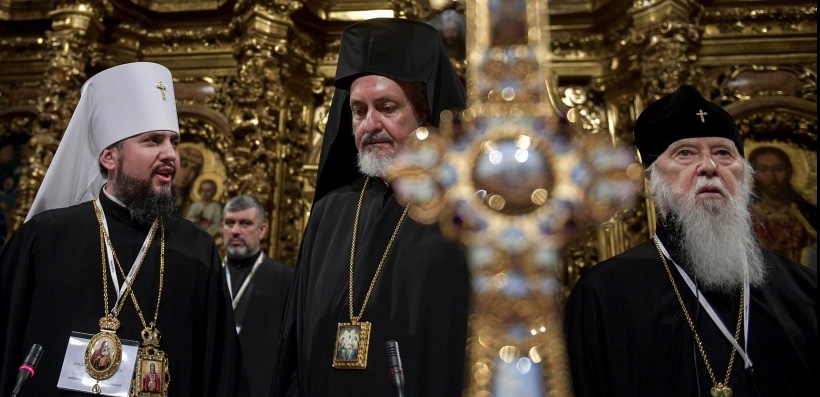 "The text of the tomos, which laid the foundations of the new autocephalous Church [in Ukraine, TN], is not the result of negotiations between the two parties. Rather, it shows the way the Church must function," said Metropolitan Emmanuel of France, the representative of the Constantinople Patriarchate, in an interview with Ukrainian TV channel Canal 24, while commenting on statements made by "patriarch" Filaret (Denisenko).
"No one has the right to judge what is good and what is bad in the text. And those who do not accept some of the provisions of the tomos refuse to be part of this Church," stated the representative of Phanar. He stressed that he didn't agree with the statements made by Filaret, the "patriarch of honor" of the Orthodox Church of Ukraine, that some "pro-Moscow forces" are influencing Metropolitan Epifaniy of Kyiv and all Ukraine, whose main task would be the destruction of the Ukrainian church.
"The Church is in the first place created by the believers who support it with all their strength," explained the hierarch of the Orthodox Church of Constantinople. "All these people supported the Kyiv Patriarchate and the Ukrainian Orthodox Chruch (Moscow Patriarchate), today they support the autocephalous Orthodox Church of Ukraine and its leader Bishop Epifaniy. I do not see new people. The Church has nothing to fear, it plays no political role, and does not intervene in political issues".
According to him, Filaret's accusations against Epifaniy are an invention. "The primate Bishop Epifaniy is a young and strong person whom we support alongside with the Ukrainians," said the Metropolitan.
Let us recall that Metropolitan Emmanuel of France had presumed that Filaret might have hearing problems if he did not hear the texts of the tomos and the statutes of the Ukrainian autocephalous Orthodox Church — Patriarchate of Constantinople), which had been approved with him.

Source in Greek