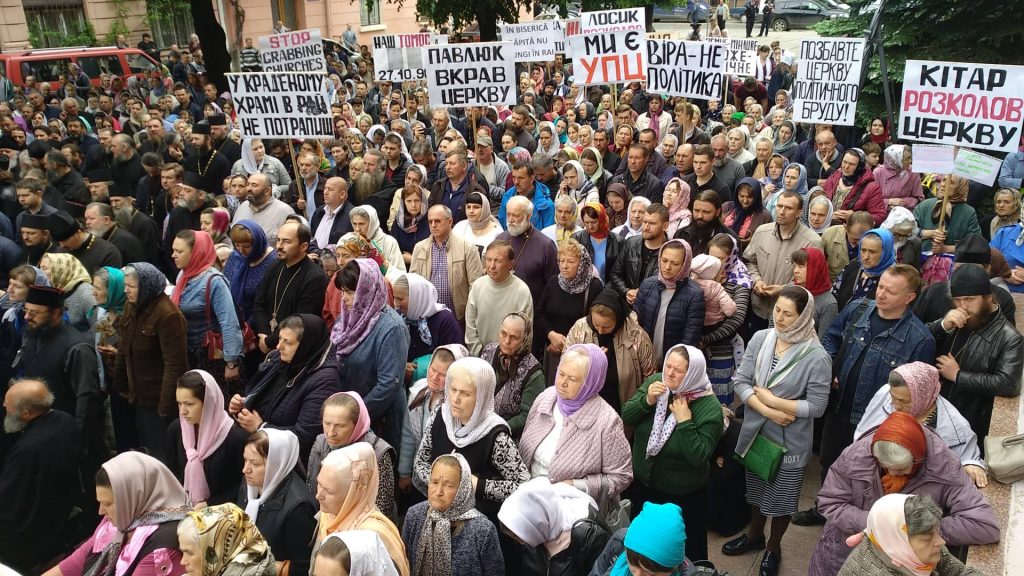 The demonstration took place on the sixth day after the Dormition Church of the village of Tovtry in Chernivtsi district was taken over by supporters of autocephaly. The clergy and the laity marched with Metropolitan Meletius of Chernivtsi and Bukovina and Bishop Longin of Bancheny.
On the square in front of the Regional Administration, Bishop Meletius addressed the faithful with a speech, in which he clarified the purpose of the demonstration:

"We want our constitutional rights not to be ignored, our churches not to be seized, that interfaith peace may not be violated in the region, in which we have lived all these years until the interference of power in ecclesiastical affairs, and the creation of the so-called 'Orthodox Church of Ukraine'.
We are not opposed to the newly created structure, we are against the fact that they have seized our churches, we are against the fact that the officials re-register our statutes without our knowledge and without our agreement.
We demand that the authorities listen to us, because we are Ukrainians and we have the constitutional right to freedom of religion."
Then the hierarchs, as well as the rectors of parishes the churches of which were seized or have been the subject of a conflict, met with Mr. Pavlyuk, the Vice President of the Regional Administration.
During the meetings, he was given an official document, with the following requirements:
1) invalidation of the previous decisions, erroneous or deprived of legal basis, concerning the re-registration of the statutes of the parishes of the Ukrainian Orthodox Church under the jurisdiction of the new autocephalous Church (nine cases are mentioned in the document);
2) requesting the Ukrainian Ministry of Justice to annul the registration actions of Registrar N. M. Gergelyuk, namely the registration in State registers of changes in the names and leaders of religious communities in 11 cities or villages (the names of these are mentioned in the document).
"The officials of the Chernivtsi Local Administration promised they had heard the request of the faithful of the Ukrainian Orthodox Church in Bukovina. We expect positive changes," said the press release from the Diocese of Chernivtsi-Bukovina.
A video of the procession can be viewed here. The faithful are singing the Pascha troparion and a hymn to the Mother of God in Slavonic, then the priests read the Akathist to the Risen Christ in Slavonic and Romanian.

Source in Russian