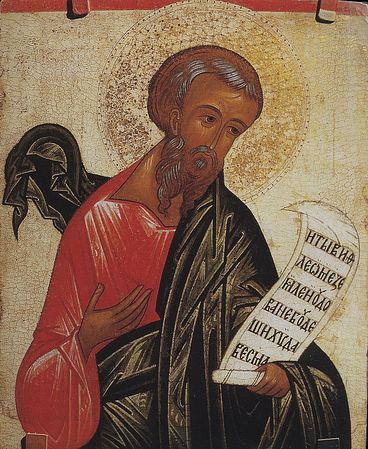 August 14 
Dormition Fast
Translation of the Relics of Ven. Theodosius of the Kiev Caves (1091). Forefeast of the Dormition. Prophet Micah (8th c. B.C.). Ven. Arcadius of Novotorzhk (11th c.). Hieromartyr Marcellus, Bishop of Apamea (ca. 389).
PROPHET MICAH
The Prophet Micah, the sixth of the Twelve Minor Prophets, was descended from the Tribe of Judah and was a native of the city of Moresheth, to the south of Jerusalem. His prophetic service began around the year 778 before Christ and continued for almost 50 years under the kings of Judah: Jotham, Ahaz, and Righteous Hezekiah (721-691 B.C., August 28).
He was a contemporary of the Prophet Isaiah. His denunciations and predictions were in regard to the separate kingdoms of Judah and Israel. He foresaw the misfortunes threatening the kingdom of Israel before its destruction, and the sufferings of Judah during the incursions under the Assyrian emperor Sennacherib.
To him belongs a prophecy about the birth of the Savior of the world: "And thou, Bethlehem, house of Ephratha, art too few in number to be reckoned with the thousands of Judah; yet out of thee shall come forth to Me, one who is to be a ruler in Israel, and His goings forth were from the beginning, even from eternity" (Mic. 5: 2). From the words of the Prophet Jeremiah (Jer. 26: 18-19), the Jews evidently were afraid to kill the Prophet Micah. His relics were discovered in the fourth century after the Birth of Christ at Baraphsatia, through a revelation to the Bishop of Eleutheropolis, Zeuinos.
TROPARION AND KONTAKION
Troparion of the Forefeast of the Dormition, tone 4
Dance with joy, O peoples! Clap your hands with gladness! Gather today with fervor and jubilation; sing with exultation. The Mother of God is about to rise in glory, ascending from earth to heaven. We ceaselessly praise her in song as truly Theotokos.
Kontakion of the saint, tone 4
With the Holy Spirit's beams wast thou enlightened, setting forth in prophecy the condescension of Christ God, O blessed Micah; and by His grace we who revere thee are saved from eternal death.
 Kontakion of the Forefeast of the Dormition, tone 4
Today the universe dances with joy at your glorious memorial, and cries out to you, O Mother of God: "Rejoice, O Virgin, pride of Christians!"
EPISTLE
2 Corinthians 5:15-21
15

and He died for all, that those who live should live no longer for themselves, but for Him who died for them and rose again.

16

Therefore, from now on, we regard no one according to the flesh. Even though we have known Christ according to the flesh, yet now we know Him thus no longer.

17

Therefore, if anyone is in Christ, he is a new creation; old things have passed away; behold, all things have become new.

18

Now all things are of God, who has reconciled us to Himself through Jesus Christ, and has given us the ministry of reconciliation,

19

that is, that God was in Christ reconciling the world to Himself, not imputing their trespasses to them, and has committed to us the word of reconciliation.

20

Now then, we are ambassadors for Christ, as though God were pleading through us: we implore you on Christ's behalf, be reconciled to God.

21

For He made Him who knew no sin to be sin for us, that we might become the righteousness of God in Him.
GOSPEL
Mark 1:16-22
16

And as He walked by the Sea of Galilee, He saw Simon and Andrew his brother casting a net into the sea; for they were fishermen.

17

Then Jesus said to them, "Follow Me, and I will make you become fishers of men."

18

They immediately left their nets and followed Him.

19

When He had gone a little farther from there, He saw James the son of Zebedee, and John his brother, who also were in the boat mending their nets.

20

And immediately He called them, and they left their father Zebedee in the boat with the hired servants, and went after Him.

21

Then they went into Capernaum, and immediately on the Sabbath He entered the synagogue and taught.

22

And they were astonished at His teaching, for He taught them as one having authority, and not as the scribes.