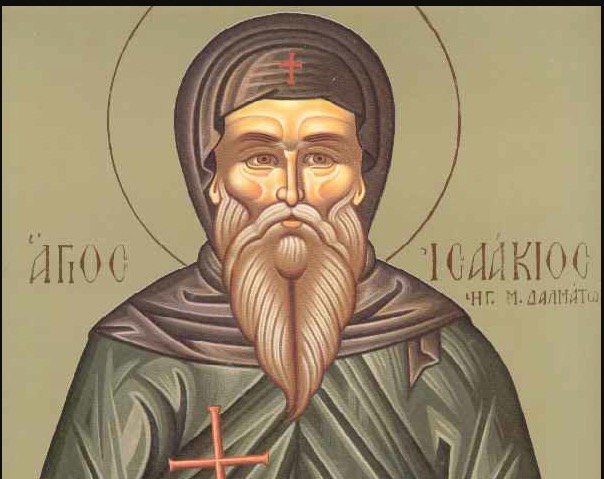 August 3 (old calendar) / August 16 (new)
Dormition Fast
Saints Isaac, Dalmatios, and Faustus
Saint Isaac (May 30) was a soldier before he became a monk. After he was tonsured, he attained such a degree of spiritual perfection that he was accounted worthy of beholding divine visions.
When Saint Isaac heard about how the Emperor Valens had fallen into the Arian heresy and was persecuting the Orthodox Christians, he left his monastery and traveled to Constantinople to confront the emperor. At that time Valens was planning a campaign against the Goths. Saint Isaac tried to change the emperor's mind several times, but was unable to convince him. He prophesied that Valens would die in flames because of his actions. The emperor ordered that Saint Isaac be thrown into prison, and promised to deal with him when he returned from his expedition. On August 9, 378 Valens was defeated at Adrianople and died in a fire after hiding in a barn, just as the saint had predicted.
Emperor Theodosius the Great, who had a great love for the saint, released him from prison and banned Arianism. Saint Isaac attended the Second Ecumenical Council (381), where he defended the Orthodox Faith against the Arian heresy.
Saint Isaac hoped to return to his monastic life in the wilderness, but a wealthy man built a monastery for him at Constantinople, and he became its first igumen. The monastery was later named for his disciple Dalmatus.
When Saint Isaac was approaching the end of his earthly life, he named Saint Dalmatus to succeed him as igumen. He lived to a ripe old age and reposed in the year 383.
TROPARION AND KONTAKION
Troparion of the saint, tone 4
O God of our Fathers, always always act with kindness towards us; take not Your mercy from us, but guide our lives in peace through the prayers of Venerable Isaac, Dalmatus, and Faustus.
Kontakion of the saint, tone 2
Through asceticism you shone like lights in the world and by your faith you overthrew heresies. We praise you with hymns, Isaac, Dalmatus, and Faustus, as servants of Christ who are praying for us all.
EPISTLE
2 Corinthians 7:1-10
1

Therefore, having these promises, beloved, let us cleanse ourselves from all filthiness of the flesh and spirit, perfecting holiness in the fear of God.

2

Open your hearts to us. We have wronged no one, we have corrupted no one, we have cheated no one.

3

I do not say this to condemn; for I have said before that you are in our hearts, to die together and to live together.

4

Great is my boldness of speech toward you, great is my boasting on your behalf. I am filled with comfort. I am exceedingly joyful in all our tribulation.

5

For indeed, when we came to Macedonia, our bodies had no rest, but we were troubled on every side. Outside were conflicts, inside were fears.

6

Nevertheless God, who comforts the downcast, comforted us by the coming of Titus,

7

and not only by his coming, but also by the consolation with which he was comforted in you, when he told us of your earnest desire, your mourning, your zeal for me, so that I rejoiced even more.

8

For even if I made you sorry with my letter, I do not regret it; though I did regret it. For I perceive that the same epistle made you sorry, though only for a while.

9

Now I rejoice, not that you were made sorry, but that your sorrow led to repentance. For you were made sorry in a godly manner, that you might suffer loss from us in nothing.

10

For godly sorrow produces repentance leading to salvation, not to be regretted; but the sorrow of the world produces death.
GOSPEL
Mark 1:29-35
29

Now as soon as they had come out of the synagogue, they entered the house of Simon and Andrew, with James and John.

30

But Simon's wife's mother lay sick with a fever, and they told Him about her at once.

31

So He came and took her by the hand and lifted her up, and immediately the fever left her. And she served them.

32

At evening, when the sun had set, they brought to Him all who were sick and those who were demon-possessed.

33

And the whole city was gathered together at the door.

34

Then He healed many who were sick with various diseases, and cast out many demons; and He did not allow the demons to speak, because they knew Him.

35

Now in the morning, having risen a long while before daylight, He went out and departed to a solitary place; and there He prayed.