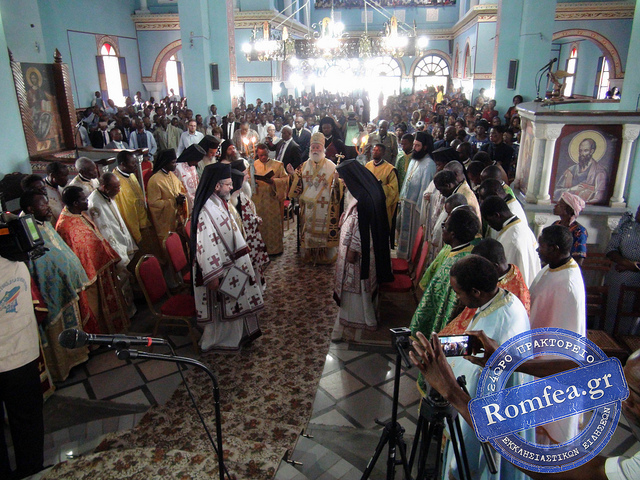 On Sunday February 24, Patriarch Theodore II of Alexandria celebrated the Divine Liturgy in St. Andrew Cathedral in Kananga, the third city in the Democratic Republic of Congo. He was assisted by hierarchs Nicholas of Amathus (Church of Cyprus), Meletios of Kananga, Nicephorus of Kinshasa, Theodore of Babylon, and the new metropolitan, Theodosius of Kananga, who was enthroned at the end of the Divine Liturgy, according to the Alexandria Patriarchate ceremonial.
The patriarch expressed warm words about the new Metropolitan, giving him guidance and suggestions to spiritually guide the people of God. He also spoke of the honor and blessing that God gave him to elect and consecrate the first bishop of Kananga, urging him to follow in the footsteps of the great missionaries of Africa. The patriarch also thanked the Greek fraternity "Sotir" for sending its members to this country, as well as several Greek missionary associations.
A large number of faithful attended the service. Here is an album of pictures taken during the ceremony.
You can watch here below a documentary film on Orthodoxy in the Congo, shot mainly in Kananga, with comments in Greek and English subtitles. It received several awards. At the end of the film, you can see Pascha celebrations in Kananga. Some faithful walk up to 250 miles to attend Pascha.