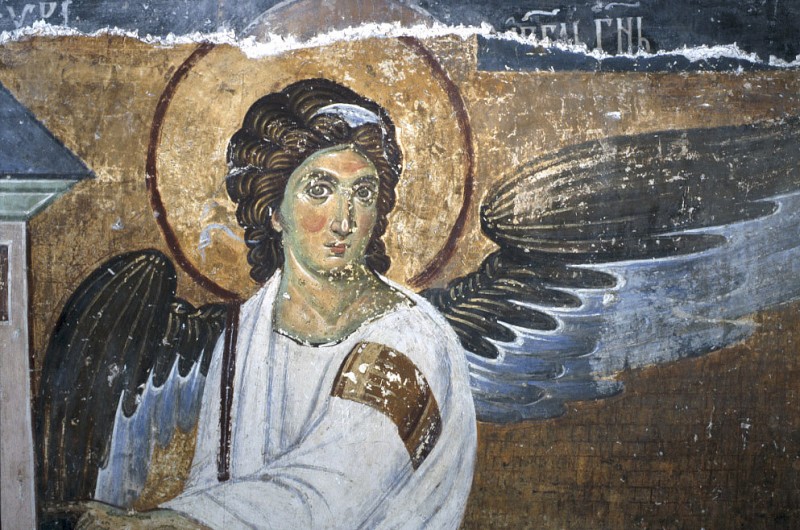 July 13
Synaxis of the Archangel Gabriel. Ven. Stephen of St. Sabbas' Monastery (794). St. Julian, Bishop of Cenomanis (Le Mans) in Gaul (1st c.). Martyr Serapion (2nd-3rd c.). Martyr Marcian of Iconium (258). Icon of the Most-holy Theotokos "AXION ESTIN" ("IT IS TRULY MEET").
Synaxis of the Archangel Gabriel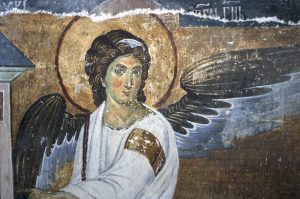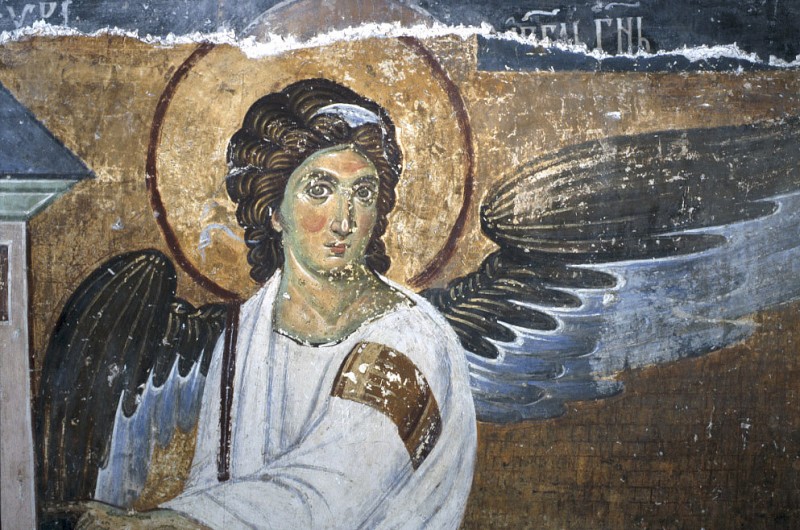 The Synaxis of the Archangel Gabriel is celebrated on the day after the Annunciation, and a second time on July 13. It was instituted in the ninth century, perhaps to celebrate the dedication of a church at Constantinople. Originally, the Feast was observed on October 16 (Juan Mateos, LE TYPIKON DE LA GRANDE EGLISE).
An account of the Holy Archangel Gabriel is found under March 26 and November 8.
Troparion of the saint, tone 4
Gabriel, commander of the heavenly hosts, / we who are unworthy beseech you, / by your prayers encompass us beneath the wings of your immaterial glory, / and faithfully preserve us who fall down and cry to you: / "Deliver us from all harm, for you are the commander of the powers on high!"
Kontakion of the saint, tone 2
You look upon God's glory in heaven, / and bring grace from on high to earth, / wise Gabriel, leader of angels, / minister of God's glory, and divine defender of the world! / Save and preserve those who cry to you: / "Be our defense, so that no one can be against us!"
Romans 6:11-17 (Epistle)
11

Likewise you also, reckon yourselves to be dead indeed to sin, but alive to God in Christ Jesus our Lord.

12

Therefore do not let sin reign in your mortal body, that you should obey it in its lusts.

13

And do not present your members as instruments of unrighteousness to sin, but present yourselves to God as being alive from the dead, and your members as instruments of righteousness to God.

14

For sin shall not have dominion over you, for you are not under law but under grace.

15

What then? Shall we sin because we are not under law but under grace? Certainly not!

16

Do you not know that to whom you present yourselves slaves to obey, you are that one's slaves whom you obey, whether of sin leading to death, or of obedience leading to righteousness?

17

But God be thanked that though you were slaves of sin, yet you obeyed from the heart that form of doctrine to which you were delivered.
Matthew 8:14-23 (Gospel)
14

Now when Jesus had come into Peter's house, He saw his wife's mother lying sick with a fever.

15

So He touched her hand, and the fever left her. And she arose and served them.

16

When evening had come, they brought to Him many who were demon-possessed. And He cast out the spirits with a word, and healed all who were sick,

17

that it might be fulfilled which was spoken by Isaiah the prophet, saying: "He Himself took our infirmities and bore our sicknesses."

18

And when Jesus saw great multitudes about Him, He gave a command to depart to the other side.

19

Then a certain scribe came and said to Him, "Teacher, I will follow You wherever You go."

20

And Jesus said to him, "Foxes have holes and birds of the air have nests, but the Son of Man has nowhere to lay His head."

21

Then another of His disciples said to Him, "Lord, let me first go and bury my father."

22

But Jesus said to him, "Follow Me, and let the dead bury their own dead."

23

Now when He got into a boat, His disciples followed Him.