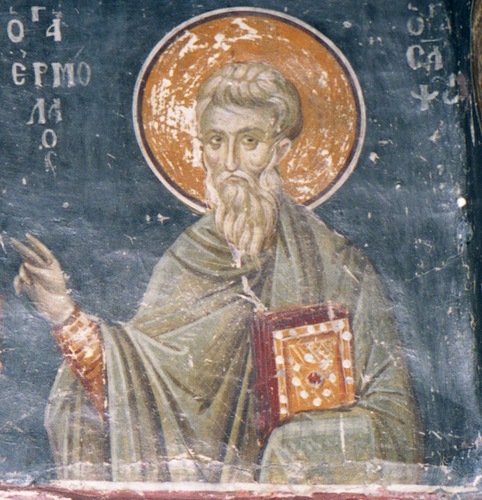 July 26
Fast
The Repose of St. Jacob (Netsvetov), Enlightener of the Peoples of Alaska (1864). Hieromartyr Hermolaus and Martyrs Hermippus and Hermocrates at Nicomedia (ca. 305). Ven. Moses the Hungarian, of the Kiev Caves (Near Caves—ca. 1043). Martyr Parasceva of Rome (2nd c.). Ven. Gerontius of St. Anne Skete (Mt. Athos). The "EMVOLON" Icon of the Most-holy Theotokos in Constantinople.
SAINT HERMOLAUS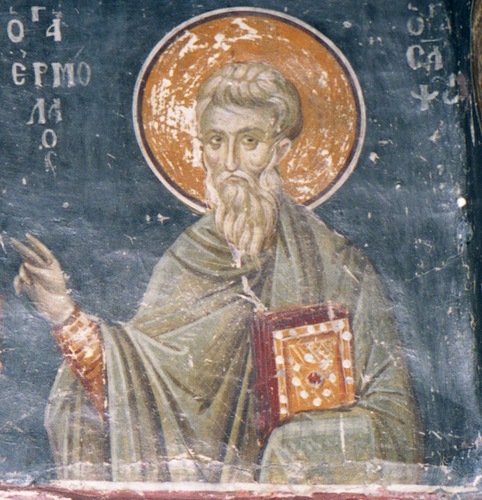 Hieromartyrs Hermolaus, Hermippus and Hermocrates of Nicomedia, were among the small number of those remaining alive after 20,000 Christians were burned alive in a church at Nicomedia in the year 303 (December 28), on the orders of the emperor Maximian (284-305). They lived in remote places and did not cease to preach Christianity to the pagans.
The young pagan named Pantoleon (Holy Great Martyr Panteleimon, July 27) often passed by the house in which Saint Hermolaus had concealed himself. Once Saint Hermolaus chanced to meet the youth and asked him to stop by his house. In their conversation Saint Hermolaus began to explain to his guest the falseness, impiety and vanity of worshipping the pagan gods. From that day on, Pantoleon began to visit Saint Hermolaus daily and received holy Baptism from him.
When the trial of the holy Great Martyr Panteleimon was being held, Saints Hermolaus, Hermippus and Hermocrates, were also arrested. The Lord Jesus Christ appeared to Saint Hermolaus one evening and revealed to him that on the following day he would suffer for Him and receive a martyr's crown.
Saints Hermippus and Hermocrates were arrested and brought to trial after Saint Hermolaus. All three were given the chance to deny Christ and offer sacrifice to idols. But they resolutely refused, confessed their faith in the Lord Jesus Christ and were prepared gladly to die for Him.
The pagans began to threaten the holy priests with torture and death. Suddenly, a strong earthquake occurred, and the idols and pagan temple collapsed and shattered. This was reported to the emperor. The enraged Maximian gave the holy martyrs over to torture and pronounced upon them a sentence of death. Bravely enduring all the torments, the holy Hieromartyrs Hermolaus, Hermippus and Hermocrates were beheaded in about the year 305.
Troparion of the saints, tone 4
In their sufferings, O Lord,/ Thy martyrs received imperishable crowns from Thee our God;/ for, possessed of Thy might,/ they set at nought the tormentors and crushed the feeble audacity of the demons.// By their supplications save Thou our souls.
Kontakion of the saints, tone 4
Having lived piously as a hieraich,/ thou hast received the crown of a mar­tyred bishop;/ and extinguishing the sacrifices of the idols,/ thou wast a good shepherd of the flock of Christ/ and a true teacher for Panteleimon, O all-wise one./ Wherefore, we honor thee with hymns, crying out:// Ever deliver us from misfortunes by thy supplications, O Hermolaus our father!
1 Corinthians 4:5-8 (Epistle)
5

Therefore judge nothing before the time, until the Lord comes, who will both bring to light the hidden things of darkness and reveal the counsels of the hearts. Then each one's praise will come from God.

6

Now these things, brethren, I have figuratively transferred to myself and Apollos for your sakes, that you may learn in us not to think beyond what is written, that none of you may be puffed up on behalf of one against the other.

7

For who makes you differ from another? And what do you have that you did not receive? Now if you did indeed receive it, why do you boast as if you had not received it?

8

You are already full! You are already rich! You have reigned as kings without us – and indeed I could wish you did reign, that we also might reign with you!
Matthew 13:44-54 (Gospel)
44

Again, the kingdom of heaven is like treasure hidden in a field, which a man found and hid; and for joy over it he goes and sells all that he has and buys that field.

45

Again, the kingdom of heaven is like a merchant seeking beautiful pearls,

46

who, when he had found one pearl of great price, went and sold all that he had and bought it.

47

Again, the kingdom of heaven is like a dragnet that was cast into the sea and gathered some of every kind,

48

which, when it was full, they drew to shore; and they sat down and gathered the good into vessels, but threw the bad away.

49

So it will be at the end of the age. The angels will come forth, separate the wicked from among the just,

50

and cast them into the furnace of fire. There will be wailing and gnashing of teeth."

51

Jesus said to them, "Have you understood all these things?" They said to Him, "Yes, Lord."

52

Then He said to them, "Therefore every scribe instructed concerning the kingdom of heaven is like a householder who brings out of his treasure things new and old."

53

Now it came to pass, when Jesus had finished these parables, that He departed from there.

54

When He had come to His own country, He taught them in their synagogue, so that they were astonished and said, "Where did this Man get this wisdom and these mighty works?