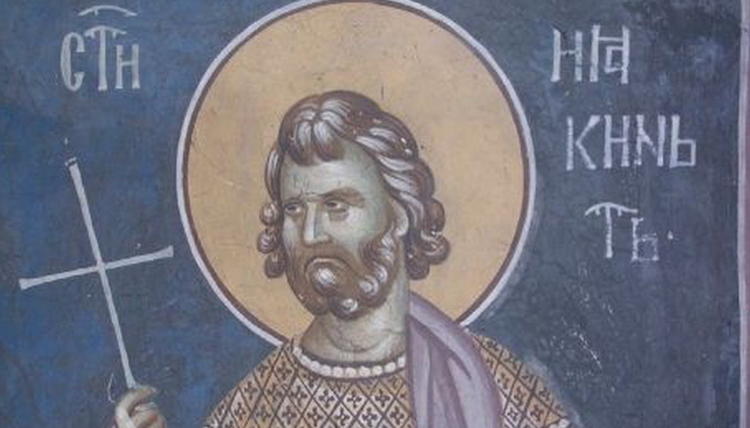 July 3 (old calendar) / July 16 (new)
Martyr Hyacinth of Cæsarea in Cappadocia (108). Translation of the Relics of Hieromartyr Philip, Metropolitan of Moscow (1652). Ven. Anatoly (Anatolius) of the Kiev Caves (Near Caves—12th c.), and Ven. Anatoly (another), Recluse, of the Kiev Caves (Far Caves—13th c.). St. Vasily, Bishop of Riazan' (1295). Rt. Blv. Princes Vasily and Constantine of Yaroslavl' (13th c.). Ven. John and Longinus, Wonderworkers of Yarensk (Solovétsky Monastery—1544-45). Bl. John of Moscow, Fool-for-Christ (1589). Ven. Nicodim (Nikodemus), Abbot of Kozheyezérsk (1640). St. Alexander, Founder of the "Unsleeping Ones" (ca. 430). St. Anatolius, Patriarch of Constantinople (458). Monk Martyr Gerasimus (1812). Icon of the Most-holy Theotokos, the "MILK-GIVER" of Chilandari Monastery on Mt. Athos.
SAINT HYACINTH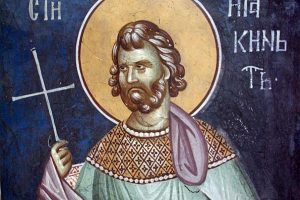 Saint Hyacinth, a native of Caesarea in Cappadocia, was raised in a Christian family. The emperor Trajan made the boy his "cubicularius" (chamberlain), unaware that he was a secret Christian.
One day, while the emperor and his entourage were offering sacrifice to idols, the young Hyacinth remained at the palace, shut himself up in a small room, and prayed fervently to the Lord Jesus Christ. One of the servants overheard him praying and denounced him to the emperor. He said that although Hyacinth was entrusted with an imperial position, he did not honor the Roman gods, and was secretly praying to Christ.
Hyacinth was brought to trial before Trajan, who tried to persuade him to deny Christ and sacrifice to the deaf and dumb idols, but the holy martyr remained steadfast and declared that he was a Christian. He was whipped and thrown into prison, where the only food given to him was what had already been offered to the idols. They hoped that he would be overcome with hunger and thirst and eat it. Saint Hyacinth did not eat the food, and he died after thirty-eight days. When they came to torture him again, they found his dead body.
The jailer saw two angels in the cell. One covered the saint's body with his own garment, and the other placed a crown of glory on his head.
The twelve-year-old Hyacinth suffered for Christ in the year 108 in the city of Rome. Later, the saint's relics were transferred to Caesarea.
Saints Diomedes, Eulampius, Asclepiodotus, and Golinduc also suffered with Saint Hyacinth.
Troparion of the saint, tone 4
Your holy martyr Hyacinth, O Lord, / through his suffering has received an incorruptible crown from You, our God. / For having Your strength, he laid low his adversaries, / and shattered the powerless boldness of demons. / Through his intercessions, save our souls!
Kontakion of the saint, tone 2
Come, you faithful, / plait a crown of unfading hyacinths today for the Martyr Hyacinth, / and let us cry to Him: / "Rejoice, glory of martyrs."
Romans 14:9-18 (Epistle)
9

For to this end Christ died and rose and lived again, that He might be Lord of both the dead and the living.

10

But why do you judge your brother? Or why do you show contempt for your brother? For we shall all stand before the judgment seat of Christ.

11

For it is written: "As I live, says the LORD, every knee shall bow to Me, and every tongue shall confess to God."

12

So then each of us shall give account of himself to God.

13

Therefore let us not judge one another anymore, but rather resolve this, not to put a stumbling block or a cause to fall in our brother's way.

14

I know and am convinced by the Lord Jesus that there is nothing unclean of itself; but to him who considers anything to be unclean, to him it is unclean.

15

Yet if your brother is grieved because of your food, you are no longer walking in love. Do not destroy with your food the one for whom Christ died.

16

Therefore do not let your good be spoken of as evil;

17

for the kingdom of God is not eating and drinking, but righteousness and peace and joy in the Holy Spirit.

18

For he who serves Christ in these things is acceptable to God and approved by men.
Matthew 12:14-16, 22-30 (Gospel)
14

Then the Pharisees went out and plotted against Him, how they might destroy Him.

15

But when Jesus knew it, He withdrew from there. And great multitudes followed Him, and He healed them all.

16

Yet He warned them not to make Him known,

22

Then one was brought to Him who was demon-possessed, blind and mute; and He healed him, so that the blind and mute man both spoke and saw.

23

And all the multitudes were amazed and said, "Could this be the Son of David?"

24

Now when the Pharisees heard it they said, "This fellow does not cast out demons except by Beelzebub, the ruler of the demons."

25

But Jesus knew their thoughts, and said to them: "Every kingdom divided against itself is brought to desolation, and every city or house divided against itself will not stand.

26

If Satan casts out Satan, he is divided against himself. How then will his kingdom stand?

27

And if I cast out demons by Beelzebub, by whom do your sons cast them out? Therefore they shall be your judges.

28

But if I cast out demons by the Spirit of God, surely the kingdom of God has come upon you.

29

Or how can one enter a strong man's house and plunder his goods, unless he first binds the strong man? And then he will plunder his house.

30

He who is not with Me is against Me, and he who does not gather with Me scatters abroad.