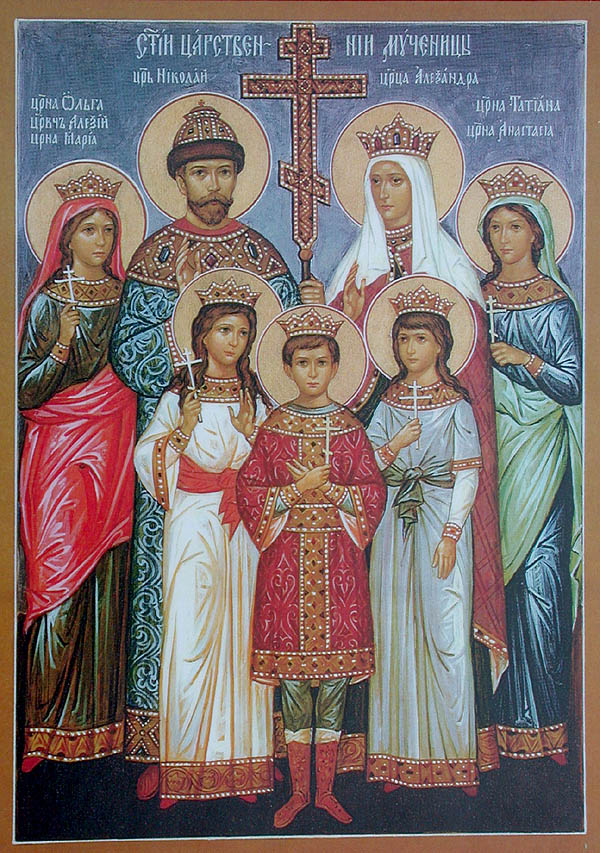 July 4 (old calendar) / July 17 (new)
Fast
St. Andrew, Archbishop of Crete (712). Ven. Andrei Rublev (14th-15th c.). Ven. Martha, mother of Ven. Simeon the Stylite (the Younger—554). Burial of St. Andrei Bogoliubsky (1174). Uncovering of the Relics of Ven. Evfimii (Euthymius), Archimandrite, of Suzdal' (1507). Martyrs Theodotus and Theodotia at Cæsarea in Cappadocia (108). Hieromartyr Theodore, Bishop of Cyrene in Libya and with him Martyrs Cyprilla, Aroa, and Lucia (310). Ven. Tikhon, Vasily and Nikon, Monks, of Solovétsky Monastery (16th c.). Royal Passionbearers Tsar Nicholas (Nikolai), Tsaritsa Alexandra, Tsarevich Aleksy, Grand Duchesses Olga, Tatiana, Maria, Anastasia (1918—July 4th O.S.).
Royal Passionbearers Tsar Nicholas (Nikolai), Tsaritsa Alexandra, Tsarevich Aleksy, Grand Duchesses Olga, Tatiana, Maria, Anastasia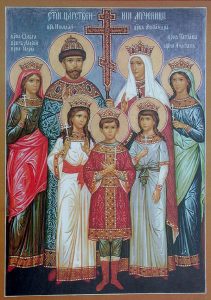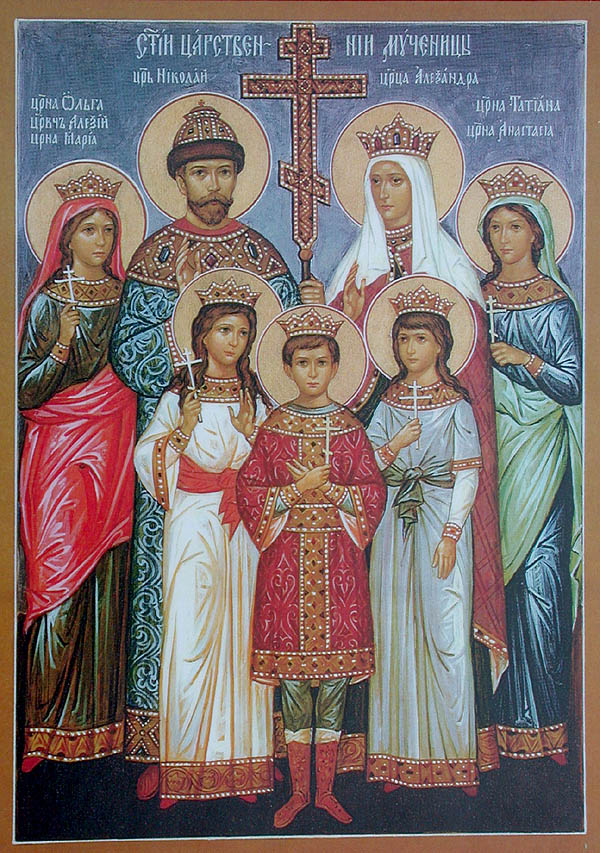 Saint Nicholas, the last Russian Tsar, was born in 1868. As a child, he was very religious, guileless and free from malice.
Nicholas II was crowned as Tsar in 1894, following the death of his father Tsar Alexander. He began his reign with lofty hopes for peace, urging other nations to reduce the size of their armies, and to seek the peaceful settlement of international disputes. The Peace Conference at the Hague in 1899 laid the groundwork for the League of Nations and the United Nations.
He married Princess Alice of Hesse, who converted to Orthodoxy and took the name Alexandra. Their children were Olga (1895), Tatiana (1897), Maria (1899), Anastasia (1901), and Alexis (1904).
The glorification of Saint Seraphim of Sarov took place on July 19, 1903, and Tsar Nicholas attended the ceremonies at Sarov with his family. At that time he was given a letter written by Saint Seraphim more than seventy years before, which seemed to disturb him. Although the Sovereign never revealed the letter's contents, it is believed that it was a prophecy of the bloodshed that would engulf Russia in less than fifteen years.
Saint Nicholas was executed by the Bolsheviks at Ekaterinburg on July 4, 1918 along with his family and servants. The prisoners were awakened late at night and ordered to get dressed for travel. They went down to the cellar of the home in which they were being held, waiting for the word to leave. The Tsar sat on a chair in the middle of the room holding his son Alexis in his lap, while his wife and daughters stood around them.
The executioners entered the room and read out the order for their execution. Saints Nicholas and Alexandra died under the hail of bullets, but the children did not die right away. They were stabbed and clubbed with the butts of rifles. Their bodies were taken to an abandoned mine, cut into pieces, then piled in front of the mine. Sulphur and gasoline were poured on the bloody mound and set on fire. When the fire went out two days later, whatever remained of the bodies was thrown into the mine and grenades were tossed into it. Then the ground was plowed so that no trace of the disposal of the bodies remained.
Troparion of Saint Andrew of Crete, tone 5
Like the Prophet David / You sang a new song / In the assembly of the righteous. / As an initiate of the Holy Spirit / You thundered forth your hymns of grace / And the word of righteousness for our salvation, / O Andrew, glory of the fathers.
Troparion of the Royal passionbearers, tone 1
Most noble and sublime was your life and death, O Sovereigns; / Wise Nicholas and blest Alexandra, we praise you, / Acclaiming your piety, meekness, faith, and humility, / Whereby you attained to crowns of glory in Christ our God, / With your five renowned and godly children of blessed fame. / O passion-bearers decked in purple, intercede for us.
Kontakion of Saint Andrew of Crete, tone 2
You sounded forth divine melodies like a trumpet / And were a bright lamp for the world. / You shone with the light of the Trinity, O righteous Andrew. / Therefore we cry to you: Ever intercede for us all!
Kontakion of the Royal passionbearers, tone 2
Royalty and martyrdom were joined together, O blessed ones, / In your death for righteousness and right belief, O wise Sovereigns, / Nicholas and Alexandra, with your five children. / Hence, Christ our God counted you worthy of thrones in Heaven; / And with twofold crowns of glory, / You reign forever, adorned with grace divine.
Romans 15:7-16 (Epistle)
7

Therefore receive one another, just as Christ also received us, to the glory of God.

8

Now I say that Jesus Christ has become a servant to the circumcision for the truth of God, to confirm the promises made to the fathers,

9

and that the Gentiles might glorify God for His mercy, as it is written: "For this reason I will confess to You among the Gentiles, and sing to Your name."

10

And again he says: "Rejoice, O Gentiles, with His people!"

11

And again: "Praise the LORD, all you Gentiles! Laud Him, all you peoples!"

12

And again, Isaiah says: "There shall be a root of Jesse; and He who shall rise to reign over the Gentiles, in Him the Gentiles shall hope."

13

Now may the God of hope fill you with all joy and peace in believing, that you may abound in hope by the power of the Holy Spirit.

14

Now I myself am confident concerning you, my brethren, that you also are full of goodness, filled with all knowledge, able also to admonish one another.

15

Nevertheless, brethren, I have written more boldly to you on some points, as reminding you, because of the grace given to me by God,

16

that I might be a minister of Jesus Christ to the Gentiles, ministering the gospel of God, that the offering of the Gentiles might be acceptable, sanctified by the Holy Spirit.
Matthew 12:38-45 (Gospel)
38

Then some of the scribes and Pharisees answered, saying, "Teacher, we want to see a sign from You."

39

But He answered and said to them, "An evil and adulterous generation seeks after a sign, and no sign will be given to it except the sign of the prophet Jonah.

40

For as Jonah was three days and three nights in the belly of the great fish, so will the Son of Man be three days and three nights in the heart of the earth.

41

The men of Nineveh will rise up in the judgment with this generation and condemn it, because they repented at the preaching of Jonah; and indeed a greater than Jonah is here.

42

The queen of the South will rise up in the judgment with this generation and condemn it, for she came from the ends of the earth to hear the wisdom of Solomon; and indeed a greater than Solomon is here.

43

When an unclean spirit goes out of a man, he goes through dry places, seeking rest, and finds none.

44

Then he says, 'I will return to my house from which I came.' And when he comes, he finds it empty, swept, and put in order.

45

Then he goes and takes with him seven other spirits more wicked than himself, and they enter and dwell there; and the last state of that man is worse than the first. So shall it also be with this wicked generation."