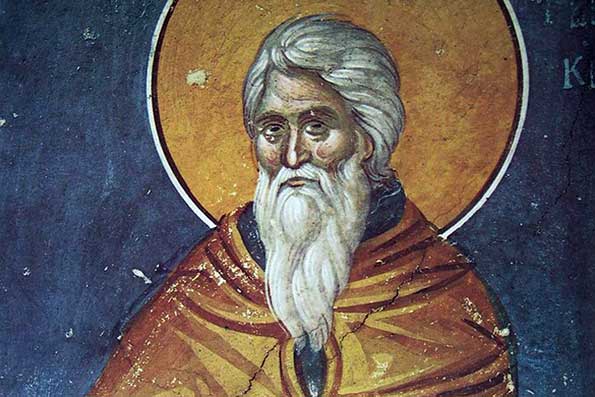 March 30 (old calendar) / April 12 (new)
Great Lent.
Ven. John Climacus of Sinai, author of The Ladder (6th c.). St. Sophróny (Sophronius), Bishop of Irkutsk (1771). Prophet Joad (1 Kings 13:11—10th c. B.C.). Apostles Sosthenes, Apollos, Cephas, Cæsar, and Epaphroditus, of the Seventy (1st c.). St. Eubula, mother of St. Panteleimon (ca. 303). Ven. John the Silent of St. Sabbas' Monastery (6th c.). St. Zosimas, Bishop of Syracuse (ca. 662).
Saint John Climacus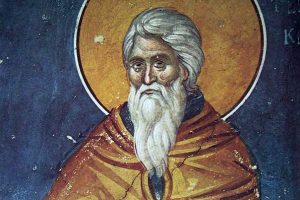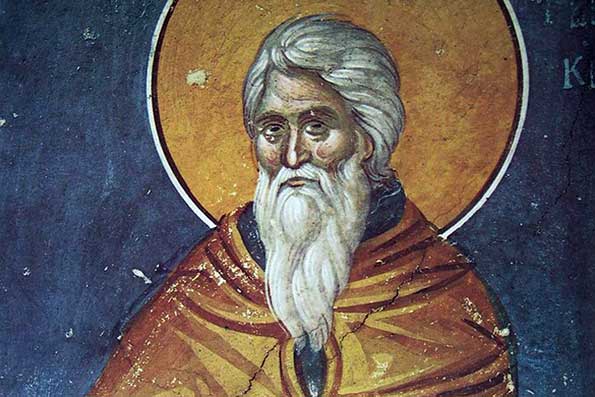 Saint John of the Ladder is honored by Holy Church as a great ascetic and author of the renowned spiritual book called THE LADDER, from which he is also called "of the Ladder" (Climacus).
There is almost no information about Saint John's origins. One tradition suggests that he was born in Constantinople around the year 570, and was the son of Saints Xenophon and Maria (January 26).
John went to Sinai when he was sixteen, submitting to Abba Martyrius as his instructor and guide. After four years, Saint John was tonsured as a monk. Abba Strategios, who was present at Saint John's tonsure, predicted that he would become a great luminary in the Church of Christ.
For nineteen years Saint John progressed in monasticism in obedience to his spiritual Father. After the death of Abba Martyrius, Saint John embarked on a solitary life, settling in a wild place called Thola, where he spent forty years laboring in silence, fasting, prayer, and tears of penitence.
It is not by chance that in THE LADDER Saint John speaks about tears of repentance: "Just as fire burns and destroys the wood, so pure tears wash away every impurity, both external and internal." His holy prayer was strong and efficacious, as may be seen from an example from the life of the God-pleasing saint.
Saint John had a disciple named Moses. Once, the saint ordered his disciple to bring dung to fertilize the vegetable garden. When he had fulfilled the obedience, Moses lay down to rest under the shade of a large rock, because of the scorching heat of summer. Saint John was in his cell in a light sleep. Suddenly, a man of remarkable appearance appeared to him and awakened the holy ascetic, reproaching him, "John, why do you sleep so heedlessly, when Moses is in danger?"
Saint John immediately woke up and began to pray for his disciple. When Moses returned in the evening, Saint John asked whether any sort of misfortune had befallen him.
The monk replied, "A large rock would have fallen on me as I slept beneath it at noon, but I left that place because I thought I heard you calling me." Saint John did not tell his disciple of his vision, but gave thanks to God.
Saint John ate the food which is permitted by the monastic rule, but only in moderation. He did not sleep very much, only enough to keep up his strength, so that he would not ruin his mind by unceasing vigil. "I do not fast excessively," he said of himself, "nor do I give myself over to intense all-night vigil, nor lay upon the ground, but I restrain myself…, and the Lord soon saved me."
The following example of Saint John's humility is noteworthy. Gifted with discernment, and attaining wisdom through spiritual experience, he lovingly received all who came to him and guided them to salvation. One day some envious monks reproached him for being too talkative, and so Saint John kept silence for a whole year. The monks realized their error, and they went to the ascetic and begged him not to deprive them of the spiritual profit of his conversation.
Concealing his ascetic deeds from others, Saint John sometimes withdrew into a cave, but reports of his holiness spread far beyond the vicinity. Visitors from all walks of life came to him, desiring to hear his words of edification and salvation. After forty years of solitary asceticism, he was chosen as igumen of Sinai when he was seventy-five. Saint John governed the holy monastery for four years. Toward the end of his life, the Lord granted him the gifts of clairvoyance and wonderworking.
At the request of Saint John, igumen of the Raithu monastery (Commemorated on Cheesefare Saturday), he wrote the incomparable LADDER, a book of instruction for monks who wished to attain spiritual perfection.
Knowing of the wisdom and spiritual gifts of Saint John of Sinai, the igumen of Raithu requested him to write down whatever was necessary for the salvation of those in the monastic life. Such a book would be "a ladder fixed on the earth" (Gen. 28:12), leading people to the gates of Heaven.
Saint John felt that such a task was beyond his ability, yet out of obedience he fulfilled the request. The saint called his work THE LADDER, for the book is "a fixed ladder leading from earthly things to the Holy of Holies…." The thirty steps of spiritual perfection correspond to the thirty years of the Lord's age. When we have completed these thirty steps, we will find ourselves with the righteous and will not stumble. THE LADDER begins with renunciation of the world, and ends with God, Who is love (1 John 4:8).
Although the book was written for monks, any Christian living in the world will find it an unerring guide for ascending to God, and a support in the spiritual life. Saints Theodore the Studite (November 11 and January 26), Sergius of Radonezh (September 25 and July 5), Joseph of Volokolamsk (September 9 and October 18), and others relied on THE LADDER as an important guide to salvation.
The twenty-second step of THE LADDER deals with various forms of vainglory. Saint John writes: "When I fast, I am vainglorious; and when I permit myself food in order to conceal my fasting from others I am again vainglorious about my prudence. When I dress in fine clothing, I am vanquished by vanity, and if I put on drab clothing, again I am overcome by vanity. If I speak, vainglory defeats me. If I wish to keep silence, I am again given over to it. Wherever this thorn comes up, it stands with its points upright.
A vain person seems to honor God, but strives to please men rather than God.
People of lofty spirit bear insult placidly and willingly, but only the holy and righteous may hear praise without harm.
When you hear that your neighbor or friend has slandered you behind your back, or even to your face, praise and love him.
It is not the one who reproaches himself who shows humility, for who will not put up with himself? It is the one who is slandered by another, yet continues to show love for him.
Whoever is proud of his natural gifts, intelligence, learning, skill in reading, clear enunciation, and other similar qualities, which are acquired without much labor, will never obtain supernatural gifts. Whoever is not faithful in small things (Luke 16:10), is also unfaithful in large things, and is vainglorous.
It often happens that God humbles the vainglorious, sending a sudden misfortune. If prayer does not destroy a proud thought, we bring to mind the departure of the soul from this life. And if this does not help, let us fear the shame which follows dishonor. "For whoever humbles himself shall be exalted, and whoever exalts himself shall be humbled" (Luke 14:11). When those who praise us, or rather seduce us, start to praise us, let us recall our many sins, then we shall find that we are not worthy of what they say or do to honor us."
In THE LADDER Saint John describes the ascent toward spiritual perfection, which is essential for anyone who wishes to save his soul. It is a written account of his thoughts, based on the collected wisdom of many wise ascetics, and on his own spiritual experience. The book is a great help on the path to truth and virtue.
The steps of THE LADDER proceed gradually from strength to strength on the path of perfection. The summit is not reached suddenly, but gradually, as the Savior says: "The Kingdom of Heaven suffers violence, and the violent take it by force" (Mt.11:12).
Saint John is also commemorated on the fourth Sunday of Great Lent.
Troparion of the saint, tone 8
By a flood of tears you made the desert fertile / And by your longing for God you brought forth fruits in abundance. / By the radiance of miracles you illuminated the whole universe. / O our holy Father John Climacus, pray to Christ our God to save our souls.
Kontakion of the saint, tone 1
You offered us your teachings as fruits of everlasting freshness, / To sweeten the hearts of those who receive them with attention. / O blessed and wise John, they are the rungs of a ladder, / Leading the souls of those who honor you from earth to Eternal glory in Heaven!
Isaiah 45:11-17 (6th Hour)
11

Thus says the Lord, The Holy One of Israel, and his Maker: "Ask Me of things to come concerning My sons; and concerning the work of My hands, you command Me.

12

I have made the earth, and created man on it. I – My hands – stretched out the heavens, and all their host I have commanded.

13

I have raised him up in righteousness, and I will direct all his ways; He shall build My city and let My exiles go free, not for price nor reward," says the Lord of hosts.

14

Thus says the Lord: "The labor of Egypt and merchandise of Cush and of the Sabeans, men of stature, shall come over to you, and they shall be yours; they shall walk behind you, they shall come over in chains; and they shall bow down to you. They will make supplication to you, saying, 'God is with you only, and there is no other; no god besides Him.'

15

Truly You are God, who hide Yourself, O God of Israel, the Savior!

16

They shall be ashamed and also disgraced, all of them; they shall go in confusion together, who are makers of idols.

17

But Israel shall be saved by the Lord with an everlasting salvation; you shall not be ashamed or disgraced forever and ever.
Genesis 22:1-18 (Vespers, 1st reading)
1

Now it came to pass after these things that God tested Abraham, and said to him, "Abraham!" And he said, "Here I am."

2

Then He said, "Take now your son, your only son Isaac, whom you love, and go to the land of Moriah, and offer him there as a burnt offering on one of the mountains of which I shall tell you."

3

So Abraham rose early in the morning and saddled his donkey, and took two of his young men with him, and Isaac his son; and he split the wood for the burnt offering, and arose and went to the place of which God had told him.

4

Then on the third day Abraham lifted his eyes and saw the place afar off.

5

And Abraham said to his young men, "Stay here with the donkey; the lad and I will go yonder and worship, and we will come back to you."

6

So Abraham took the wood of the burnt offering and laid it on Isaac his son; and he took the fire in his hand, and a knife, and the two of them went together.

7

But Isaac spoke to Abraham his father and said, "My father!" And he said, "Here I am, my son." Then he said, "Look, the fire and the wood, but where is the lamb for a burnt offering?"

8

And Abraham said, "My son, God will provide for Himself the lamb for a burnt offering." So the two of them went together.

9

Then they came to the place of which God had told him. And Abraham built an altar there and placed the wood in order; and he bound Isaac his son and laid him on the altar, upon the wood.

10

And Abraham stretched out his hand and took the knife to slay his son.

11

But the Angel of the Lord called to him from heaven and said, "Abraham, Abraham!" So he said, "Here I am."

12

And He said, "Do not lay your hand on the lad, or do anything to him; for now I know that you fear God, since you have not withheld your son, your only son, from Me."

13

Then Abraham lifted his eyes and looked, and there behind him was a ram caught in a thicket by its horns. So Abraham went and took the ram, and offered it up for a burnt offering instead of his son.

14

And Abraham called the name of the place, The-Lord-Will-Provide; as it is said to this day, "In the Mount of the Lord it shall be provided."

15

Then the Angel of the Lord called to Abraham a second time out of heaven,

16

and said: "By Myself I have sworn, says the Lord, because you have done this thing, and have not withheld your son, your only son –

17

"blessing I will bless you, and multiplying I will multiply your descendants as the stars of the heaven and as the sand which is on the seashore; and your descendants shall possess the gate of their enemies.

18

"In your seed all the nations of the earth shall be blessed, because you have obeyed My voice."
Proverbs 17:17-18:5 (Vespers, 2nd reading)
17

A friend loves at all times, and a brother is born for adversity.

18

A man devoid of understanding shakes hands in a pledge, and becomes surety for his friend.

19

He who loves transgression loves strife, and he who exalts his gate seeks destruction.

20

He who has a deceitful heart finds no good, and he who has a perverse tongue falls into evil.

21

He who begets a scoffer does so to his sorrow, and the father of a fool has no joy.

22

A merry heart does good, like medicine, but a broken spirit dries the bones.

23

A wicked man accepts a bribe behind the back to pervert the ways of justice.

24

Wisdom is in the sight of him who has understanding, but the eyes of a fool are on the ends of the earth.

25

A foolish son is a grief to his father, and bitterness to her who bore him.

26

Also, to punish the righteous is not good, nor to strike princes for their uprightness.

27

He who has knowledge spares his words, and a man of understanding is of a calm spirit.

28

Even a fool is counted wise when he holds his peace; when he shuts his lips, he is considered perceptive.

1

A man who isolates himself seeks his own desire; he rages against all wise judgment.

2

A fool has no delight in understanding, but in expressing his own heart.

3

When the wicked comes, contempt comes also; and with dishonor comes reproach.

4

The words of a man's mouth are deep waters; the wellspring of wisdom is a flowing brook.

5

It is not good to show partiality to the wicked, or to overthrow the righteous in judgment.