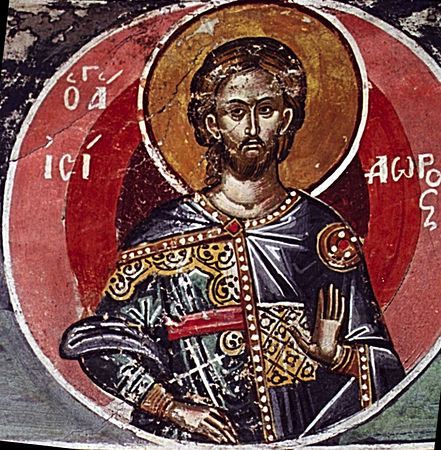 May 14 (old calendar) / May 27 (new)
Martyr Isidore of Chios (251). Ven. Isidore, Fool-for-Christ, Wonderworker of Rostov (1474). St. Nikita, Bishop of Novgorod and Recluse, of the Kiev Caves. Martyr Maximus (ca. 250). Ven. Serapion of Egypt (5th c.). St. Leontius, Patriarch of Jerusalem (1175). First opening of the Relics of St. Tikhon of Zadonsk (1846).
SAINT ISIDORE OF CHIOS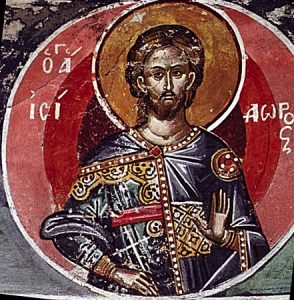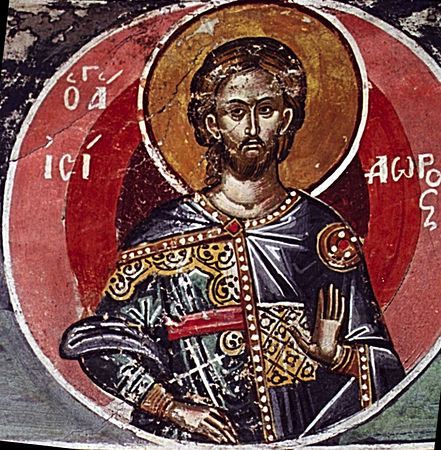 The holy, glorious and right-victorious Martyr Isidore of Chios brought Christianity to the Greek island of Chios. He was born in Alexandria, Egypt and was martyred in the persecutions of Decius, c. 251 AD; his body was taken to Venice in 1125 and hidden in the palace of the Doge; it was re-discovered in the early 14th century. His skull was discovered in Chios, encased in a silver and jeweled reliquary, and translated to Venice in 1627.
A Roman officer in the navy, Isidore confessed himself as a Christian to the commander of the fleet, Numerian, while they were on the Aegean island of Chios. Because he was unwilling to repent and worship the gods of the state, he was tormented and beheaded.
His body was cast into a cistern. A young Christian woman, Myrope, with the help of a friend, retrieved the body although it was guarded by soldiers. On learning that the soldiers would be put to death if they failed to find the body, Myrope went to Numerius and confessed that she had taken Isidore's body, but refused to say where it was then interred. Numerius had her publicly flogged, then thrown into prison.
Before she died, she had a vision of Holy Isidore, who "encouraged her with the news that although she was about to die for what she had done it would not have been in vain because she would be giving her life for Jesus Christ and not for Isidore or their Christian friends."
Her body was interred beside Isidore's, and a chapel erected over the graves. Saint Marcian built another in the fifth century. In 1525, the relics of Isidore and Myrope were moved by the Latins to the Church of Saint Mark in Venice.
Troparion for Midfeast of Pentecost, tone 8
In the middle of the Feast, O Savior, / Fill my thirsting soul with the waters of godliness, as You did cry to all: / If anyone thirst let him come to me and drink! / O Christ God, Fountain of our life, glory to You!
Troparion of the saint, tone 4
Enlisted by the King of the Ages, / you spurned the earthly king and his army to boldly preach Christ our God. / Therefore, you have completed your contest and shine forth as His glorious martyr.
Kontakion of the saint, tone 3
In your combat with the dragon, / You gained the victory, O martyr Isidore. / As a radiant beacon from Egypt, / You shone forth to illumine all under the sun, / advancing towards Him who shone forth from the Virgin Mother of God, / for whose sake you were slain, O Passion-Bearer, / offering yourself as a fragrant sacrifice.
Kontakion for Midfeast of Pentecost, tone 4
Christ God, the Creator and Master of all / Cried to all in the midst of the Feast of the law: / Come and draw the water of immortality! / We fall before You and faithfully cry: / Grant us Your bounties, for You are the Fountain of our life!
Acts 12:12-17 (Epistle)
12

So, when he had considered this, he came to the house of Mary, the mother of John whose surname was Mark, where many were gathered together praying.

13

And as Peter knocked at the door of the gate, a girl named Rhoda came to answer.

14

When she recognized Peter's voice, because of her gladness she did not open the gate, but ran in and announced that Peter stood before the gate.

15

But they said to her, "You are beside yourself!" Yet she kept insisting that it was so. So they said, "It is his angel."

16

Now Peter continued knocking; and when they opened the door and saw him, they were astonished.

17

But motioning to them with his hand to keep silent, he declared to them how the Lord had brought him out of the prison. And he said, "Go, tell these things to James and to the brethren." And he departed and went to another place.
John 8:42-51 (Gospel)
42

Jesus said to them, "If God were your Father, you would love Me, for I proceeded forth and came from God; nor have I come of Myself, but He sent Me.

43

Why do you not understand My speech? Because you are not able to listen to My word.

44

You are of your father the devil, and the desires of your father you want to do. He was a murderer from the beginning, and does not stand in the truth, because there is no truth in him. When he speaks a lie, he speaks from his own resources, for he is a liar and the father of lies.

45

But because I tell the truth, you do not believe Me.

46

Which of you convicts Me of sin? And if I tell the truth, why do you not believe Me?

47

He who is of God hears God's words; therefore you do not hear, because you are not of God."

48

Then the Jews answered and said to Him, "Do we not say rightly that You are a Samaritan and have a demon?"

49

Jesus answered, "I do not have a demon; but I honor My Father, and you dishonor Me.

50

And I do not seek My own glory; there is One who seeks and judges.

51

Most assuredly, I say to you, if anyone keeps My word he shall never see death."