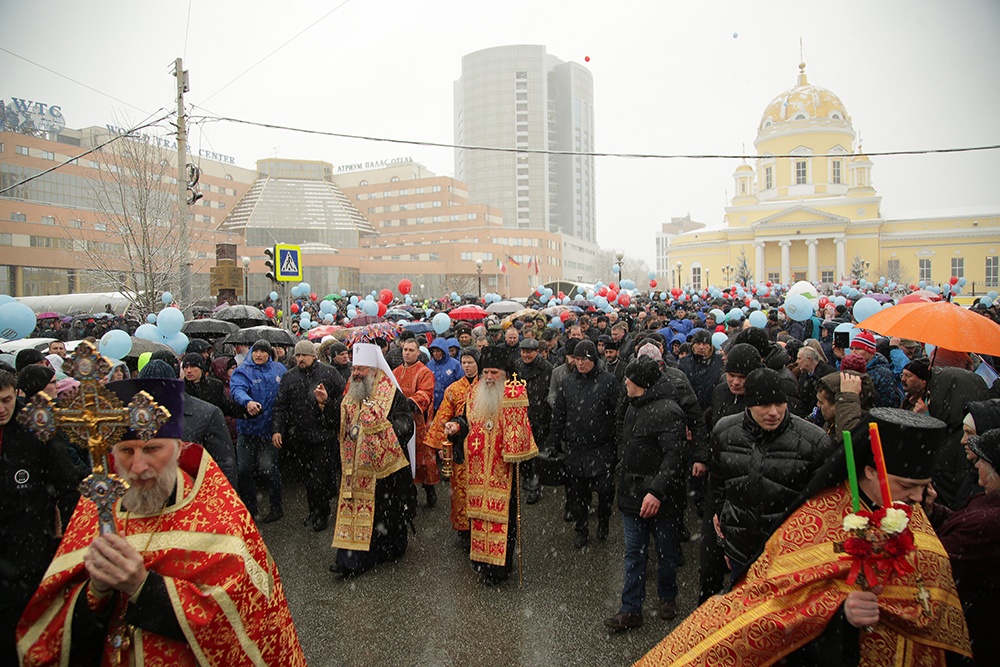 The procession was chaired by Metropolitan Kirill of Yekaterinburg and Verkhoturye, Bishop Method of Kamensky and Kamyshlovsky, and Bishop Evgeny of Nizhny Tagil and Nevyansky. The procession began at the Cathedral of the Holy Trinity and ended at the site of the construction of the future Cathedral of St. Catherine. Two other bishops joined the procession on its way.
Despite a sudden snowfall, a large number of residents of the Ural capital participated in the procession. They were about 15,000 at the start, joined then by another 5,000 faithful from other parishes. For the third year in a row, the procession was led by Palestinian Orthodox scouts from Jerusalem.
Relics of St. Catherine, St Alexander Nevsky, St Simeon of Verkhoturye, St. Matrona of Moscow and others, as well as a cross containing a parcel of the Cross of Christ, and the altar cross from the Church of the Holy Imperial Martyrs were carried in procession.
At the end of the procession, the Vespers of Pascha were celebrated on the site of the future St. Catherine Cathedral, and the site was blessed. The goal is to finish the cathedral around 2023, for the third centenary of the city of Yekaterinburg. St. Catherine's Church was built there the year of the founding of the city, but was destroyed by the Bolsheviks in 1930.
The Holy Fire of Jerusalem was distributed to all the participants after the blessing.
You can watch the procession here below.
The song accompanying the film is the Troparion for Pascha, sung by the choir of The Trinity Lavra of St. Sergius, under the direction of Archimandrite Matthew (Mormyl +2009).
Source in Russian