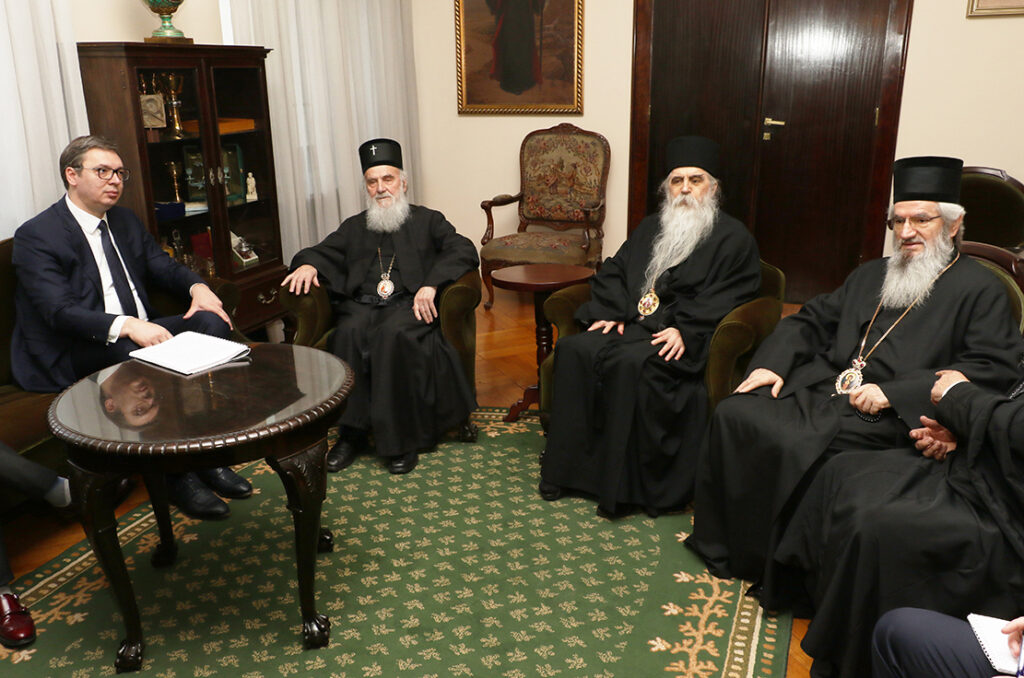 On March 10, 2019, Patriarch Irinej of Serbia received Serbian president Aleksandar Vučić in his patriarchal residence in Belgrade.
Were present the members of the Serbian Orthodox Church Holy Synod of Bishops: Metropolitan Porfirije of Zagreb-Ljubljana, Bishops Irinej of Bačka, Jovan of Sumadija, and Milutin of Valjevo.
Besides the President, the Serbian government was represented by Prime Minister Mrs. Ana Brnabic; Mr. Ivica Dačić, theFirst Vice President of the Government and Minister of Foreign Affairs; and Mr. Nikola Selaković, the Secretary General of the President of the Republic of Serbia. 
The President of Serbia gave the hierarchs information about points adopted by Albanians residing in Kosovo and Metohija. The text contains dangerous elements threatening the pursuit of negotiations between Belgrade and Priština, and the Serbian people in Kosovo and Metohija.
Aleksandar Vučić also informed them about the current difficult situation in the Southern Serbian province.
He thanked the Patriarch and bishops for sharing the same concerns and responsibilities as the State leadership.
Then talking with representatives of the media, Patriarch Irinej stressed that the situation in Kosovo and Metohija is becoming more and more difficult every day, but that it is good the Church and the State leadership are on the same side.
"It is essential that we have the same ideas on the problem and on possible reactions in such circumstances", said the patriarch, who considers such meetings as very useful. "It is desirable they be as frequent as possible. Especially when problems arise, so that we may seek the best solution and determine the position of the Church and of the State", he concluded.
Source in Serbian