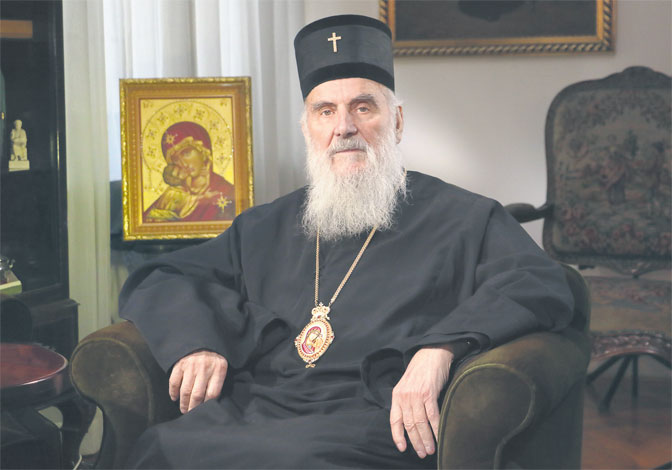 On February 14, Patriarch Irinej of Serbia sent the following letter to Metropolitan of Onufriy of Kyiv, the Primate of the Ukrainian Orthodox Church:
"To His Beatitude Metropolitan Onufriy, Metropolitan of Kyiv and All Ukraine,
Your Beatitude,
Beloved Brother in Christ and concelebrant!
We received letter #1639 on  December 12, 2018 and letter #1705 on December 24, 2018 from Your Beatitude, in which you informed us about recent events shaking the spiritual life of the long-suffering sister Ukrainian Orthodox Church. With regret and great concern, we received news that false criminal proceedings are being conducted against the hierarchy, clergy and faithful of your Holy Church, as well as searches and pressure exerted on them. Besides, basic human rights are being violated in various ways in order to force people to separate from the Mother Church and to join the schismatic groups which have the full support of the State leadership in Ukraine, and unfortunately of the Constantinople Patriarchate. The latter "solved" this long-standing problem in the spiritual life of the Church and the people of your country, in an uncanonical and non-brotherly way.
As Your Beatitude already knows, during its November 7, 2018 session, the Holy Synod of Bishops of the Serbian Orthodox Church made the decision not to recognize the rehabilitation and reinstatement of the unrepentant schismatics Filaret Denisenko, Makariy Maletich, and others, nor to enter into liturgical and canonical communion with them and their followers.
Such a principled position of our Church implies that we consider as invalid all the decisions made by the so-called Unification Council convened on December 15, 2018, in Kyiv, when Mr. Dumenko (so-called Epifaniy) was elected the "primate" of the so-called Orthodox Church of Ukraine.
The canonical Ukrainian Orthodox Church, headed by Your God-loving Beatitude, worthy of respect and dear to us in Christ, remains for us the one and only Church in Ukraine with which we will maintain fraternal bonds and concelebrate in Spirit and Truth.
Praying to the Lord for the preservation of the long-suffering Orthodox people in Ukrainian land and for the end of the insane schismatic war against the Church of Christ, we cordially greet you and wish you every kind of incorruptible goodness from God the Father and our Lord Jesus Christ, and the Holy Spirit.
Always devoted to your Beatitude, your brother and concelebrant in the love of Christ,
Irinej, Archbishop of Peć, Metropolitan of Belgrade-Karlovci, and Patriarch of Serbia, President of the Holy Synod".
Source in Russian