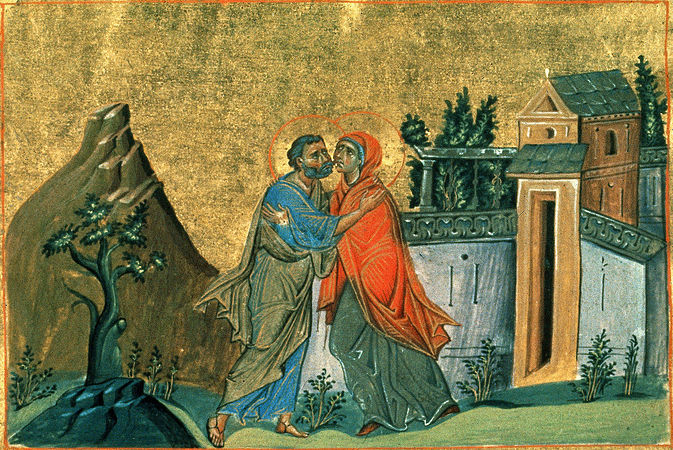 September 9 (old calendar) / September 22 (new)
Afterfeast of the Nativity of the Theotokos.
Uncovering of the Relics of St. Theodosius, Archbishop of Chernigov (1896). Sunday before Elevation. Holy and Righteous Ancestors of God, Joachim and Anna. Martyr Severian of Sebaste (320). Ven. Joseph, Abbot of Volótsk (1515). Ven. Theophanes the Confessor and Faster, of Mt. Diabenos (ca. 300). Martyrs Chariton and Straton. Bl. Nicetas the Hidden, of Constantinople (12th c.). Commemoration of the Third Ecumenical Council (431).
 Saints JOACHIM and ANNA
Saint Joachim, the son of Barpathir, was of the tribe of Judah, and was a descendant of King David, to whom God had revealed that the Savior of the world would be born from his seed.
The couple lived at Nazareth in Galilee. They were childless into their old age and all their life they grieved over this. They had to endure derision and scorn, since at that time childlessness was considered a disgrace. They never grumbled, but fervently prayed to God, humbly trusting in Him.
Once, during a great feast, the gifts which Joachim took to Jerusalem as an offering to God were not accepted by the priest Reuben, who considered that a childless man was not worthy to offer sacrifice to God. This pained the old man very much, and he, regarding himself the most sinful of people, decided not to return home, but to settle in solitude in a desolate place.
When Saint Anna learned what humiliation her husband had endured, she sorrowfully entreated God with prayer and fasting to grant her a child. In his desolate solitude the righteous Joachim also asked God for this. The prayer of the saintly couple was heard. An angel told them that a daughter would be born to them, Who would be blessed above all other women. He also told them that She would remain a virgin, would be dedicated to the Lord and live in the Temple, and would give birth to the Savior. Obeying the instructions of the heavenly messenger, Saints Joachim and Anna met at the Golden Gate in Jerusalem. Then, as God promised, a daughter was born to them and they named her Mary.
Saint Joachim died a few years later at the age of 80, after his daughter went to live in the Temple. Saint Anna died at the age of 70, two years after her husband.
Saints Joachim and Anna are often invoked by couples trying to have children.
TROPARION AND KONTAKION
Troparion of the Nativity of the Theotokos, tone 4
Your Nativity, O Virgin, Has proclaimed joy to the whole universe! The Sun of Righteousness, Christ our God, Has shone from You, O Theotokos! By annulling the curse, /He bestowed a blessing. By destroying death, He has granted us eternal Life.
Troparion of saints Joachim et Anne, tone 1
Since you were righteous under the law of grace, O Joachim and Anna, you gave birth to the God-given infant for our sake. Therefore, the divine Church radiantly keeps feast today, joyfully celebrating your honorable memory and giving glory to God who has raised up a horn of salvation from the house of David.
Kontakion of saints Joachim et Anne, tone 2
Anna is now no longer barren and nurses the All-Pure One! She rejoices and calls us all to sing a hymn of praise to Christ, who from her womb gave mankind the only ever Virgin Mother.
Kontakion of the Nativity of the Theotokos, tone 4
By Your Nativity, O Most Pure Virgin, Joachim and Anna are freed from barrenness; Adam and Eve, from the corruption of death. And we, your people, freed from the guilt of sin, celebrate and sing to you: The barren woman gives birth to the Theotokos, the nourisher of our life!
EPISTLE
1 Corinthians 14:20-25
20

Brethren, do not be children in understanding; however, in malice be babes, but in understanding be mature.

21

In the law it is written: "With men of other tongues and other lips I will speak to this people; and yet, for all that, they will not hear Me," says the Lord.

22

Therefore tongues are for a sign, not to those who believe but to unbelievers; but prophesying is not for unbelievers but for those who believe.

23

Therefore if the whole church comes together in one place, and all speak with tongues, and there come in those who are uninformed or unbelievers, will they not say that you are out of your mind?

24

But if all prophesy, and an unbeliever or an uninformed person comes in, he is convinced by all, he is convicted by all.

25

And thus the secrets of his heart are revealed; and so, falling down on his face, he will worship God and report that God is truly among you.
GOSPEL
Luke 4:31-36
31

Then He went down to Capernaum, a city of Galilee, and was teaching them on the Sabbaths.

32

And they were astonished at His teaching, for His word was with authority.

33

Now in the synagogue there was a man who had a spirit of an unclean demon. And he cried out with a loud voice,

34

saying, "Let us alone! What have we to do with You, Jesus of Nazareth? Did You come to destroy us? I know who You are – the Holy One of God!"

35

But Jesus rebuked him, saying, "Be quiet, and come out of him!" And when the demon had thrown him in their midst, it came out of him and did not hurt him.

36

Then they were all amazed and spoke among themselves, saying, "What a word this is! For with authority and power He commands the unclean spirits, and they come out."