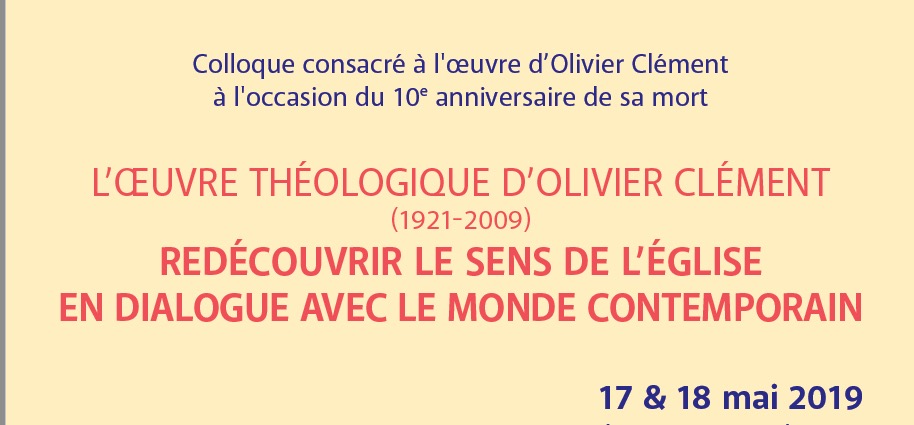 Ten years after his death, Olivier Clément remains one of the most famous, appreciated, and read Orthodox theologians in the world. First an atheist, and a historian, theologian, essayist, and poet, he was also a great actor in the ecumenical dialogue, and a commentator on the life of the world.
His work, thirty books and more than 200 articles in journals and collective works, deals with multiple theological fields. A man of synthesis, a talented and creative interpreter of the Church tradition, he worked at making it understandable and beautiful in the context of post-modern society.
Welcoming contributions by teachers of Saint-Sergius Institute and by Roman Catholic, Protestant, and Orthodox speakers, this symposium would like to delve deeper into some major themes developed in Olivier Clément's writings.
With the participation of: Father Nicolas Cernokrak (Paris), Father Marc-Antoine Costa of Beauregard (Paris), Barbara Hallensleben (Freiburg), Jeremy Ingpen (New York), Pantelis Kalaitzidis (Volos), Agnes von Kirchbach (Paris), Olga Lossky-Laham (Aberdeen), Daniel Lossky (Brussels), Emmanuel Pisani (Paris), Jean-Claude Polet (Brussels), Andrea Riccardi (Rome), Brother Richard (Taizé), Goran Sekulovski (Paris), Cyrille Sollogoub (Paris), Michel Stavrou (Paris), Bertrand Vergely (Paris), Tatiana Victoroff (Strasbourg).
Click here to consult the program and to register for the conference.