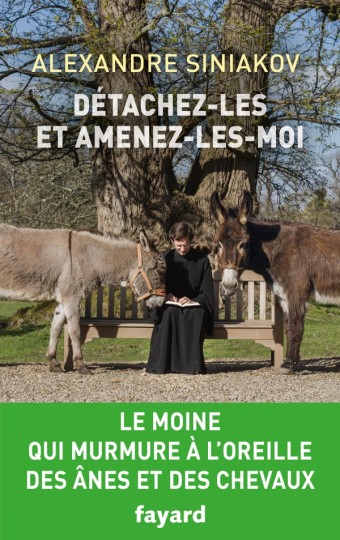 Fayard publishing have just published a book by Fr. Alexander Siniakov entitled Détachez-les et amenez-les-moi ! [Detach them and bring them to me] (200 pages, 15 euros).
Here is an English translation of the presentation by the publisher:
"This story, which begins with the reverie of a Cossack, continues in the footsteps of a Russian pilgrim riding a donkey. It concludes on the bright vision of a starets on horseback . It is a book full of sensitivity and hope, written by Father Alexander Siniakov for all those who believe that there is no humanism without a search for harmony with nature.
Most of the time, monks whisper prayers in the ear of God, and horses listen to the universe. Most of the time, monks go on foot when they hear the bells, and horses nod at you or stamp around with nowhere to go. Most of the time, monks retreat to their cells, and horses return to their stalls. "But it happens that a monk meditates near horses under their stable. He may even ride a horse to go and meet strangers and lonely people. He sometimes murmurs his prayers in the ears of horses, as a hymn of praise to the universe. " Russian and French, a Cossack and monk, a seminary rector and a horse breeder, Fr. Alexander Siniakov revealed his astonishing journey in his first book, Comme l'éclair from the Orient [As lightning coming from the East], which received the Procure Panorama Spirituality book award in 2018."