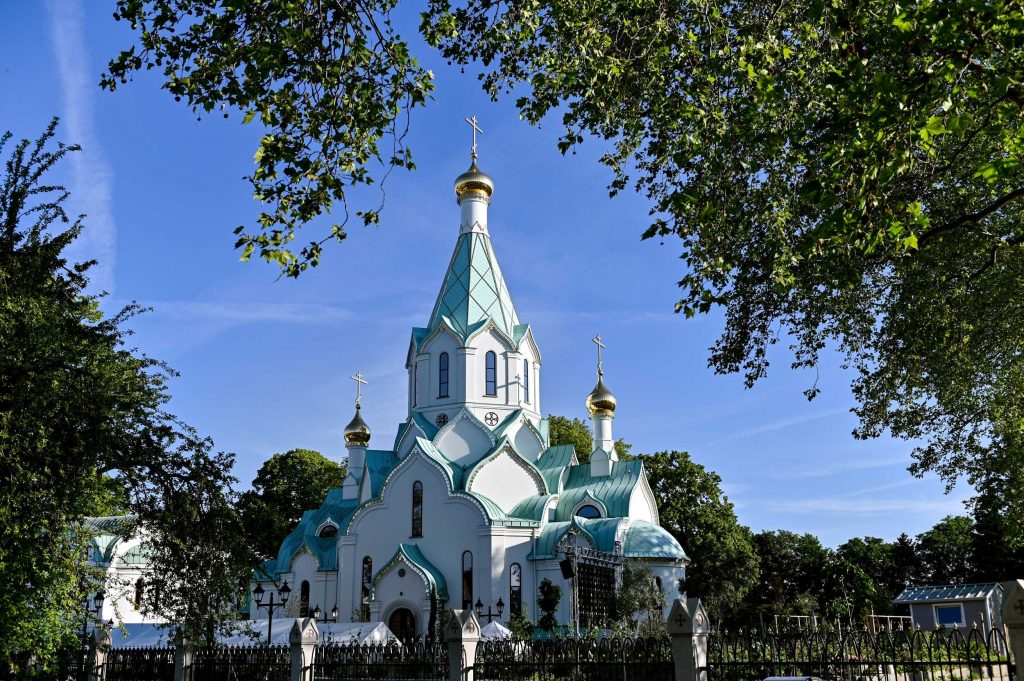 Your Honor, Mr. Mayor! Your Honor, Monsignor the Archbishop [the Roman Catholic archbishop of Strasbourg]! Sirs, dear fathers, brothers, and sisters!
Today, a historic event took place for the Orthodox of Strasbourg: we have dedicated the first Orthodox church, as previously, as rightly pointed out, our community gathered to pray in premises that were not suitable for the celebration of the Divine Liturgy. That is why, after this consecration, we especially thank God, and those who worked for the construction of the church of God, especially you, the Mayor, the authorities of Strasbourg, Monsignor the Archbishop, and all those who have supported this holy work by their kindness and prayer.
On this 5th Sunday of Pascha, the Church has us read the Gospel of Saint John on the meeting between the Savior and the Samaritan woman at the well (Jn 4:5-42). The Samaritans differed from the Jews, especially because they considered they had to worship God at Mount Garizim, close to their villages, while the Jews, as we know, worshiped God in Jerusalem. When the Samaritan woman conversed with Jesus Christ, and understood who this Man was, that He was not of this world, she asked Him the question that worried her most, her and her group, where should we pray to God, in Jerusalem or on Mount Garizim? The Lord's answer was unexpected, We have to pray in spirit and in truth, He said, which means that we can pray anywhere.
What is prayer in spirit? Which spirit are we talking about? Are we talking about our moral forces? We know they are not enough, even for the simplest things. As human beings, we aspire to ensure a comfortable life, to improve our quality of life and our relationships with others. We are spending our moral strength in an enormous amount of things. That is why the Lord, responding to the woman, was not speaking about her moral strength, but of the power of the divine Spirit. We cannot speak to God and attain His glory if we rely only on our own resources.
However, this assertion is against the basic objectives of contemporary civilization, which states that we can do anything, that we are the main force and that there is no other. The Lord says, Yes, you are strong, but this strength cannot reach me without My will, nor without My participation. God hears our prayer only when it is in the power of the Spirit, when His divine Spirit strengthens us.
Many saints have dedicated their lives to growing in the Spirit, to strengthening themselves in Him, and they have reached dizzying heights. To do so, they often had to leave the world, go to the desert where they became great saints, with an immense inner strength.
What should we do, us ordinary people? We live in this contemporary civilization, we are confronted with a huge amount of everyday problems. Many of those present in this church today will have already forgotten it this afternoon, and will be plunged back into the problems they must solve. So, how can we grow in strength? Will it last until our next visit to the supermarket, where our goals become immediately more down to earth, where we forget the spirit? That is why, in our modern and technologically developed civilization, we need places where we can feel God's closeness. In Russia, we have understood it very well. You know that during the atheist regime, most churches were destroyed, and it seemed there would never be a spiritual life again in Russia. Today, I want to say we open there an average of three churches a day. I'm not mistaken, I am really saying three churches in 24 hours. Not that we have a lot of money, and do not know what to do with it: the people who have experienced years of atheism have understood in the intelligence and in their heart that they cannot do anything without God.
All the forces of the superpower called the Soviet Union were aimed at building a happy life without God. All the forces, politics, culture, science, army, strove for this purpose. It did not work! As a people, we have concluded that it is impossible to build a happy society without God. That's why we build three churches a day, and we believe that in the West, where the situation may be a little different, there will come a time when people will again become aware of the need for a more intense spiritual life.
We have a great respect for the work of Pope Francis, for that of the Roman Catholic bishops, and we are watching carefully what is happening spiritually in Western Europe. We stand in solidarity with your work, and I believe that together, we must redouble our efforts to bear witness to the crucified and risen Christ. I hope that this church, which will be a house of prayer for the Orthodox, will also be a meeting place for the Roman Catholic community, a space for dialogue, so necessary for Christians living in a secularized civilization.
I would like to thank you once again, Mr. Mayor, for your goodness and your kind words, as well as you, Mgr Archbishop, and all the inhabitants of Strasbourg for your warm welcome to the construction of a Russian Orthodox Church. I would also like to express my deep gratitude to all the Orthodox who have worked for the construction of this holy church, especially to the rector, Father Philippe.
Source in French