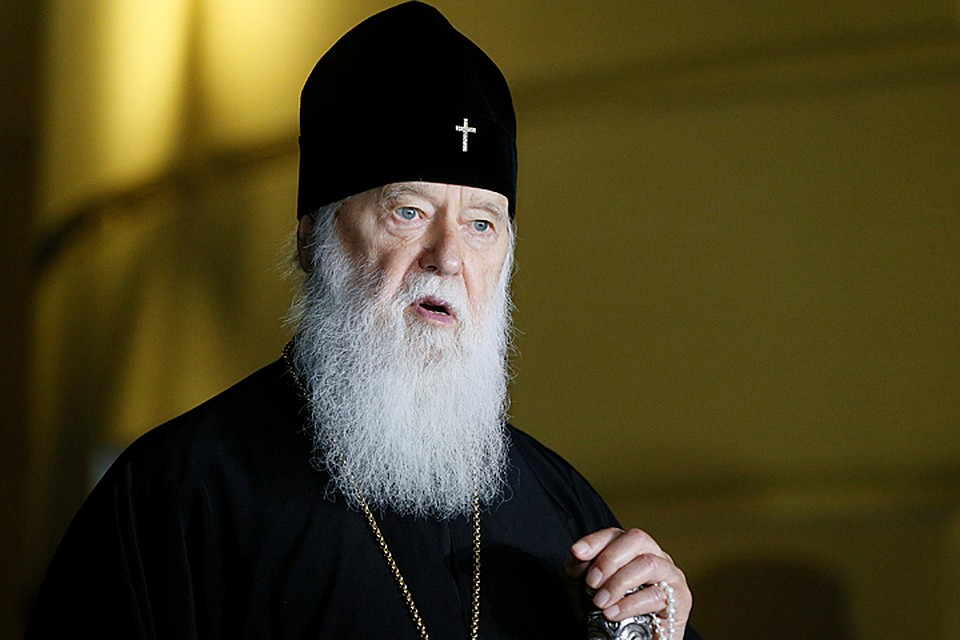 The secretary of the "Kyiv Patriarchate" Synod announced they had changed the title of their head:
"The Holy Synod has changed the rules of titulature of the Kyiv primate. From now on, he will have a full official title and an abbreviated version. They will be used in daily life and offices or in relations with other Churches ".
Thus the full title of the head of the "Kyiv Patriarchate" is now " "His Holiness and Beatitude (Name), Archbishop and Metropolitan of Kyiv – Mother of the Rus Cities and of Galicia, Patriarch of All Rus-Ukraine, Holy Archimandrite of the Holy Assumption Kyiv-Pechersk and Pochaev Lavras."
The abbreviated title is " His Holiness (Name), Patriarch of Kyiv and All Russia-Ukraine ".
As far as other local Orthodox Churches are concerned, the following title is allowed: " His Beatitude Archbishop (Name), Metropolitan of Kyiv and All Rus-Ukraine".
As is stated in the Synod decision published on its website, the full and abbreviated titles are introduced "because of the changes that are taking place in the Ukrainian Orthodox Church, taking into account the historical tradition, the practice of local Orthodox Churches, and other essential circumstances ".
In this regard, the Moscow Patriarchate declared:
"For us, Filaret remains what he was, a schismatic. All this farce with the titles he attributed to himself shows once again how right it was to excommunicate him in 1997. This decision was then recognized by all local churches without exception, including the Patriarchate of Constantinople. Filaret can give himself as many titles as he wants, but nothing changes: he was not a patriarch and he is not. This means he is neither "His Holiness" nor "His Beatitude", said Metropolitan Hilarion of Volokolamsk to the Greek agency Romfea.gr.
The Metropolitan added: "We are less surprised by the fact that Filaret, encouraged by the support of Constantinople, is bestowing new titles unto himself, than by that support itself. Did Patriarch Bartholomew's counselors think it all through before recommending him to defend such an odious figure? In doing so, have they not trapped their head?"
Metropolitan Hilarion reminded that when the Patriarchate of Constantinople made the decision to reinstate Filaret in his hierarchical rank, he called on "all parties involved to avoid seizing churches, monasteries and other properties, and any other an act of violence and revenge", and that the Ukrainian president had then assured that no redistribution of properties would take place.
"However, can we trust these assurances when the main leader of the schism, now justified by Constantinople, does not conceal his plans to seize the main holy places of the canonical Ukrainian Church [the Kyiv-Pechersk and Pochaev Lavras, now included in his title], and when the nationalist groups are ready to take action with his "blessing"? It seems only the absence of the Tomos of autocephaly is still holding back from acts of violence those who want to fight against the canonical Church," concluded Metropolitan Hilarion.